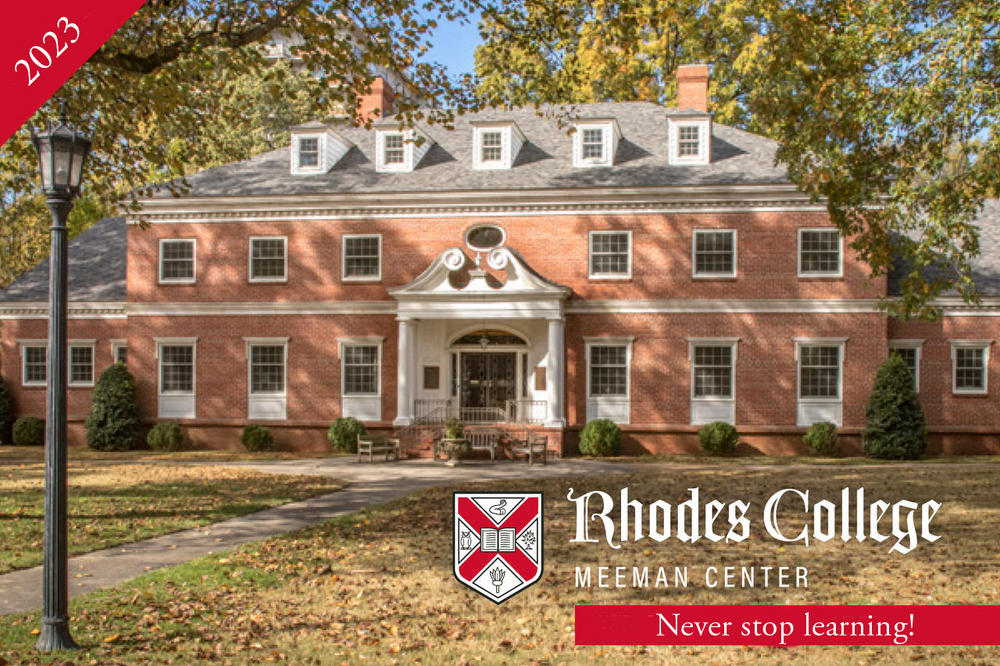 The Meeman Fall program is here!
Click HERE to register for Fall 2023 courses!
The Meeman Center for Lifelong Learning extends Rhodes College's vision of the liberal arts to anyone curious and excited to learn. For almost eighty years, the Center has supported personal and professional development for individuals and businesses through unique adult education opportunities in the Mid-South and beyond. All classes, programs, and trips offered through the Meeman Center share Rhodes College's aspiration to instill a lifelong passion for learning, a compassion for others, and the ability to translate academic study and personal concern into action in our communities and the world.

Our non-credit classes, which range from one to four weeks, are taught by Rhodes professors across a vast array of topics in the humanities, natural sciences, social sciences, and fine arts. All are welcome. We believe individuals with a range of professional, personal, and educational identities bring a valuable diversity of perspectives to our classes. Full course descriptions and further details are available below. If you are curious about the Meeman Center and would like to learn more, you can write to us at meemancenter@rhodes.edu or call 901-843-3965. You can also reach out anytime to the director, Lori Garner, at GarnerL@Rhodes.edu. We hope to see you soon!
Meeman Center Schedule (Fall 2023)
Multi-Week Evening Classes (ranging from 2-4 weeks, 1-2 hours per session; see full descriptions below):
Meeman Sampler Series (5:30- 7:00pm):
Multi-Week Classes
Disability History
Professor Charles Hughes (Urban Studies, Lynne and Henry Turley Memphis Center)
Four Thursdays (September 21, 28; October 5, 12), 5:30-7:00 pm, Central Time
Remote (Zoom), $150
From Harriet Tubman to Helen Keller to Franklin Roosevelt and beyond, disabled people have shaped the history of the United States. But the history of disability goes far beyond these remarkable individuals – it includes the rich and varied experiences of disabled communities as well as changes in what the idea of "disability" means. This course offers an introduction to the histories of disabled people in the United States from before European contact to today. It explores the ways that disabled experiences have shaped other parts of U.S. history, and it considers how ideas of disability have shaped U.S. lives in both past and present. Using a variety of sources and exploring a range of stories, together we will rethink the entire history of the United States by centering the disabled people who too often exist only in the margins. Class size: minimum of 5 students and maximum of 20 students. Textbook: A Disability History of the United States, Kim Neilson | .6 CEU, 6 PDP
African Youth, International Soccer, and Conflicting Goals: Fatou Diome's Belly of the Atlantic
Professor Abou-Bakar Mamah (Modern Languages, Africana Studies)
Postponed until Spring Session
In-person (Dorothy King Hall), $150
Recent decades have seen an exodus of African youth lured by dreams of greener pastures abroad, a phenomenon with stark repercussions for the African economy. Though the sport of soccer might seem unrelated to this exodus, movement across soccer fields often leads to movement across oceans, as players pursue their goals of achieving greater things both on and off the soccer field. Praised by reviewers as charming, vivid, poetic, and poignant, The Belly of the Atlantic (2006) by Sengalese novelist Fatou Diome tells the story of young soccer enthusiast Madicke and his sister Salie as their hopes and ambitions clash with the realities of immigrant life. In this course, we will look at the dream of playing soccer in European leagues as a driving force behind migration, one that carries substantial risks for African youth in uncharted territory. Class size: minimum of 5 students and maximum of 20 students. Textbook: The Belly of the Atlantic by Fatou Diome | .6 CEU, 6 PDP
Old English Poetry in the 21st Century: The Unstill Ones, by Miller Oberman
Professor Lori Garner (English)
Two Mondays (October 23, 30), 5:30-7:00 pm, Central Time
In-person (Dorothy King Hall) or remote (Zoom), $75
A beautifully inventive collection of original poems and translations from Old English, Miller Oberman's The Unstill Ones offers an engaging entry point for modern readers encountering early medieval lyrics for the first time, yet also provides provocative new insights for those who have loved Old English poetry for decades. This award-winning volume draws surprising and often profound connections between ancient and modern lyric poems, probing the human capacity for transformation. In this two-session course, we will explore Old English elegies, riddles, charms, and more alongside the poems and translations that they inspired in Oberman's uniquely hybrid book. Class size: minimum of 5 students and maximum of 20 students. Textbook: The Unstill Ones, Miller Oberman (Princeton University Press, 2017) | .3 CEU, 3 PDP
Clough-Hanson Gallery Conversations: Young, Gifted, and Black
Professor Joel Parsons (Art and Art History, Gender and Sexuality Studies)
Two Wednesdays (November 1, 8), 5:30-7:00 pm, Central Time
In-person (Clough-Hanson Gallery) or remote (Zoom), $75
Currently on display in Rhodes College's Clough-Hanson Gallery, the exhibition Young, Gifted, and Black features over fifty contemporary artworks by established and emerging artists of African descent, including Kerry James Marshall, Kara Walker, and Mickalene Thomas. Join us for an exploration of the themes of this exceptional collection, including contemporary figuration, the significance of color and Blackness, and expanded notions of materiality. The course's hybrid format and limited class size will allow participants both in the gallery and beyond to participate fully in this unique experience. Readings will be provided in advance. Class size: minimum of 5 students and maximum of 15 students. | .3 CEU, 3 PDP
Reading and Writing Creative Non-fiction: Memoir in Context
Professor Amy Benson (English, Creative Writing)
Three Thursdays (October 26, November 2 and 9), 5:30-7:00 pm, Central Time
In-person (Dorothy King Hall), $110
"Love words, agonize over sentences. And pay attention to the world." Susan Sontag
We will read memoir essays and discuss elements of literary writing: sensory detail, narrative structure, and metaphor. We will also notice how personal stories often become more powerful when the author weaves in rich context for the memories. What aspects of place, community, economics, technology, or environment deepen the themes? Participants will engage in in-class and take-home writing exercises. While these exercises will not be submitted for full critique, a portion of class time will be devoted to work the participants generate; sharing responses will be encouraged but not mandatory. Readings will be provided in advance. Class size: minimum of 5 students and maximum of 15 students. | .45 CEU, 4.5 PDP
Rhodes@175: A History of the College
Host and facilitator: Professor Tim Huebner (History)
Four Mondays (November 6, 13, 20, 27), 5:30-7:00 pm, Central Time
In-person (Dorothy King Hall) or remote (Zoom), $150
This course explores the history of Rhodes College at its 175th anniversary. Founded in 1848 in Clarksville, Tennessee, the college both shaped and responded to the larger forces of its local and regional setting, especially after its move to Memphis in 1925. Drawing on the expertise of some of our most experienced faculty and staff, this course will highlight important themes in the college's history. These include the college's Collegiate Gothic architectural style, its Presbyterian identity and commitment to service, its liberal arts curriculum (including the SEARCH program), and its longstanding role as a leader in the Memphis arts community.
November 6: Building the Memphis Campus/Master Plans – Bill Short, Associate Director of Barret Library
November 13: Presbyterian Heritage/Service/Social Justice – Professor Steve Haynes (Religious Studies)
November 20: SEARCH Course and Curriculum – Professor Kenny Morrell (Ancient Mediterranean Studies)
November 27: Fine Arts on Campus – Professor Carole Blankenship (Music)
Readings will be provided in advance. Class size: minimum of 5 students and maximum of 40 students. | .6 CEU, 6 PDP

Meeman Sampler Series
In Search of the Apostle Paul
Professor Patrick Gray (Religious Studies)
Thursday, September 14, 5:30-7:00 pm
In-person (Dorothy King Hall) or remote (Zoom), $35
After Jesus, no one has had a larger impact on the history of Christianity than the Apostle Paul. Among his other accomplishments, he wrote much of what would later become the New Testament. Or did he? This session dives deep into the longstanding debate about the authorship of Paul's letters, places the question into literary and historical context, and considers answers that will discomfit readers all along the theological spectrum. Readings will be provided in advance. Class size: minimum of 5 students and maximum of 25 students. | .15 CEU, 1.5 PDP
Truth, Justice, and the American Way: Superman and World War II
Professor Marilyn Koester (English)
Tuesday, October 3, 5:30-7:00 pm, Central Time
In-person (Dorothy King Hall) or remote (Zoom), $35
How did the Man of Steel appear on the scene? Explore the fascinating origins of the first Superman comic (Action Comics #1). Published in 1938, DC Comics' costumed hero helped launch today's popular superhero genre. Created by Jerry Siegel and Joe Shuster, children of Jewish immigrants, the early Superman also has interesting ties to anti-Semitism and World War II. We will explore the comic in light of this political context, as well as examine how others swiftly capitalized on Superman's fame to bolster American patriotism through WWII propaganda. The comic will be provided in .pdf form prior to the class. Class size: minimum of 5 students and maximum of 25 students. | .15 CEU, 1.5 PDP
Linguistics at Play: The Language of Sports
Professor Scott Garner (Ancient Mediterranean Studies)
Wednesday, October 11, 5:30-7:00 pm, Central Time
In-person (Dorothy King Hall), $35
Around the horn, flea flicker, bogey, southpaw, hat-trick, fartlek, sticky wicket, independent as a hog on ice. The world of sports contains a seemingly endless supply of terms and phrases; many of these linguistic items are of course shared by multiple games, while others arise as specialized jargon connected to a particular sport. But how does this terminology and lingo actually originate, and what leads to different pastimes developing dedicated language to be utilized by their participants? To answer these questions, our 90-minute session will kick things off by exploring how the language of sports reflects the cultural environments in which these games are played. Then, after we've gotten the ball rolling, we will make sure to wrestle with how those linguistic developments mirror those that occur in language more broadly. Finally, just to make sure that we cover all our bases, we will look at examples of how specialized lingo from sports has then entered into more generalized usage within English. At least, that's the game plan. But you never know if we'll get off course or have to call an audible! No advance reading required. Class size: minimum of 5 students and maximum of 20 students. | .15 CEU, 1.5 PDP
This is Shakespeare: A Conversation with Dr. Emma Smith
Facilitated by Professor Scott Newstok (Director of the Pearce Shakespeare Endowment)
Wednesday, October 18, 5:30-7:00 pm, Central Time
In-person (Dorothy King Hall), $35
Join us for an engaging conversation with visiting scholar Emma Smith, about her book This is Shakespeare, "an electrifying new study that investigates the challenges of the Bard's inconsistencies and flaws, and focuses on revealing – not resolving – the ambiguities of the plays and their changing topicality" (Penguin Random House, 2019). Dr. Smith is Professor of Shakespeare Studies at Hertford College, Oxford University, and her visit to Rhodes College is made possible thanks to the Pearce Shakespeare Endowment, and this lifelong learning class offers a special opportunity for close reading and discussion in a small group setting. Excerpts from the book will be provided to participants in advance. Class size: minimum of 5 students and maximum of 15 students. | .15 CEU, 1.5 PDP
The Psychology of Film Music: Jurassic Park
Professor Courtenay Harter (Music)
Wednesday, November 15, 5:30-7:00 pm, Central Time
In-person (Barret Library, Room 34), $35
Music plays an integral role in filmmaking and serves many functions: conveying emotion, heightening tension, influencing interpretation about events and characters. All of these musical applications depend on complex mental processes that are being identified through research on human participants in multimedia contexts. Our discussion of these fascinating and interrelated phenomena will focus especially on Jurassic Park, which is available through several streaming services. Watching the 1993 movie ahead of the class will allow us to discuss the musical composition and engage with some of the psychological literature for specific musical cues. Class size: minimum of 5 students and maximum of 25 students. | .15 CEU, 1.5 PDP
Chemistry and Mystery: Reactions that Shape Our World
Professor Dhammika S. Muesse (Chemistry)
Thursday, November 30, 5:30-7:00 pm, Central Time
In-person (Dorothy King Hall), $35
This course will discuss some of nature's greatest mysteries unraveled through chemistry. We will explore the answers to questions like: What is the origin of matter? What are the killer energies in the universe? Ours is a water planet, and where did this water come from? Is more water created, and, if so, will the land masses disappear? What are dead lakes, and can we make them alive again? What is the difference between nuclear fission and fusion, and which is a better energy source? Through the process of answering these questions, we hope to appreciate the use of scientific information in decision and policy making. No prior reading or preparation required. Class size: minimum of 5 students and maximum of 20 students. | .15 CEU, 1.5 PDP
Frequently Asked Questions (FAQs)
Where are in-person classes held?
Unless otherwise noted, in-person Meeman classes will be held in Dorothy King Hall, which is located along University Street on the West Campus of Rhodes College. Simply buzz the doorbell when you arrive, and you will soon be greeted at the door. A PDF of our campus map can be found here, and an interactive campus map is available here.
What is the format for remote classes?
Zoom links will be sent to all registrants for remote classes and to those registering for the remote option in hybrid classes. Please note that if you are sharing a screen with other members of your household, only one registration is necessary (one registration per screen).
Do I need to wear a mask during my Meeman class?
The Meeman Center for Lifelong Learning follows the health and safety protocols of Rhodes College. See current policies here. At present, masks are not required on campus. However, individual faculty retain the option of requiring the use of masks in their respective classrooms. Everyone on our campus may choose to stay masked, and we as a community will respect their decision.
Where should I park for my Meeman class?
Meeman students are free to make use of any lots on the Rhodes campus at no charge. Parking is available in the lot directly behind King Hall and in the adjacent lot near McNeill Concert Hall. See Parking Map here.
Does King Hall have accessible facilities?
Yes, the back of King Hall has an accessible entrance. Simply buzz the doorbell or knock when you arrive. King Hall also has an All Gender wheelchair accessible restroom. Please feel free to contact us with any additional needs you might have. See Rhodes College's Accessibility Map.
Do Meeman courses have textbooks?
Some faculty select textbooks, others share readings with students as PDFs, and still others require no reading at all. Participants will be sent an email well ahead of time with details for their course.
Do Meeman classes have prerequisites or exams?
No, our courses have no entrance requirements, no grades, and no tests. Meeman classes are non-credit bearing and offer opportunities for adult learners to explore new ideas in an informal and open environment.
An emergency came up, and I can no longer attend my Meeman class. Can I receive a refund?
We understand that life is sometimes uncertain. Full refunds will be given for registrations cancelled at least two weeks before the first day of your class. Those needing to cancel less than two weeks before a course start date may choose to receive either a credit of the original amount toward future classes or a 50% refund.
What if a class is cancelled due to inclement weather?
If any class must be cancelled due to inclement weather or for any other reason, students will be notified via email and plans will be made to reschedule. In the event that rescheduling is not possible, refunds will be issued for any cancelled classes.
My Meeman class ends after dark. Is anyone available to escort me to my car?
Yes, Rhodes Campus Safety is happy to escort Meeman students. Just call the Campus Safety non-emergency number: 901-843-3880.
I have a question not answered here. Who should I contact?
Feel free to call the College Events office at 901-843-3888 or email the director, Dr. Lori Garner, at GarnerL@Rhodes.edu. We would love to hear from you!