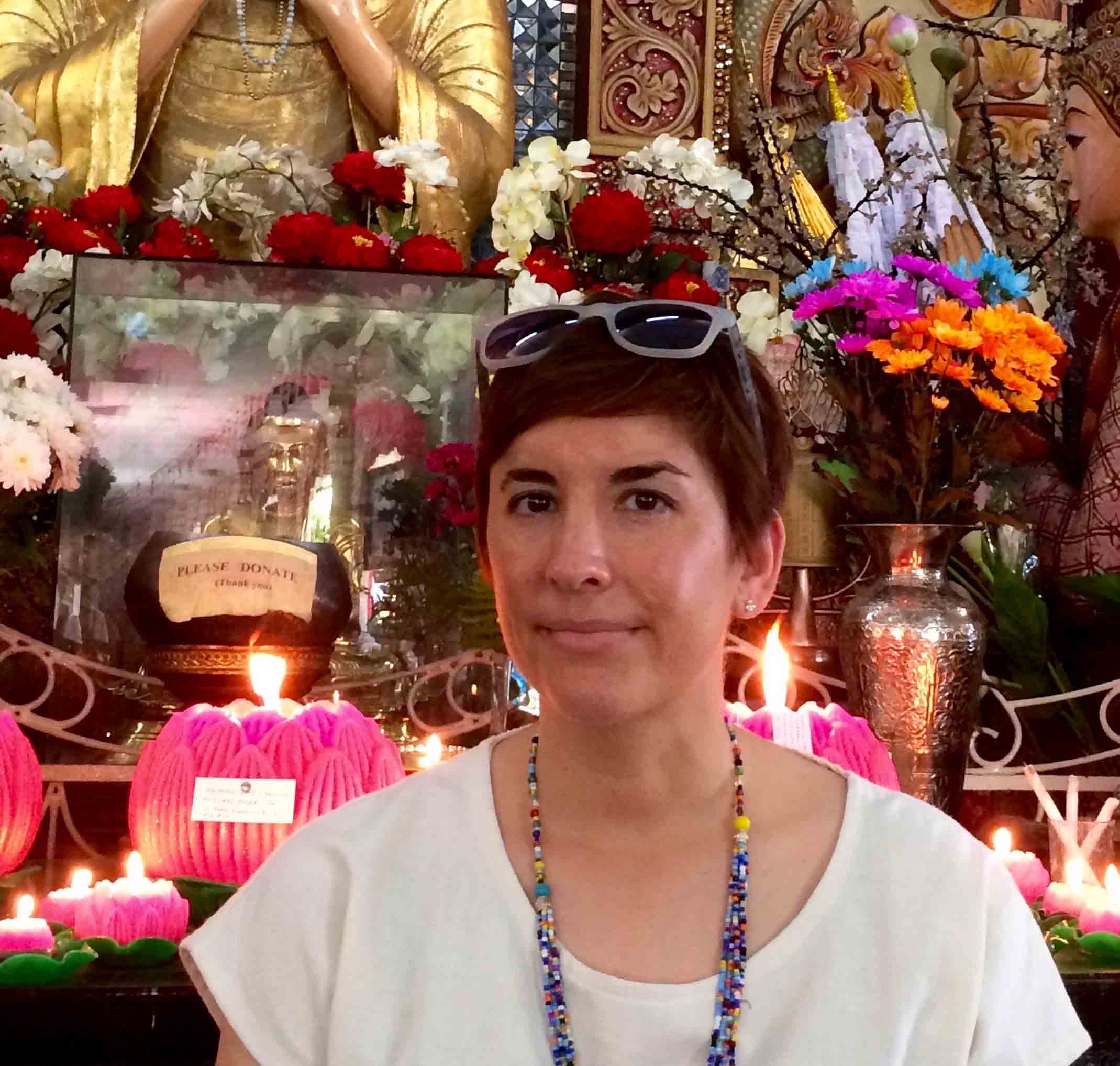 Brooke Schedneck
Assistant Professor of Religious Studies
Brooke Schedneck received her B.A. from Boston University, majoring in religious studies. She holds an M.T.S,. focusing on World Religions, from Harvard Divinity School and a Ph.D. in Asian Religions from Arizona State University. Her research interests include contemporary Buddhism, religions of Southeast Asia, gender in Asian religions, and religious tourism. Previous research explored the history of modern vipassana meditation, specifically investigating Thailand's international meditation centers, which resulted in her first book. Her current research focuses on tourist encounters with Buddhism in Northern Thailand.
Selected Publications:

Book:

Thailand's International Meditation Centers: Tourism and the Global Commodification of Religious Practices, Routledge, in the series Contemporary Asian Religions, 2015    
Articles:

"Beyond the Glittering Golden Buddha Statues: Encountering Difference and Transforming the Self through Buddhist Volunteer Tourism in Thailand." Journeys: The International Journal of Travel and Travel Writing. 18 (1): 57-78, 2017.
"Thai Meditation Lineages Abroad: Creating Networks of Exchange." 
Special Section of Contemporary Buddhism. 17 (2): 427-438, 2016
"Meditation for Tourists in Thailand: Commodifying a Universal and National Symbol." Journal of Contemporary Religion. 29 (3): 439-456, 2014.
Book Chapters:

"Imaginaries of Buddhism: Religious Encounters in Thailand." In EastSpirit: Transnational Spirituality and Religious Circulation in East and West. ed. Jørn Borup, Brill Publishers: 279-278, 2017.
 
"The Rise of Female Meditation Teachers in Southeast Asia." In Women and Asian Religions. Zayn Kassam, ed. Women and Religion in the World Series, ABC-CLIO: 313-328, 2017.
 
"Buddhist International Organizations." In The Oxford Handbook of Contemporary Buddhism. Michael Jerryson, ed. Oxford University Press: 398- 420, 2016.
 
Education
Ph.D., Religions of Asia, Arizona State University
M.T.S., Harvard University
B.A., Boston University