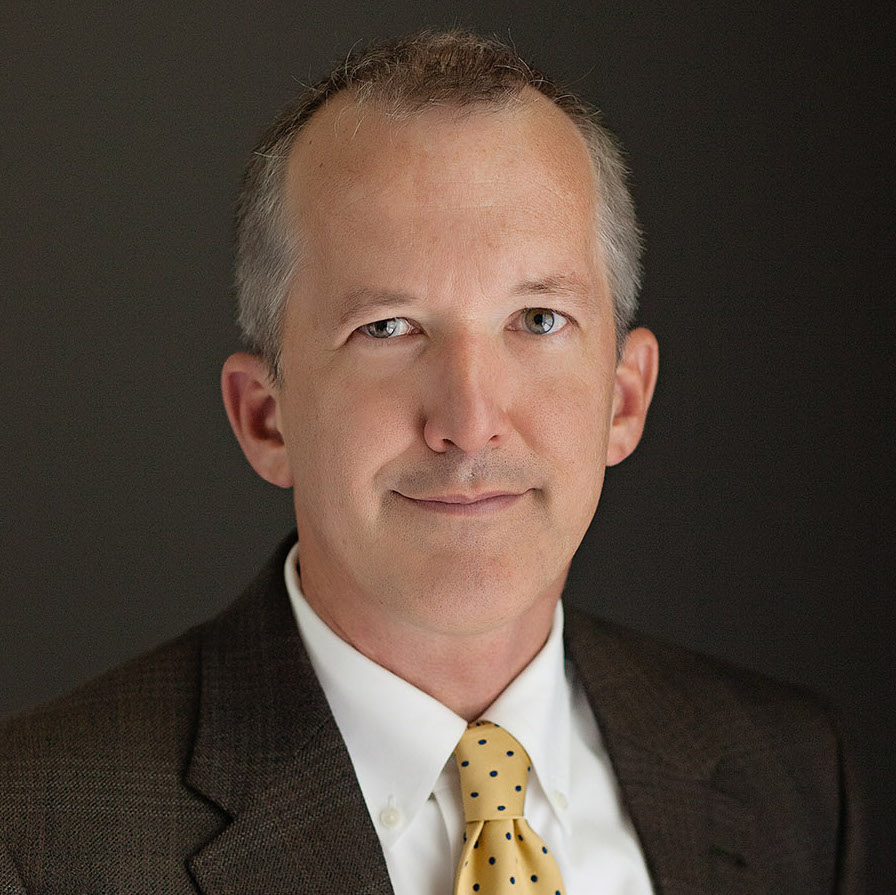 Tim Huebner
Irma O. Sternberg Professor of History
Teaching
In my twenty-one years at Rhodes, I have taught a variety of courses dealing with the history of the U.S. Constitution, the history of the American South, and the Civil War and Reconstruction Era.  In addition to my survey course on the South and upper division seminars on constitutional history and the Civil War, I have offered a range of special topics courses, including "Lincoln," "The Mind of the South," "Shelby Foote, the South, and the Civil War," and "The Supreme Court in U.S. History."
My teaching reflects, I hope, my passion for studying the complexity of past human experience.  In 2004, I won the Clarence Day Award for Outstanding Teaching at Rhodes, and that same year the Carnegie Foundation for the Advancement of Teaching and the Council for the Advancement and Support of Education named me the Tennessee Professor of the Year.  
In 2011, my "Supreme Court in U.S. History" class was featured on "Lectures in History," American History TV, C-SPAN 3, viewable at www.cspan.org  
Research
I am proud to announce the publication of my new book, Liberty and Union:  The Civil War Era and American Constitutionalism (Lawrence, Kan.:  University Press of Kansas, 2016).  The book, as I state in the preface, "is about the relationship between the Civil War generation and the founding generation."  That is, it examines how Americans of the mid-nineteenth century understood the founders' handiwork, the Declaration of Independence of 1776 and the Constitution of 1787.  
Liberty and Union shows how the Civil War transformed America.  From the start, African Americans pushed the issue of freedom. For decades, beginning in the late-eighteenth century, free blacks in the North had asserted their rights as men and as Americans. Decades later, free blacks began assembling regularly in conventions and issuing resolutions claiming all of the rights of other Americans under the Constitution. Enslaved African Americans in the South also pushed the limits—many escaped to federal military outposts even before the Union government had taken its first antislavery action. So African Americans continually advocated an agenda of freedom—not just emancipation but their full panoply of rights under the Declaration of Independence. When emancipation came, it came largely because of their persistent efforts in pushing this agenda, and, in wartime, in walking off plantations and enlisting in the U.S. military. 
These continued attempts to claim America's heritage of liberty—I call it "black constitutionalism"—helped to bring about a constitutional revolution. In the 1859 case Ableman v. Booth, the Supreme Court upheld in nationalistic language the rights of slaveholders to recapture fugitive slaves. Who could have imagined then that within a dozen years the full force of the federal government would be used for the opposite purpose—to uphold the voting rights of African Americans, those who had been described in the Dred Scott decision as having "no rights" at all? In this sense, African Americans helped create a new discourse of rights in America—one that focused not on the rights of slaveholders but on the rights of formerly enslaved people.
Selected Publications
Books
Liberty and Union:  The Civil War Era and American Constitutionalism (Lawrence, Kas.:  University Press of Kansas, 2016).
[Edited with Kermit L. Hall], Major Problems in American Constitutional History: Documents and Essays, 2nd ed. (New York, Cengage, 2009)
The Taney Court: Justices, Rulings, and Legacy. (Santa Barbara, CA, ABC-CLIO, 2003)
The Southern Judicial Tradition: State Judges and Sectional Distinctiveness, 1790-1890 (Athens: University of Georgia Press, 1999).
Journal Articles, Book Chapters and Review Essays
"Shelby Foote, Memphis, and the Civil War in American Memory," Southern Cultures, 21 (2015), 13-27.  Co-authored with Madeleine McGrady.
"Roger B. Taney and the Slavery Issue: Looking beyond—and before—Dred Scott," Journal of American History, 97 (June 2010), 39-62.
"Lincoln versus Taney: Liberty, Power, and the Clash of the Constitutional Titans," Albany Government Law Review, 3 (2010), 615-643.
"Lawyer, Litigant, Leader:  John Marshall and His Papers – A Review Essay," American Journal of Legal History, 48 (July, 2006), 314-326. (Review essay of Hobson, et al, eds. The Papers of John Marshall, v. 1-12).
"Judicial Independence in an Age of Democracy, Sectionalism, and War, 1835-1865," in James W. Ely, Jr., ed., A History of the Tennessee Supreme Court, Knoxville, Tenn.: University of Tennessee Press, 2002, 61-98.
"The Roots of Fairness: State v. Caesar and Slave Justice in Antebellum North Carolina," in Christopher Waldrep and Donald Nieman, eds., Local Matters: Race, Crime, and Justice in the Nineteenth-Century South, (Athens, Ga.: University of Georgia Press, 2001), 29-52.
"Campus, Community, and Civil Rights: Remembering Memphis and Southwestern in 1968–A Panel Discussion," edited and transcribed with Benjamin Houston, Tennessee Historical Quarterly, 58 (Spring, 1999), 70-87.
"Judge John Hemphill, the Homestead Exemption, and the 'Taming' of the Texas Frontier," Western Legal History, 11 (Winter/Spring, 1998), 65-85.
"Divided Loyalties: Justice William Johnson and the Rise of Disunion in South Carolina, 1822-1834,"Journal of Supreme Court History, (1995), 19-30.
"The Consolidation of State Judicial Power: Spencer Roane, Virginia Legal Culture, and the Southern Judicial Tradition," Virginia Magazine of History and Biography, 102 (January, 1994), 47-72.
"Encouraging Economic Development: Joseph Henry Lumpkin and the Law of Contract, 1846-1860,"Journal of Southern Legal History, 1 (Fall/Winter, 1991), 357-375.
"Joseph Henry Lumpkin and Evangelical Reform in Georgia: Temperance, Education and Industrialization, 1830-1860," Georgia Historical Quarterly, 75 (Summer, 1991), 254-274.
Education
M.A. and Ph.D., University of Florida
B.A. (Phi Beta Kappa), University of Miami