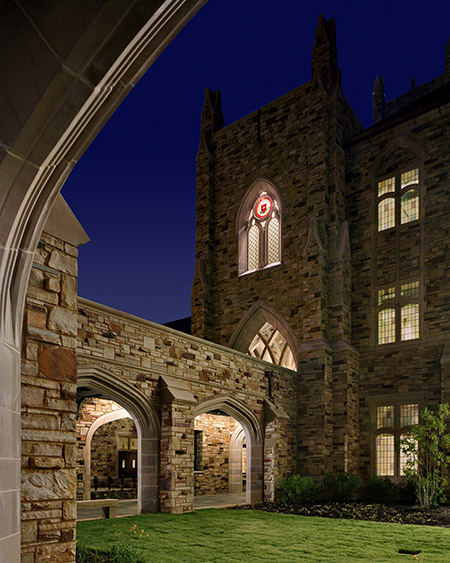 Rhodes' Collegiate Gothic campus sits on a 123-acre, wooded site in the heart of historic Midtown Memphis. In this beautiful, supportive environment, our students and faculty comprise a community unmatched in its dedication to learning and a life of honor.
Our walkways, quadrangles, residence halls, common areas, and classrooms are all intentionally designed to encourage intimate conversation, the exchange of ideas, and life-changing connections.
The original buildings, including Southwestern Hall (1925), Kennedy Hall (1925), and Robb and White dormitories (1925), were designed by Henry Hibbs in consultation with Charles Klauder, who designed many buildings at Princeton University, alma mater of former Rhodes president Charles Diehl.
Later buildings were designed by H. Clinton Parrent, a young associate of Hibbs. His buildings include the Catherine Burrow Refectory (1957), which was an expansion of the original dining hall. Parrent also added Halliburton Tower (1962) to Southwestern Hall. The 140-foot bell tower was named in honor of explorer Richard Halliburton. The Paul Barret, Jr. Library holds a collection of Halliburton′s papers.
With each new expansion, Rhodes has maintained its Collegiate Gothic architecture. The Paul Barret Jr. Library (2005), which was designed by the firm of Hanbury Evans Wright and Vlattas, has been ranked among the country's most beautiful libraries. In 2012, Rhodes opened the expanded Catherine S. Burrow Refectory and the West Village Residence Hall, both of which were designed by Hanbury Evans Wright and Vlattas and maintain the Collegiate Gothic style.
In September of 2017 Rhodes opened its most recent expansion, Robertson Hall. It is a $30 million, 55,000-square-foot science facility that features state-of-the-art research and teaching labs and smart classrooms.
The Princeton Review named Rhodes the #1 Most Beautiful College Campus in America in its 2017 edition of The Best 381 Colleges.
Campus Maps