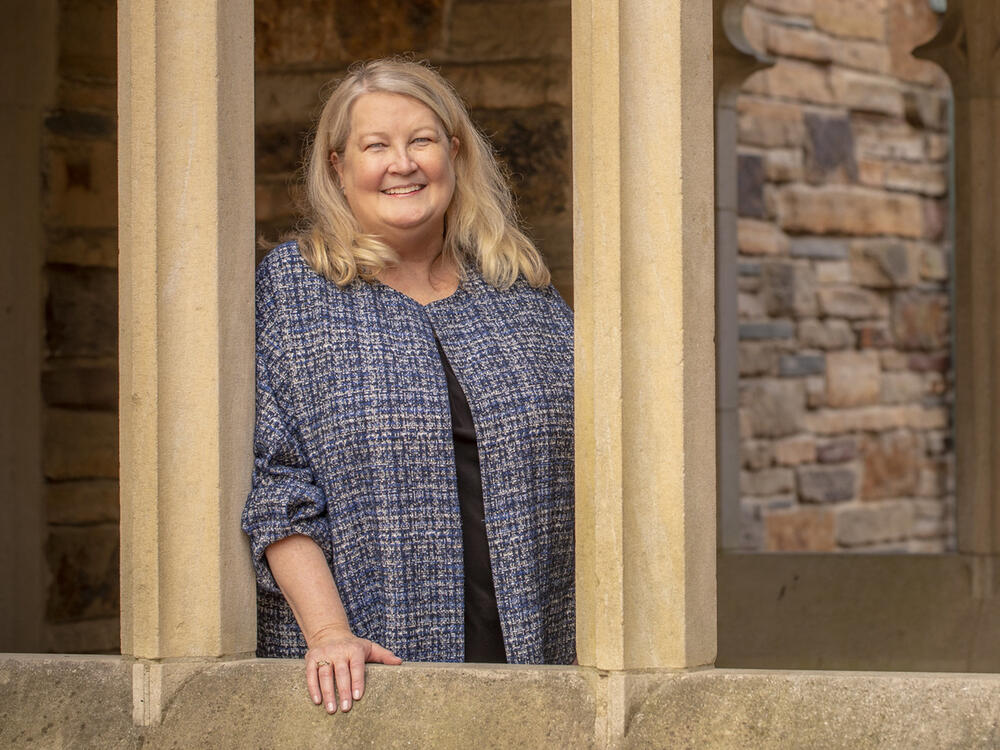 President Jennifer Collins
Jennifer M. Collins was named the 21st president of Rhodes College on Dec. 6, 2021, following a unanimous vote by the Board of Trustees. An inspiring leader, beloved educator, and committed proponent of the value of the liberal arts, she had served since 2014 as the Judge James Noel Dean and professor of law at Southern Methodist University.
At SMU, she worked with more than 100 faculty members and supported more than 800 domestic and international students. She had responsibility for managing a $49 million annual budget; hiring, supporting, and retaining faculty and staff; fundraising; and managing internal and external communications. During her tenure, she raised more than $50 million for scholarships, endowed chairs and professorships, and new academic and student programming. In a time of declining interest in legal education, she increased the number of applications to the law school every year, exceeding both the national and regional averages, and improved the entering academic credentials and diversity of the student body. Collins also vastly increased alumni engagement by creating a new umbrella alumni organization and an Emerging Leaders Board for recent graduates.
Collins joined the law faculty at Wake Forest University (NC) in 2003 and was named associate provost for academic and strategic initiatives in 2010 and vice provost in 2013. As the first law professor to hold these roles, she was responsible for strategic planning, the fostering of interdisciplinary partnerships, budgeting, faculty and student recruitment, and the enhancement of the undergraduate and graduate student experience across multiple schools.
Collins taught courses in criminal law, criminal procedure, family law, gender and the law, and career development and legal professionalism. She has received numerous awards for excellence in teaching.
Collins clerked for the Hon. Dorothy W. Nelson in the U.S. Court of Appeals for the 9th Circuit after graduating from Harvard Law School, and worked in private practice in Washington, D.C., before joining the U.S. Department of Justice Office of Legal Counsel as an attorney-adviser in 1993. She then served as Assistant United States Attorney in the U.S. Attorney's Office for the District of Columbia from 1994 to 2002. She returned to private practice in 2002 at Sidley Austin before moving to Wake Forest.
She is the co-author of Privilege or Punish? Criminal Justice and The Challenge of Family Ties (Oxford University Press 2009). In addition, she has written many other law review articles and essays featured in Yale Law Journal, Boston University Law Review, Northwestern University Law Review, and more. Collins' scholarship is focused on issues involving families and the criminal justice system.
She received her B.A., cum laude with distinction, in history from Yale University (CT) and her J.D., magna cum laude from Harvard University (MA), where she also served as an editor for the Harvard Law Review. Collins and her husband, Adam Charnes, are the parents of Jake, Lily and Sam.
Collins assumed her responsibilities on July 1, 2022, succeeding Interim President Carroll Stevens, who served the college from July 1, 2021, until June 30, 2022, following the departure of President Marjorie Hass.