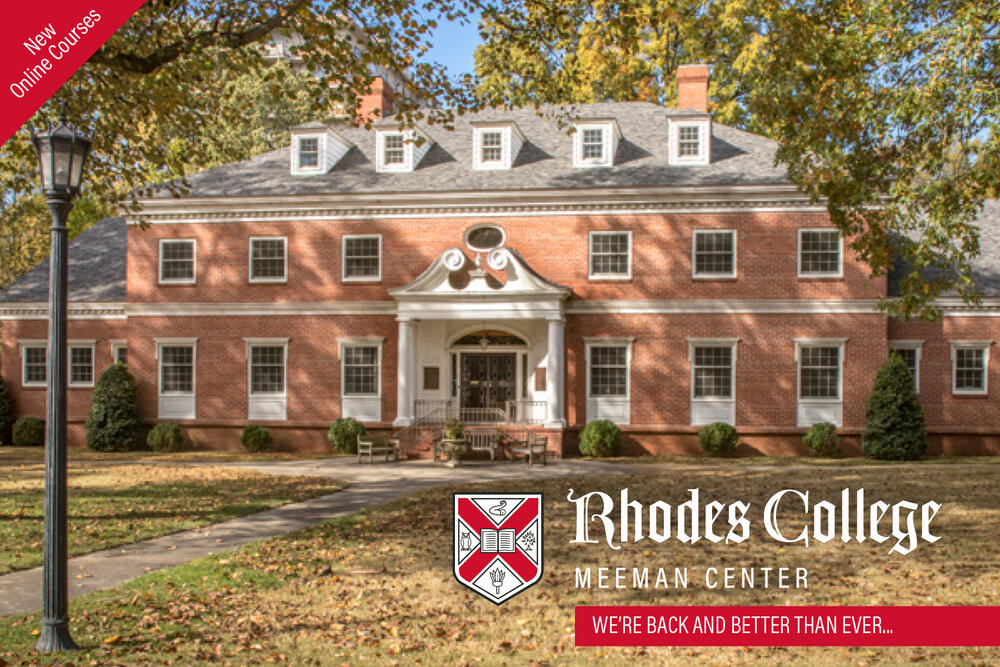 The Meeman Spring program is here!
Click HERE to register for Spring 2023 courses!
The Rhodes College Meeman Center for Lifelong Learning is pleased to offer classes taught by some of the college's most outstanding faculty. The Meeman Center fulfills Rhodes' commitment to learning as a lifelong process by engaging adults from the Mid-South and beyond in liberal arts education. The Meeman Center promotes personal and professional development to individuals and businesses through programs, courses, and trips distinguished by their academic excellence. No matter how varied your interests or how busy your schedule, there is a class for you at the Meeman Center!
See full course descriptions and further details below. Unless otherwise noted, all in-person classes will be held in Dorothy King Hall. Remote classes will held be on Zoom, and hybrid courses can be taken remotely or in-person. For more information or to be added to our mailing list, contact Dr. Lori Garner, director of the Meeman Center, at GarnerL@Rhodes.edu. We hope to see you soon!
Meeman Center Schedule (Spring 2023)
Multi-Week Evening Classes (ranging from 2-4 weeks, 1-2 hours per session):
January 23, 30, February 6, 13: You think you know…. Busting myths in Psychology (Remote) Klatzkin
February 20, 27, March 6, 20: African Migrants' Experiences in the United States (In-person) Mamah
March 21, 28: The Death of Artemio Cruz by Carlos Fuentes (In-person) Tucker
April 3, 10, 17, 24: What is Disability Justice? (Remote) Hughes
April 5, 12, 19, 26: Beyond AARP: Applying Aging Research in Psychology (In-person or Remote) Maddox
April 13, 20, 27: Living Buddhism (In-person or Remote) Schedneck
Meeman Sampler Series (one-time, one-hour classes, 6:00- 7:00pm):
Multi-Week Classes
You think you know…. Busting myths in Psychology
Dr. Becky Klatzkin (Psychology, Neuroscience)
Format: Remote
Much of what we think we know about psychology may not be true. This course will ask students to think critically and debunk some commonly held, yet incorrect, beliefs related to psychology. First, students will confront the myth that our thought processes are unbiased. We will begin this course by learning how to identify biases in our thinking that can have serious implications, including stereotypes, prejudice, and discrimination. In doing so, we will explore how empirical evidence protects against 1) biases in our thinking, and 2) the "bad science" often hidden behind social media news headlines (i.e., fake news). In the second half of the course, we will confront common misconceptions about the causes of mental illness. Are psychological disorders caused by genes? By environment? By chemical imbalances? We will discuss how these factors work together to predispose some individuals to develop mental illnesses but not others. All readings will be provided in .pdf format.
Four Mondays: January 23, 30, February 6, 13
5:30-6:30 p.m.
Tuition: $100

Race and Belonging: African Migrants' Experiences in the United States
Dr. Abou-Bakar Mamah (Modern Languages and Literatures, Africana Studies)
Format: In-person, Dorothy C. King Hall

This course will introduce you to the experience of African migrants in the United States, including even those in Memphis. While some migrants are successful and feel integrated into American society, others, on the other hand, come to realize that the color of their skin and their African origin are obstacles that impede their success and sense of belonging. An African migrant spirit imbued with the feeling of hospitality can easily fall prey to hatred in a host country. In this course, you will also learn about recent developments in postcolonial African fiction that respond to this important issue. In our reading of the novel A Particular Kind of Black Man, by award-winning author Tope Folarin, we will focus on what this text says to you about the diverse dynamics of hospitality and hostility that shape migrants' experiences in the United States.

Four Mondays: February 20, 27, March 6, 20
5:30-7:30 p.m.
Tuition: $200

The Death of Artemio Cruz by Carlos Fuentes
Dr. Don Tucker (Professor Emeritus of Spanish)
Format: In-person, Dorothy C. King Hall
The Death of Artemio Cruz (a Mexican novel published in 1962) recounts how Cruz, a corrupt magnate, on his deathbed, recalls details of his complex life, including his dishonorable service as an officer in the Mexican Revolution, his deceitful marriage to the daughter of a wealthy land owner, and his cynical betrayal of the socialist principles for which he supposedly fought. Artemio's stream-of-consciousness memories are often interrupted and confused with narrative techniques such as cross-cutting, flashbacks, and changes of verbal tenses and persons. These various techniques can be disconcerting for the reader, but important historical events like details of the Mexican campaign and the participation of Lorenzo (Artemio's son) in the Spanish Civil War are presented in straightforward prose. Such tensions create opportunities for meaningful and fascinating discussion.
Two Tuesdays: March 21, 28
5:30-7:30 p.m.
Tuition: $100

Beyond AARP: Applying Aging Research in Psychology
Dr. Geoff Maddox (Psychology)
Format: Hybrid (In-person or Remote)
This course will examine the complex process of aging and the numerous factors that contribute to our overall health and abilities as we get older. Specifically, we will focus on cognitive changes that occur across the lifespan (e.g., changes in memory, our ability to think of words when speaking with others, and our ability to pay attention) and health-promotion behaviors to address these changes. In addressing these goals, we will confront the stereotypes many of us hold about the aging process.
Four Wednesdays: April 5, 12, 19, 26
5:30-7:30 p.m.
Tuition: $200

What is Disability Justice?
Dr. Charles Hughes (Urban Studies, Memphis Center)
Format: Remote
"Nothing about us without us." This phrase, used by disability activists for decades, symbolizes how disabled people have insisted on disability as a positive, powerful, and political identity. This course will explore what disability justice means and why it matters. We'll examine the history and culture of disability in the United States, as well as the opportunities and challenges of the current moment. We'll center the idea of disability justice – developed by disabled activists and scholars in the early 2000s – to current campaigns for greater access, equity, recognition, and community. Readings will be provided to registrants in advance as PDFs.
Four Mondays: April 3, 10, 17, 24
5:30-7:00 p.m.
Tuition: $150

Living Buddhism
Dr. Brooke Schedneck (Religious Studies)
Format: Hybrid (In-person or Remote)
Buddhism is more than meditation and mindfulness. It is a full tradition with rituals, art, stories, and ethics. This three-week course introduces the lived practice of Buddhism. We will focus on one part of the Buddhist world: the countries of mainland Southeast Asia. Cambodia, Myanmar, Laos, and Thailand all have a majority population of the earliest kind of Buddhism, known as Theravada. The three sessions in this course will follow my forthcoming book on this topic, titled Living Theravada: Demystifying the People, Places, and Practices of a Buddhist Tradition. In each session, we will discuss one part of the book: people, places, and practices. Students will come away with a wealth of knowledge regarding the contemporary Buddhist tradition.
Three Thursdays, April 13, 20, 27
5:30-7:30 p.m.
Tuition: $150
Meeman Sampler Series
One-time, one-hour classes, 6:00 - 7:00 p.m.
Tuition: $25 per class
Studying Medieval History through Monty Python and The Holy Grail
Dr. Sarah Ifft Decker (History)
Format: Hybrid (In-person or Remote)
How does contemporary film and television depict the medieval past—and why does it matter? Popular media set in the medieval world both reflects and shapes how we think about the Middle Ages. This course will explore how Monty Python and the Holy Grail uses humor and satire to portray an imagined medieval England—and what this tells us about our own relationship to the medieval past. The vignettes that make up this film will allow us to explore a wide range of topics, including the origins of the King Arthur legend, witch persecution, plague and pandemic, social class, and irreverent humor in the margins of medieval illuminated manuscripts. What is it about Monty Python's representation of the Middle Ages that we find so funny? What does the use of humor in the film tell us about our expectations for the Middle Ages? What does the movie get right and wrong—and should we care?
Wednesday, January 25
6:00-7:00 p.m.
Midsouth Art: Generations of Representation
Professor Joel Parsons (Art and Art History, Gender and Sexuality Studies)
Format: In-person, Clough Hanson Gallery
Organized with Memphis-born, New York-based artist Tommy Kha, an exciting new exhibition in the Clough Hanson Gallery at Rhodes College looks at the intertwined legacies of generations of minority artists in the Memphis region. Using a range of media including printmaking, photography, and painting, these artists assert their identity and carve out a space for themselves and their communities in the Midsouth landscape. Join us in the gallery for a conversation about their art, their biographies, and the ways in which their legacies are creating a path for future artists.
Wednesday, February 8
6:00-7:00 p.m.
Poetry in the 21st Century: The Work of Ada Limón
Dr. Caki Wilkinson (English, Creative Writing)
Format: Remote
This course will introduce participants to the poetry of Ada Limón, the 24th U.S. Poet Laureate, who will be visiting Rhodes in late February for the annual Jack D. Farris Visiting Writers Series. Limón is author of six books of poetry, including The Carrying, which won the National Book Critics Circle Award. Course readings will include a sampling from Limón's previous collections and her latest book, The Hurting Kind. Discussions will center on specific poems and recent trends in contemporary poetry as well as the creative process more broadly, making this course a good fit for readers and writers alike.
Tuesday, February 7
6:00-7:00 p.m.
A Medieval Werewolf: Marie de France's "Bisclavret"
Dr. Lori Garner (English)
Format: Hybrid (Remote or In-Person)
One of the twelve Lais of Marie de France (12th century), "Bisclavret" recounts the story a nobleman trapped in the form of a wolf. This surprisingly poignant narrative invites readers to consider complex questions of morality and ethics, treachery and betrayal, and—most of all—what it means to be human.
Wednesday, February 15
6:00-7:00 p.m.
Civil Rights and Civil Liberties
Dr. Anna Eldridge (Political Science)
Format: In-person, Dorothy King Hall
In a world that is increasingly seeing changes regarding the rights of citizens in every forum from healthcare to the judicial system, this class will guide participants through some of the most challenging court cases being decided today, including freedom of religion, reproductive privacy rights, and rights of the accused.
Tuesday, February 21
6:00-7:00 p.m.
Animal Ethics: Is it Ok to Eat Meat?
Dr. Rebecca Tuvel (Philosophy)
Format: Hybrid (In-person or Remote)
Is it ok to eat meat? According to animal rights theorists, the answer is no. Like humans, sentient animals are owed fundamental rights that protect them from harms such as killing, torture, and confinement. But is this position persuasive? In this one-hour course, students will be introduced to key philosophical argumentation both in favor of and against meat-eating. By the end of the hour, students will emerge with a deeper understanding of their own considered positions on whether it's ok to eat meat.
Wednesday, February 22
6:00-7:00 p.m.
Chemistry and Crime
Dr. Kimberly Brien (Chemistry)
Format: Hybrid (In-person or Remote)
The science behind the crime: what do forensic teams do after a crime has been committed and why can it take a long time to get results? Come find out as we explore the scientific techniques used by forensic scientists to investigate both high and low profile crimes.
Wednesday, March 1
6:00-7:00 p.m.
Euler's amazing polyhedral formula
Dr. Eric Gottlieb (Mathematics)
Format: In-person
Cubes, pyramids, and prisms are common examples of polyhedra. Others, like Buckminster Fuller's geodesic spheres and the truncated icosahedron, are less commonly referred to by name but are still immediately recognizable to most people. Polyhedra have been studied since antiquity, so it's a little surprising that it wasn't until 1752 that a simple equation was discovered relating the number of faces, edges, and vertices to each other. This relationship had been missed by mathematicians for over 2000 years! Together we will explore a proof of Euler's remarkable result. This work will require us to learn about planar graphs, another important mathematical object. Polyhedral models will be provided, allowing participants to explore specific instances of Euler's formula. If time permits we will also explore some parallel results and generalizations.
Wednesday, March 22
6:00-7:00 p.m.
The Shakespearean Sonnet
Dr. Scott Newstok (English)
Format: In-person, Dorothy C. King Hall
The sonnet — a fixed yet flexible fourteen-line form — finds new life in every generation. How did Shakespeare inherit this (already-centuries-old) genre, and bend it to his will?
Thursday, March 23
6:00-7:00 p.m.
Frequently Asked Questions (FAQs)
Where are in-person classes held?
Unless otherwise noted, in-person Meeman classes will be held in Dorothy King Hall, which is located along University Street on the West Campus of Rhodes College. Simply buzz the doorbell when you arrive, and you will soon be greeted at the door. A PDF of our campus map can be found here, and an interactive campus map is available here.
What is the format for remote classes?
Zoom links will be sent to all registrants for remote classes and to those registering for the remote option in hybrid classes. Please note that if you are sharing a screen with other members of your household, only one registration is necessary (one registration per screen).
Do I need to wear a mask during my Meeman class?
The Meeman Center for Lifelong Learning follows the health and safety protocols of Rhodes College. See current policies here. At present, masks are not required on campus. However, individual faculty retain the option of requiring the use of masks in their respective classrooms. Everyone on our campus may choose to stay masked, and we as a community will respect their decision.
Where should I park for my Meeman class?
Meeman students are free to make use of any lots on the Rhodes campus at no charge. Parking is available in the lot directly behind King Hall and in the adjacent lot near McNeill Concert Hall. See Parking Map here.
Does King Hall have accessible facilities?
Yes, the back of King Hall has an accessible entrance. Simply buzz the doorbell or knock when you arrive. King Hall also has an All Gender wheelchair accessible restroom. Please feel free to contact us with any additional needs you might have. See Rhodes College's Accessibility Map.
Do Meeman courses have textbooks?
Some faculty select textbooks, others share readings with students as PDFs, and still others require no reading at all. Participants will be sent an email well ahead of time with details for their course.
Do Meeman classes have prerequisites or exams?
No, our courses have no entrance requirements, no grades, and no tests. Meeman classes are non-credit bearing and offer opportunities for adult learners to explore new ideas in an informal and open environment.
An emergency came up, and I can no longer attend my Meeman class. Can I receive a refund?
We understand that life is sometimes uncertain. Full refunds will be given for registrations cancelled at least two weeks before the first day of your class. Those needing to cancel less than two weeks before a course start date may choose to receive either a credit of the original amount toward future classes or a 50% refund.
What if a class is cancelled due to inclement weather?
If any class must be cancelled due to inclement weather or for any other reason, students will be notified via email and plans will be made to reschedule. In the event that rescheduling is not possible, refunds will be issued for any cancelled classes.
My Meeman class ends after dark. Is anyone available to escort me to my car?
Yes, Rhodes Campus Safety is happy to escort Meeman students. Just call the Campus Safety non-emergency number: 901-843-3880.
I have a question not answered here. Who should I contact?
Feel free to call the College Events office at 901-843-3888 or email the director, Dr. Lori Garner, at GarnerL@Rhodes.edu. We would love to hear from you!