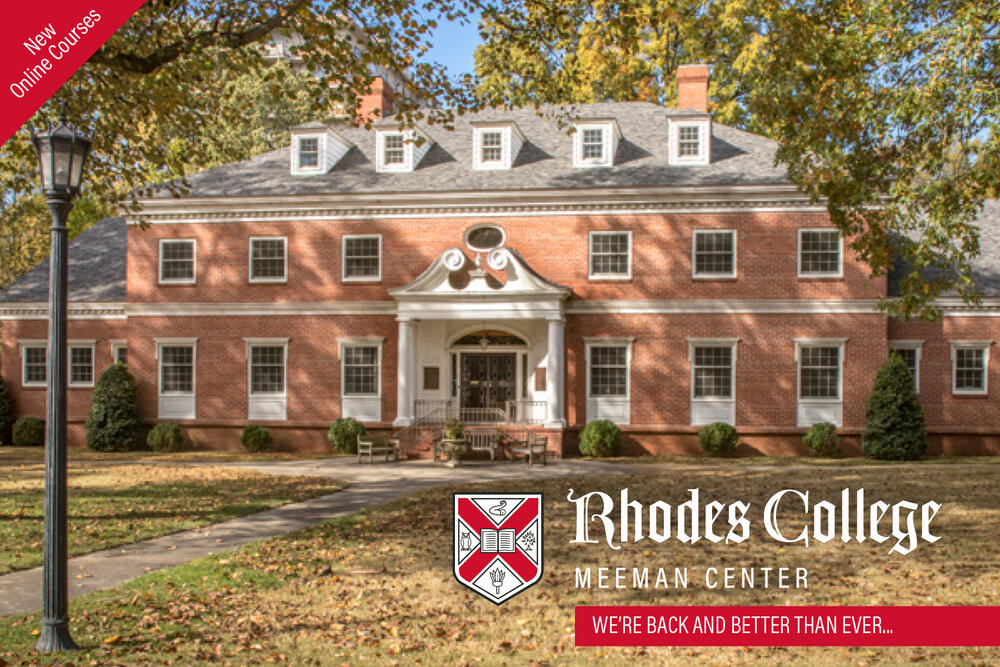 The Meeman Fall program is here!
Click HERE to Register for the Fall classes and Trivia Night!
Please check back on December 9, 2022 for the Meeman spring schedule.
The Rhodes College Meeman Center for Lifelong Learning is pleased to offer classes taught by some of the college's most outstanding faculty. The Meeman Center fulfills Rhodes' commitment to learning as a lifelong process by engaging adults from the Mid-South and beyond in liberal arts education. The Meeman Center promotes personal and professional development to individuals and businesses through programs, courses, and trips distinguished by their academic excellence. 
As in years past, we look forward this Fall to offering a robust slate of courses meeting weekly for two-hour sessions. In addition, we are excited to be expanding options for Meeman learners through selected courses that are scheduled for shorter sessions, some for only a single meeting. No matter how varied your interests or how busy your schedule, there is a class for you at the Meeman Center! 
See full course descriptions and further details below. Unless otherwise noted, all in-person classes will be held in Dorothy King Hall. Remote classes will held be on Zoom, and hybrid courses can be taken remotely or in-person. For more information or to be added to our mailing list, contact Dr. Lori Garner, director of the Meeman Center, at GarnerL@Rhodes.edu. We hope to see you soon!  
Meeman Center Schedule (Fall 2022)
Informational sessions: 
September 27: Fall Preview and Open House | Host: Dr. Lori Garner
5:30-6:30 p.m. Dorothy C. King Hall (in-person) 
7:00-8:00 p.m. (Zoom)  
Multi-Week Courses (ranging from 2-4 weeks, 1-2 hours per session): 
October 4: Causes of the American Civil War (in-person) Huebner 
October 13: Disputing and Defending Divine Justice (in-person) Kelly 
October 19: Memphis Reads/Rhodes Reads 2022: Noor by Nnedi Okorafor(in-person) Crosby (UofM) 
October 25: Specialist healers, song, and dance: A cross-cultural perspective (remote) Lara 
November 15: Truth is a Person: Early Christian Controversies Surrounding the Divinity and Personhood of Jesus (hybrid) Braskich
Meeman Sampler Series (one-time, one-hour classes, 6:00- 7:00pm) 
October 12: "Say what I am called": Old English Riddles (hybrid) L. Garner 
October 24: Women's Work in the Medieval Mediterranean (hybrid) Ifft Decker 
November 16: Art of the Anthropocene (hybrid) Benson 
November 17: The Radical King: Martin Luther King Jr.'s Forgotten Last Years (In-person) Loynes  
November 30: The Queen's Gambit and the "Real" World of Chess (hybrid) S. Garner  
December 5: The Science of the Spa (hybrid) Brien 
Special Event: 
December 7: Meeman Trivia Night and Spring Preview, Hyde Hall, 6-8 p.m. Host: Bill Short 
Multi-Week Classes
Causes of the American Civil War
Dr. Tim Huebner
Format: In-person, Dorothy King Hall
The U.S. Civil War stands out as the most important event in the nation's history.  About 750,000 people lost their lives in the four year struggle, about 2 percent of the population at the time.  A comparable figure today would be at least 6 million deaths. What prompted Americans to go to war with each other on such a massive scale?
 This course will explore the deep constitutional, political, and social origins of the Civil War, focusing on the fact that the southern states held about 4 million people in slavery.  The course will engage the difficult questions of how mid-nineteenth century Americans, both northerners and southerners, confronted the slavery issue.  We will be especially interested in exploring how economic interests, constitutional rights, and racial identity shaped American values toward the institution, within the context of a  culture dominated by Christianity.  At the end of the course, we will consider whether—in our highly polarized age—a civil war could occur again in our country.
Recommended Text:
Dwight T. Pitcaithley, ed., The U.S. Constitution and Secession:  A Documentary Anthology of Slavery and White Supremacy.
Three Tuesdays: October 4, 11, 18
5:30-7:30 p.m.
Tuition: $150

Disputing and Defending Divine Justice: From Ancient Mesopotamia to the Biblical Book of Job
Dr. Joseph Kelly
Format: In-person, Dorothy King Hall
Some people who do nothing to merit success prosper, while others face adversity despite their work ethic and moral integrity. These facts of life challenge theists who believe in divine justice. Should not the just receive divine rewards, and the wicked divine punishment? Some people resolve this challenge by embracing post-mortem justice, an afterlife where divine judgment rights the imbalance of rewards and punishments distributed prior to death. But how did early theists reckon with this challenge? Together we will explore literature from ancient Mesopotamia and the Biblical book of Job to examine different ways humans confronted this vexing question prior to the advent of post-mortem justice.  
Supplemental Text:
The Book of Job translated by Edward Greenstein
Four Thursdays: October 13, 20, November 3, 10
6:00-7:30 p.m.
Tuition: $150
Rhodes Reads 2022: Noor by Nnedi Okorafor
Dr. Shelby Crosby
Format: In-person, Dorothy King Hall
 This class, taught by guest faculty Dr. Shelby Crosby, focuses on the 2022 Rhodes Reads and Memphis Reads selection, the novel Noor by Nnedi Okorafor. Influenced by her dual Nigerian and American heritage, Okorafor describes her writing as Africanfuturism, and her innovative work in fantasy and science fiction has earned her such accolades as the Nebula Award, the Hugo Award, and the Eisner Award. Dr. Crosby, whose extensive publications weave together critical race theory, black feminism, and literary history, will lead two sessions surrounding Okorafor's visit to Rhodes on October 27 at 6pm (free and open to the public). The first will provide participants with crucial background and context beforehand, and the second will offer a chance for stimulating conversation about the novel following Okorafor's visit.
 Shelby Crosby, Ph.D., State University of New York at Buffalo; Associate Professor of English and Coordinator of African American Literature, University of Memphis
Two Wednesdays: October 19 and November 2
6:00-7:00 p.m.
Tuition: $50
Specialist Healers, Song, and Dance: A Cross-Cultural Perspective
Dr. Francisco Lara
Format: Remote
This class will explore song and dance as a traditional healing modality among specialist healers across different cultures around the world. Participants will learn about and compare specific types of healers and song/dances used for traditional healing purposes as well as about the cultural contexts within which they operate. Throughout, we will also learn specific songs and reflect on our own uses of music and dance in connection with our own beliefs and practices of health and wellness. 
Two Tuesdays: October 25 and November 8
5:30-7:00 p.m.
Tuition: $75
Truth is a Person: Early Christian Controversies Surrounding the Divinity and Personhood of Jesus
Brian Braskich, M.A., United Theological Seminary of the Twin Cities
Format: In-person or remote
This three-week course introduces students to some of the early Christian church's earliest questions and controversies regarding the personhood and divinity of Jesus, from the patristic period (c. 100 CE) through the fifth century. We will analyze the proto-orthodox church's responses to the theological challenges posed by Marcion, Gnostics, and Christian adoptionists, followed by the controversies leading up to the early church's most significant and consequential statements about Jesus: the Nicene Creed and the Chalcedonian Definition. We will reflect theologically on these debates and examine the solutions offered in the church's earliest creeds and doctrines, considering what is at stake for each side in these debates and the shifting social and political contexts in which they took place. All course readings will be provided as PDFs. Readings include selections from Saint Athanasius, Cyril of Alexandria, Nestorius, Apollinaris, Theodore of Mopsuestia, the Gospel of Thomas, and Paul's letter to the Galatians.   
Three Tuesdays: November 15, November 29, December 6
6:30-7:30 p.m.
Tuition: $75
 
Meeman Sampler Series
One-time, one-hour classes, 6:00 - 7:00 p.m.
"Say what I am called": The Old English Riddle Tradition
Dr. Lori Garner
Format, In-person or remote
A popular genre throughout the Middle Ages, riddles provided not only entertainment but also powerful tools for reinforcing cultural values and factual knowledge. The more than ninety riddles of the tenth-century Exeter Book manuscript invite readers to imagine existence from the perspectives of foxes and chickens, inkwells and shields, the sun and the moon, and so much more. For modern readers, these often enigmatic riddles offer playful yet fascinating insights into the natural world and material culture as experienced in early medieval England. No advance reading required.
Tuition: $25
Wednesday, October 12
6:00-7:00 p.m.
Women's Work in the Medieval Mediterranean
Dr. Sarah Ifft Decker
Format: In-person or remote
People often think of medieval women as passive and oppressed—but a rich array of surviving documentation portrays medieval women as active and even powerful figures, who worked in areas including credit, real estate, baking, and the textile industry. Join Professor Sarah Ifft Decker for a conversation around the sources we can use to study Jewish and Christian women's work in the medieval Mediterranean. How were women empowered to work outside the home, and how were they limited? How can historians use economic contracts to shed light on women's everyday lives in the medieval past? 
Tuition: $25
Monday, October 24
6:00-7:00 p.m.
Art of the Anthropocene
Prof. Amy Benson
Format, In-person or remote
Biographer Judith Thurman says an author always writes "the weather of their age." This has become far more than a metaphor as climate change has become climate crisis. We will read/view several works by writers and visual artists who take climate catastrophe as their subject. We'll ask questions about the role of art and the forms it might take in response to this existential threat. We'll also begin works of our own through writing prompts. 
Tuition: $25
Wednesday, November 16
6:00-7:00 p.m.
The Radical King: Martin Luther King Jr.'s Forgotten Last Years
Dr. Duane T. Loynes, Sr.
Format, In-person 
Martin Luther King Jr. looms large as a beloved figure in US history. However, much of our understanding of King is tethered to a simplistic interpretation of his "I Have a Dream" speech. But, years before his assassination in Memphis in 1968, King's reassessment of the United States caused him to revise his approach to racial justice.
Tuition: $25
Thursday, November 17
6:00-7:00 p.m.
The Queen's Gambit and the "Real" World of Chess
Dr. R. Scott Garner
Format, In-person or remote
As the creators of the Netflix mini-series and the author of the novella on which it was based have explained, the events in The Queen's Gambit are not directly based on the experiences of any single historical individual and the fictional characters represent amalgamations of various chess players. Nonetheless, it is clear that choices were made in filming to portray mannerisms and characteristics unique to specific individuals in the chess world. Awareness of such real-world connections can enhance appreciation of the show and offer a fascinating introduction into the world of professional chess. For those already familiar with the series, this class will provide an additional dimension for appreciating its nuanced characterization and storytelling, but our discussion will also be structured so that it can serve as an entry point for those who plan to watch it afterward for the very first time.
Tuition: $25
November 30
6:00-7:00 p.m.
The Science of the Spa
Dr. Kimberly Brien
Format, In-person or remote
Ever wondered what goes into lotions, bath bombs, and spa essentials? Come find out at this make-and-take class! We will explore the science behind some of your favorite spa products and send you home with several spa treats. All supplies will be provided, and no previous spa or science experience is necessary.
Tuition: $25
Date: Monday, December 5
6:00-7:00 p.m.
Meeman Trivia Night and Spring Preview
Meeman Trivia Night and Spring Preview
Host: Bill Short
Celebrate the end of the semester with dinner in the Rhodes College dining hall, trivia with Meeman faculty and friends, and an early look at the Spring program.  
Cost: $10
Hyde Hall, Catherine Burrow Refectory
6:00- 8:00 p.m.
Frequently Asked Questions (FAQs)
Where are in-person classes held?
Unless otherwise noted, in-person Meeman classes will be held in Dorothy King Hall, which is located along University Street on the West Campus of Rhodes College. Simply buzz the doorbell when you arrive, and you will soon be greeted at the door. A PDF of our campus map can be found here, and an interactive campus map is available here.
What is the format for remote classes?
Zoom links will be sent to all registrants for remote classes and to those registering for the remote option in hybrid classes. Please note that if you are sharing a screen with other members of your household, only one registration is necessary (one registration per screen).
Do I need to wear a mask during my Meeman class?
The Meeman Center for Lifelong Learning follows the health and safety protocols of Rhodes College. See current policies here. At present, masks are not required on campus. However, individual faculty retain the option of requiring the use of masks in their respective classrooms. Everyone on our campus may choose to stay masked, and we as a community will respect their decision.
Where should I park for my Meeman class?
Meeman students are free to make use of any lots on the Rhodes campus at no charge. Parking is available in the lot directly behind King Hall and in the adjacent lot near McNeill Concert Hall. See Parking Map here.
Does King Hall have accessible facilities?
Yes, the back of King Hall has an accessible entrance. Simply buzz the doorbell or knock when you arrive. King Hall also has an All Gender wheelchair accessible restroom. Please feel free to contact us with any additional needs you might have. See Rhodes College's Accessibility Map.
Do Meeman courses have textbooks?
Some faculty select textbooks, others share readings with students as PDFs, and still others require no reading at all. Participants will be sent an email well ahead of time with details for their course.
Do Meeman classes have prerequisites or exams?
No, our courses have no entrance requirements, no grades, and no tests. Meeman classes are non-credit bearing and offer opportunities for adult learners to explore new ideas in an informal and open environment.
An emergency came up, and I can no longer attend my Meeman class. Can I receive a refund?
We understand that life is sometimes uncertain. Full refunds will be given for registrations cancelled at least two weeks before the first day of your class. Those needing to cancel less than two weeks before a course start date may choose to receive either a credit of the original amount toward future classes or a 50% refund.
What if a class is cancelled due to inclement weather?
If any class must be cancelled due to inclement weather or for any other reason, students will be notified via email and plans will be made to reschedule. In the event that rescheduling is not possible, refunds will be issued for any cancelled classes.
My Meeman class ends after dark. Is anyone available to escort me to my car?
Yes, Rhodes Campus Safety is happy to escort Meeman students. Just call the Campus Safety non-emergency number: 901-843-3880.
I have a question not answered here. Who should I contact?
Feel free to call the College Events office at 901-843-3888 or email the director, Dr. Lori Garner, at GarnerL@Rhodes.edu. We would love to hear from you!