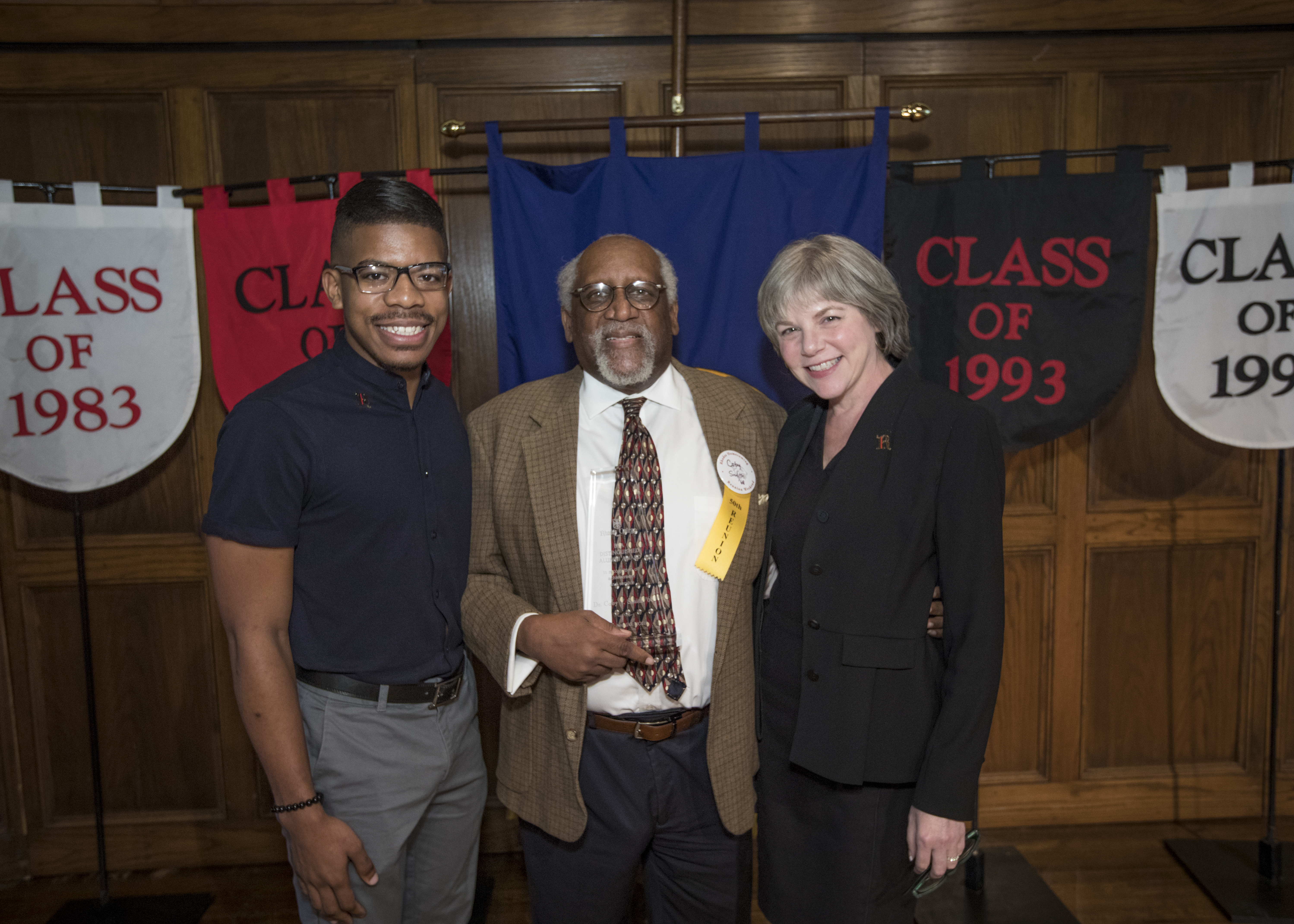 2018 winner Dr. Coby Smith with President Hass and BSA President Jamarr McCain '19
Dr. Coby V. Smith graduated from Memphis' Manassas High School in 1964 and became one of the first two African American students to attend Rhodes. While in college, he co-founded the Invaders, who organized the youth of Memphis to combat police brutality, poverty, and racial injustice. He holds a bachelor 's degree in political science from Rhodes and a doctorate in education from the University of Maine.  In 1992, Smith founded a consulting firm offering business planning and proposal development, as well as operational and training consultation, to Memphis-area organizations. Smith also has taught at the college level and has given a number of lectures and keynote speeches across the country. In 2014, he was recognized by a State of Tennessee House Joint Resolution for his civic involvement and community service.
______________
Established in 1998, the Black Student Association's Distinguished Alumni Award recognizes those African-American alumni whose record of outstanding personal achievement and service to others has inspired Rhodes students and brought honor to their alma mater.  The BSA Distinguished Alumni Award is presented at Alumni Convocation each year during Homecoming/Reunion Weekend.
Eligibility and Nominations
All alumni who were members of the BSA as students are eligible.  Nominees for the BSA Distinguished Alumni Award are eligible and will be considered for the Distinguished Alumnus/a Award, the Young Alumnus/a Award, or the Distinguished Service Award as appropriate.  Make your nomination today by filling out the online Awards Nomination Form or by sending a letter or email to the Alumni Relations Office.
 
BSA Distinguished Alumni Award Recipients
2017 Dr. Sandra Waller Shelton '76
2016  Aubrey Howard '72

2015  Roblin J. Boxill '99
2014  Steven L. Becton '88
2013  Patricia Spears Jones '73
2012  Dr. Lorenzo Childress Jr. '68
2011  Dorothy Sanders Wells '82
2010  Virgil Starks, III '85 (posthumous)
2009  Julian T. Bolton '71
2008  Vicki Gilmore Palmer '75
2007  Donald Duggan '86
2006  Charles Holt '89
2005  Ryan Mire '93
2004  Patricia Howard '70
Marcus Kimbrough '90
2003  Johnny Moore '88
2002  Julian T. Bolton '71
2001  Jerome Franklin '89
Russ Wigginton '88
2000  Herman Morris '73
1999  Anita Davis '90
1998  Joyce Broffitt '77