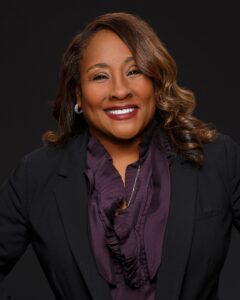 Florence M. Johnson '88 is principal attorney at Johnson and Johnson, PLLC in Memphis, representing individuals and corporate entities in traditional labor and employment law. She has extensive trial experience in state and federal courts and has been recognized as a Super Lawyer of the Mid-South and Pro Bono Attorney for Justice by the Tennessee Supreme Court. She also has served as a member of the Tennessee Bar Association Commission on Racial Ethnic Diversity.
Johnson received a B.A. in political science/international studies from Rhodes. While a student, she was a McCoy Theatre crew member and participated on the inaugural Rhodes College Mock Trial Team. She also is a Rhodes College Mock Trial Judges Hall of Fame inductee.
Black Student Association's Distinguished Alumni Award
Established in 1998, the Black Student Association's Distinguished Alumni Award recognizes those African-American alumni whose record of outstanding personal achievement and service to others has inspired Rhodes students and brought honor to their alma mater. The BSA Distinguished Alumni Award is presented each year during Homecoming/Reunion Weekend.
Eligibility and Nominations
All alumni who were members of the BSA as students are eligible. Nominees for the BSA Distinguished Alumni Award are eligible and will be considered for the Distinguished Alumni Award, the Young Alumni Award, or the Distinguished Service Award as appropriate. Make your nomination today by filling out the online form on the front page.
BSA Distinguished Alumni Award Recipients
2020 Melanie A. Hilliard '92
2019 Dr. Sherry Turner '84
2018 Dr. Coby V. Smith '68
2017 Dr. Sandra Waller Shelton '76
2016 Aubrey Howard '72
2015 Roblin J. Boxill '99
2014 Steven L. Becton '88
2013 Patricia Spears Jones '73
2012 Dr. Lorenzo Childress Jr. '68
2011 Dorothy Sanders Wells '82
2010 Virgil Starks, III '85 (posthumous)
2009 Julian T. Bolton '71
2008 Vicki Gilmore Palmer '75
2007 Donald Duggan '86
2006 Charles Holt '89
2005 Ryan Mire '93
2004 Patricia Howard '70
Marcus Kimbrough '90
2003 Johnny Moore '88
2002 Julian T. Bolton '71
2001 Jerome Franklin '89
Russ Wigginton '88
2000 Herman Morris '73
1999 Anita Davis '90
1998 Joyce Broffitt '77