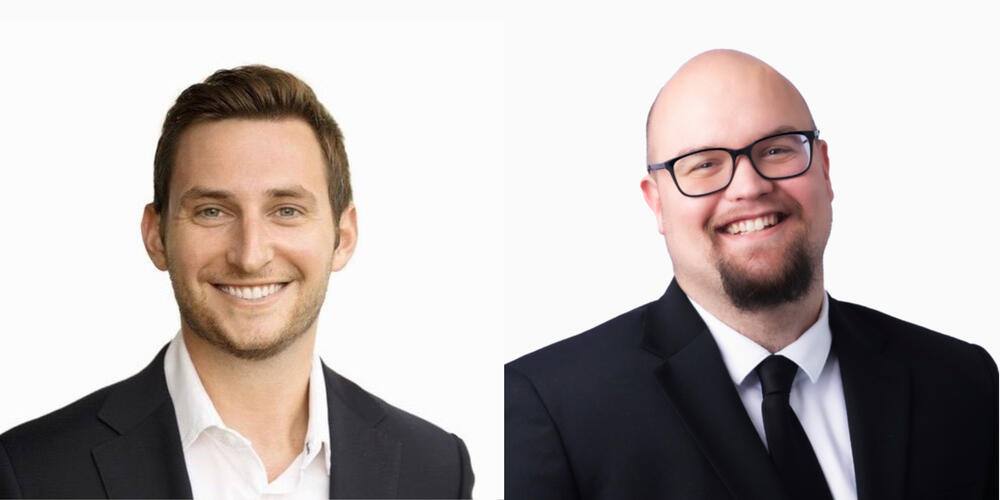 For Joel Brown-Christenson '14, and Michael Pilgreen '19, Rhodes' liberal arts curriculum was essential to their professional development. The two alumni came together in the financial and educational technology worlds, something neither could have imagined. Joel and Michael both attribute their success to the value of a liberal arts education at Rhodes. This is their remarkable story:
At first glance, most people would not place Joel and Michael together. Michael, a native Memphian, came to Rhodes to pursue his creative passions in writing and design. Joel, on the other hand, hails from New Jersey and came to Rhodes to play baseball and study business. Ironically, they never met at Rhodes; Joel graduated a year before Michael enrolled. Nonetheless, the two graduated, ready to embrace change.
As COVID globally disrupted higher education, Joel realized the vast amount of help college students needed. He was inspired to co-found ViableEdu, a New York-based remote learning program focused on financial technology, or fintech. His goal was to provide a transitional educational experience for college students, mid-career professionals, and the intellectually curious that would give participants the skills you needed today for a job tomorrow.
ViableEdu was the solution; it provides the education and experience necessary to succeed in the rapidly evolving Capital Markets. In late 2020, Michael was transitioning from creating large-scale art installations to financial technology by taking Open Learning courses at MIT in finance. Michael, eager to put his newly acquired (and self-taught) financial skills to use, began reaching out to Rhodes alumni for job opportunities when he met Joel. Joel and Michael "met" for the first time via Zoom - and Joel thought Michael would be the perfect fit for the ViableEdu mission.
Michael participated in ViableEdu as a Financial Technology Apprentice, and was later offered a full-time offer from BondCliQ, a Capital Market Infrastructure Company, establishing Joel and Michael's professional relationship. Michael began working as a business analyst in June of 2021 and was able to rise to the most senior engineer at BondCliQ in short-order.
Although creativity is not a traditional boon in finance, it allows Michael to view Financial Technology and the Capital Markets from a unique perspective. Joel agrees, praising Michael's "extreme intellectual curiosity and outside-of-the-box thinking." As an innovator, Joel designed ViableEdu to unite the three disciplines of finance, technology, and education. Similar to the emphasis of breadth and depth of knowledge within the Rhodes College liberal art curriculum, Michael and Joel merged an array of professional fields and studies to drive success at every venture.
Joel and Michael both had Rhodes professors who impacted their journeys after college. Michael fondly remembers Professor Sasha Kostina, the head of the Russian Studies department, as a key figure in developing his open-minded perspective. She helped him see innumerable ways to connect diverse, varied, and sometimes antithetical cultures and ideas, later enabling Michael as he utilized his creative skillset in the Capital Markets. Joel reflected upon his Urban Studies class with Professor Luther Ivory: "he'd play upbeat music before every class, like Earth, Wind, and Fire, Stevie Wonder." Joel highlighted how effectively this light-hearted and high energy introduction to class prepared him for class and later work, and now does a similar musical routine at the beginning of class at ViableEdu to create an energized virtual learning environment.
After dedicating years to pursuing a specific degree, imagining the abundance of paths life offers can be hard. However, the liberal arts encouraged Joel and Michael to be open-minded and creative at Rhodes and beyond. United by the Rhodes alumni connection, the two entrepreneurs successfully utilized these essential Rhodes qualities of integrity, learning, and extending opportunities to others. As they both remarked, "none of this would have happened without Rhodes."