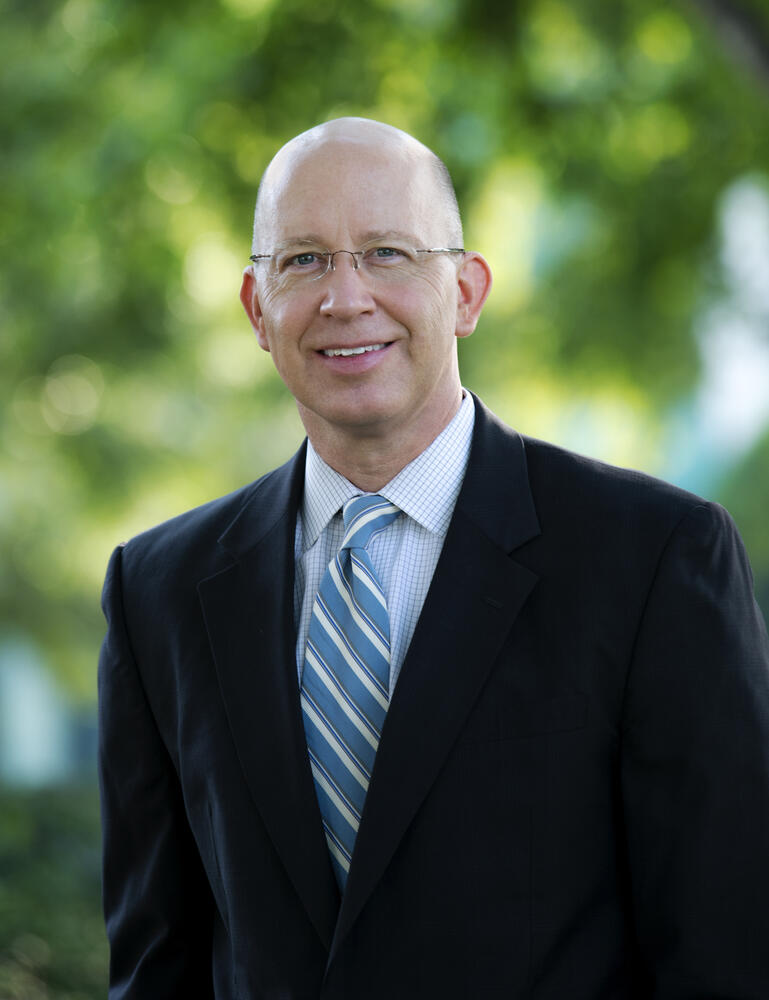 To Eric Teal '91, P'23, being a Rhodes alumnus means having a well-rounded education and belonging to an open-minded community that lasts for a lifetime. Though graduation may be the end of your journey as a student at Rhodes, your journey with the college doesn't have to end after you walk across the stage in Fischer Garden. Over the years, Eric has been involved with Rhodes in a myriad of ways, including supporting men's basketball, supporting the college during Annual Fund and athletic challenges, volunteering with the college, even serving as president of the Rhodes International Alumni Association and Alumni Association Executive Board. .
"Rhodes has been so important in my life," Eric explained when asked what has inspired him to stay involved and continue giving back "The relationships with friends, faculty, and staff have endured since graduation and giving to the college is a way to provide support and inspiration that the college needs to continue to flourish and provide the same opportunities to the next generation and generations to follow."
As a student, Rhodes was "uncharted territory" to Eric. But after overcoming a "bit of homesickness", Eric dove in and immersed himself with an open mind, driven to learn from everyone he met. His steadfast attitude paid off, and after graduating with a degree in Economics & International Studies, Eric has led a successful career in banking. Most recently, Eric was appointed to lead U.S. Banks' Investment and Wealth Management expansion into the Carolinas.
Eric reflects on how Rhodes contributed to his professional development, keying in on the solid foundation in economics and critical thinking. The Rhodes liberal arts curriculum has been an asset to Eric throughout his career, and he has found that, even working in banking, the humanities touch his daily work, whether it be financial analysis, interviewing candidates or communicating and presenting research.
Today, Eric serves as the chair for the Rhodes Parent Council with his wife and co-chair, Amy Teal P'23. Amy and Eric met while attending Providence Day School in Charlotte and reconnected after Eric returned from graduate school at The University of Memphis.
When their son, Aaron, followed in Eric's footsteps and decided to play basketball at Rhodes, the Teals wanted a way to stay involved. An active and engaged parent throughout lower, middle, and high school, Amy felt the Parent's Council was "an excellent way to stay better connected to Aaron and Rhodes and provides the opportunity to meet other students and families and help them along on their journey."
Eric was also eager to get involved in his son's Rhodes experience, saying that "as a parent, we all share the same concerns and feelings and it's important to communicate those issues in a constructive manner in order to meet the needs of students, desires of parents and support the missions of Rhodes College." As Parent Council co-chairs, Eric and Amy are an essential intermediary between parents and Rhodes faculty and staff.
Though Eric acknowledges that one's involvement may change over the years due to family and work constraints, Rhodes is always exciting to get alumni reconnected back to the college. "At certain points, I have had the opportunity to provide more time and service to the college while at other points, less so depending on what life has in store. However, Rhodes has always been there for me, welcoming me back to games, events, and programs while providing a network of new relationships that I continue to call on to this day. As a Rhodes alumnus, it has always been important to keep the college top of mind, as we all benefit from its ever-growing success and national recognition"
We are so grateful to Eric and Amy for their service to Rhodes!