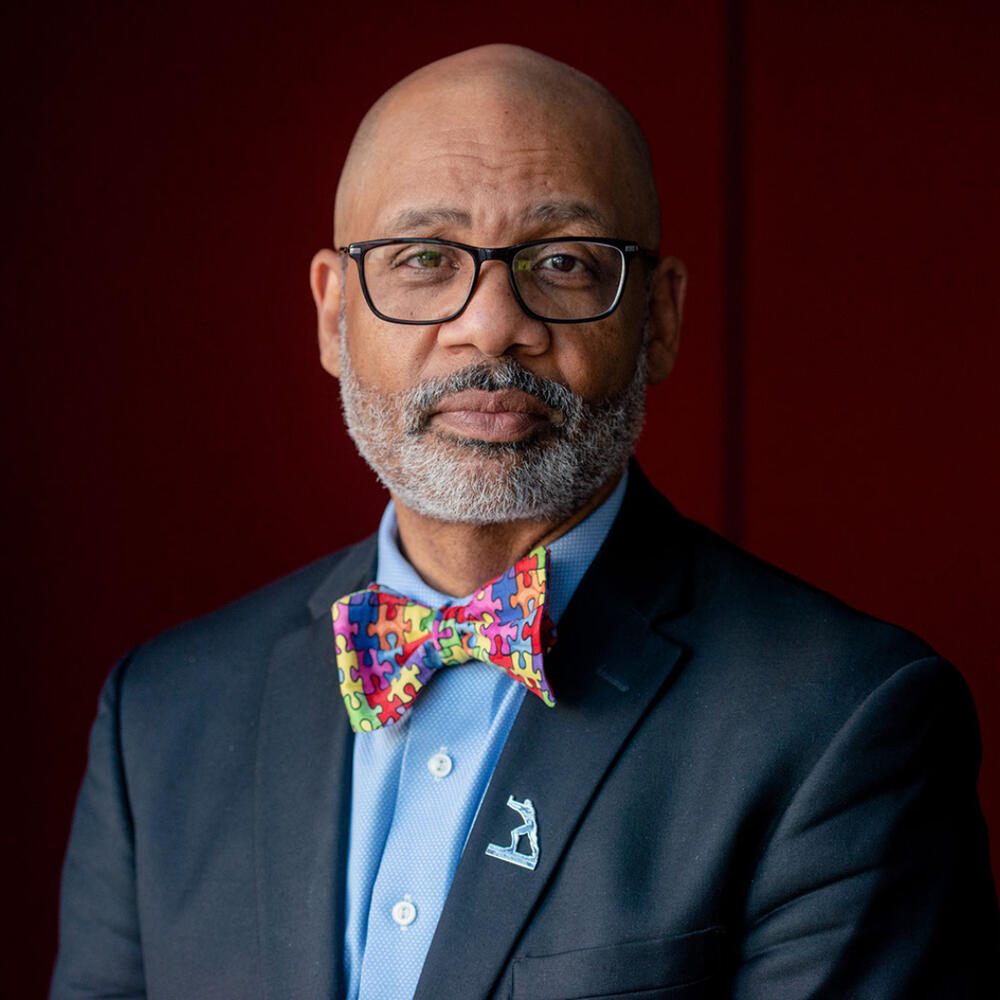 Dr. Russell Wigginton '88 – Distinguished Alumni Winner 2022
Interview conducted by Eliana Mabe
EM
Congratulations on your alumni award for this year, and I'm super grateful to be able to have the chance to talk with you.
I want to first talk about your own Rhodes experience. What were your first impressions of Rhodes and what led you to apply there? Did those impressions change over the four years of your attendance?
RW
When I applied the college was still Southwestern at Memphis, and a couple things were coming into play for me. I went to high school in Nashville and one of my favorite teachers one day mentioned that she thought Southwestern at Memphis, her alma mater might be an interesting place and a good fit for me. Another aspect was I also played basketball in high school, and I was fortunate enough to be recruited from a variety of schools to play in college. What I found is none of those schools really emphasized the academics and the overall full college experience enough. I was pretty committed to finding a place that allowed me to hopefully grow and develop in multiple ways, not just on the court.
I came for a visit, and I drove down by myself, and this is before we had a fence, and I'm driving down North Parkway and I see this place. I have these have mixed emotions. Number one, I was intimidated just because of the look of it and this excellence and sort of the stately disposition of the campus. But I was also excited. It was kind of a mix of emotions. Long story short, I spent a weekend with a lot of the guys on the basketball team and met other people. By the time I got back to Nashville, I had made my decision. I felt like it was a place that would support me comprehensively and never looked back after that.
EM
Upon your graduation, did you feel a different sense about Rhodes? Did you feel proud to graduate from Southwestern? What was your experience come May 1988?
RW
I certainly had a deep appreciation for the kind of education I had received. I knew that I had made some special relationships that would endure the test of time…It frankly didn't take long for me to truly understand that as I entered the job market, it became clear that doing things like writing samples and the ability to speak in front of groups and all the kind of things that you do routinely at Rhodes, that I had been well prepared. My overall sense was that this place has provided me with a great foundation to go wherever the Rhodes of life lead you.
EM
And as an alumnus, how do you feel like your connections to Rhodes have strengthened ? What was your return to campus like as an administrator?
RW
During that four-to-five-year interval before going to graduate school, I kept having this desire to want to learn more, read more, and continue my education. One of the things I think happens at Rhodes is that it does plant this seed that you don't even necessarily realize while you're going through it that your thirst for lifelong learning is real.
And so even after I went to graduate school, I was not really thinking about necessarily working on a college campus, even though I was pursuing a PhD in history. I had desires to work in hopefully a national or significant way in a civil-rights-oriented spaces. I got a call from Rhodes asking if I might be interested in the William Randolph Hurst Fellowship, and I politely declined. And then I got another call and they said, "why don't you just come for a visit?" And essentially what happened is a later version of what happened when I visited as a high school senior. It felt like there was a lot of talk about what I could bring and contribute to the Rhodes community. With a little bit of a leap of faith, I opted to take the Rhodes offer and so what was supposed to be a two-year fellowship ended up in me being there for 23 years.
EM
Wow. That's incredible. So, what positions did you get right after the fellowship?
RW
So, after the fellowship, I got an assistant professor position, and I was on a tenure track position. Dr. Bill Trout had asked me to chair a campus-wide committee on campus community partnerships, so how the college could engage in the community more and what those partnerships could mean…He also invited me to be a special assistant to the president for community relations.
A year or two years after that I moved into a vice president position. He and I had a unique synergy. He gave me a tremendous amount of freedom and flexibility to engage along all sectors in Memphis and, and bring more of Memphis to Rhodes, and thus Rhodes have deeper connections in the city.
I had a few other titles – my last one was Vice President for Student Life and Dean of Students. I did that for two years. Dr. Troutt and I had this great, great run together. I thought, you know, it's a good time for me to pursue some other things. I served on the board for the National Civil Rights museum for 10 years. The museum had matured, had gotten to be 30 years old, and had built a sound reputation…That was really the moment when I said, "I'm going to get that job." [Being the President] is the culmination of so many things: sales and marketing, PhD in African American history, long years of administrative experience and fundraising. To be able to do it still in this community but have national and international implications was just the right thing for me. When I think about where I am in my career and what the opportunity is for us moving forward, if I have anything to do with it, this is the last job I'll ever have.
EM
Thank you so much for sharing all of that. My last question for you is what advice are you willing to give? What are your thoughts, wisdom, warnings?
RW
This is the piece of advice I always give: Don't sweat the small stuff and 95% of it is the small stuff. It's really a reminder that it's okay to have bad days and bad moments. But it's a reminder to really focus and remind yourself of what all of the things in your life that are special or are really valuable to you. You got to think about this as more of a journey. Have the patience and the confidence to find where your talents lie and what brings you joy. I consider myself extremely fortunate that for the last almost 35 years I have had the opportunity the overwhelming majority of that time to get to do work that matches that.