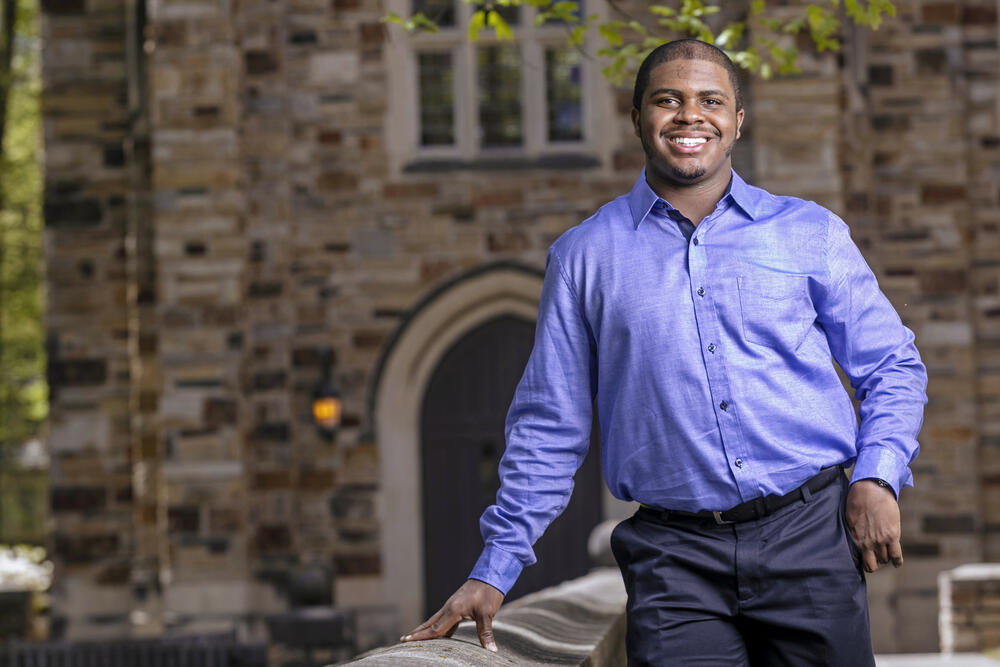 Bryce Hayes graduated from Rhodes in 2020 after an impressive tenure as a linebacker for the Rhodes football team. While a student, he worked closely with the Rhodes Office of Athletic Media Relations to produce a variety of social media content for Rhodes Athletics, including creating his own podcast, "Can't Knock the Hustle." His passion for sports recently led him to Seguin, TX where he now serves as the Director of Sports Information and Sports Marketing at Texas Lutheran University. In this conversation with Annalee McConnell '22, Hayes reflects on his time in Memphis and discusses how creativity and athletics intersect in his work.

Annalee McConnell: What drew you to Rhodes College?
Bryce Hayes: The ability to play college football and obtain a top tier education. It came down to Yale, Rhodes, and Case Western in Cleveland, Ohio, but the combination of the campus, which is one of the most beautiful places in the country, the financial aid package, and the ability to play college football in my hometown was something I couldn't pass up. I appreciate Coach Jim Ryan and Coach Pete Cordelli for the opportunity to do that.
AM: During your time at Rhodes, you were heavily involved in the athletics program. Can you share some highlights of your career as a Rhodes Student-Athlete?
BH: Wow, where do I start? Having the chance to go to battle with my teammates playing football is something I'll be forever grateful for having the opportunity to do. Beating the school on the mountain (our rival, Sewanee) and carrying on that rivalry and keeping the Orgill Cup home was something that was important to me and I hope we can continue to do just that. Off of the field, launching "Can't Knock the Hustle" with QB1 PJ Settles '19 literally changed my life and hopefully achieved our goal of improving the student-athlete experience at Rhodes during our time there. Then my time working as an assistant for Rhodes Softball under Coach Luke Wagner and what we were able to accomplish as his "longest tenured assistant." As a former baseball player having the chance to stay close to a game I love, help my friends on the field, and market them to the best of my abilities was special.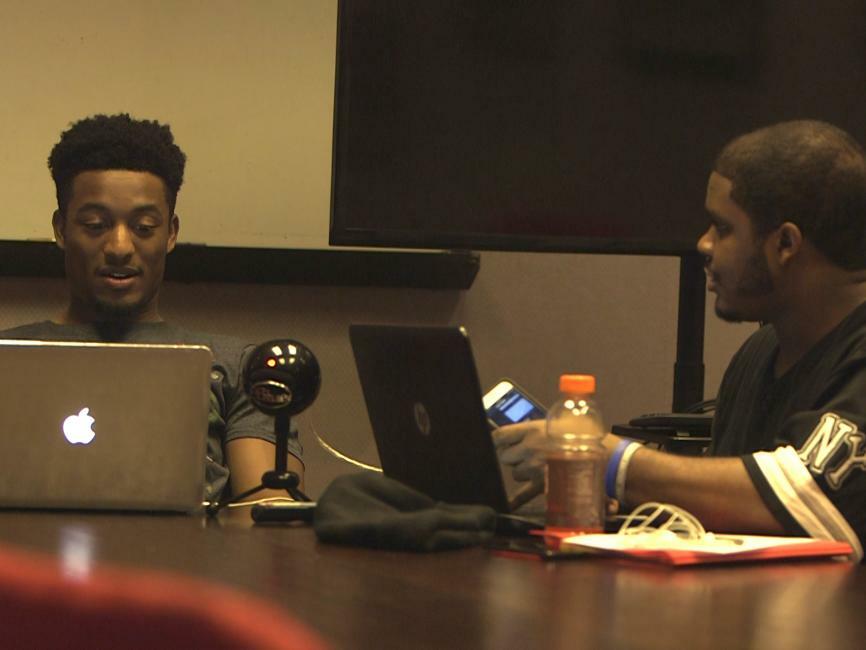 AM: You mentioned your podcast, "Can't Knock the Hustle." Can you talk a little bit about the process of creating this show? What inspired it, and what kind of subjects did you address?
BH: How much time do you have? So as a freshman PJ Settles '19 and I would have different spats on social media, in the locker room, and in our dorm rooms over different sports topics. After one of my First Year Seminar classes, Dean Meredith Davis told me that with my passion for sports that I should do something on campus with it and try to spin that into something to launch my career post-graduation. Then as I pondered how to do that, our Wide Receivers Coach at the time, and fellow alum, Ronald Booker '14, as well as head softball coach Luke Wagner suggested I start a podcast. I texted PJ about it, and we started it during fall football camp my sophomore year and his junior year in 2017. From there, it just took on a life of its own. Something a lot of people don't even remember is our first show was actually live in The Lair as a "pre-show" for the Floyd Mayweather-Conor McGregor boxing match. It…wasn't the greatest but it was a huge learning opportunity for us to make it what it became. That show doesn't grow the way it does without the support of the coaches, athletic administration, parents, student-athletes, and the school itself. They let two kids practically do whatever they wanted for three years whether it be a podcast, shoot commercials, or start our first "Lynx Cat Madness" with a three-point and dunk contest.

AM: You currently co-host another podcast called "The Core Four," a feature on SB Nation's Grizzly Bears Blues Podcast Network. How is this show different from "Can't Knock the Hustle?"
BH: It's a lot more focused and streamlined. "Can't Knock the Hustle" focused on everything in sports, music, and the overall culture whereas "The Core Four" is focused primarily on the Memphis Grizzlies. Production-wise, the pandemic introduced us all to Zoom, so we've been able to just hop-in and do it from wherever, which is beneficial since I've left Memphis now.

AM: What appeals to you about podcasts? What sets them apart from other media forms, and why did you choose this format for broadcasting your sports commentary?
BH: There's a rawness to it. What radio used to be for prior generations, podcasts have become for ours. There's really no script and what script there is is so loose that as soon as the microphone turns on and you hit record, the episode can become whatever you want it to be. Podcasts allow you to be yourself and not only convey your point with the inflection that you want—which can be lost at times in writing, especially on social media—and can garner insightful conversation when done correctly.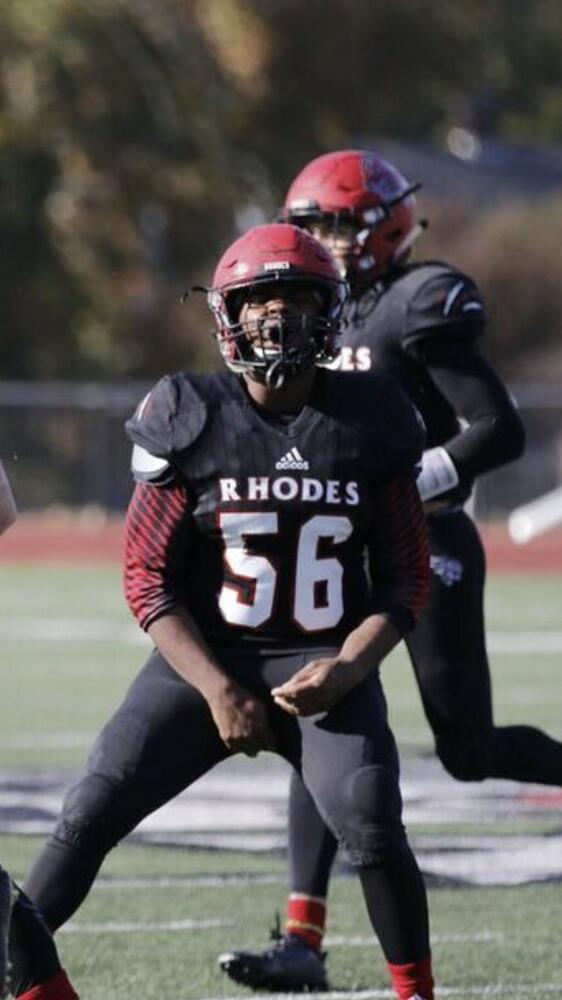 AM: Hailing from Arlington, TN and later attending college at Rhodes, Memphis seems to have a lot of personal significance for you. How would you describe your relationship with the city?
BH: It's home. If you've been around Memphis long enough, you'll hear it called "the most beautiful land in the world," and hear locals say, "there's no place like Memphis." Now that I've been away from home almost 8 months, I can assure that to be true. It's hard to truly put into words but if you're from Memphis it's just different. The city prepares you for any and everything and you carry that everywhere in every facet of life. It's a sense of pride coming from here, and once you've been here for a while, you'll never want to be from anywhere else. The joke is "Memphis is its own state separate from Tennessee" and I tend to agree.

AM: You currently hold to position of Director of Sports Information and Sports Marketing at Texas Lutheran University, an incredible achievement for someone of your age. What was it like assuming this position? Do you feel that your history with Rhodes Athletics has altered or informed your approach to this role?
BH: It was a lot to be honest. Graduating into the pandemic with all that uncertainty produced a ton of questions of "What's Next?" but I just stayed patient and waited for my opportunity to get back into the sports world. I received a call from my "first boss" at Rhodes, former Sports Information Director James Hill, telling me to apply for the job at Texas Lutheran. I interviewed with our Athletic Director, Coach Bill Miller, and 24 hours later they called me back and stated they had heard enough and offered me the job. I don't think that happens without the creative freedom Coach Dean, Coach Wagner, Coach Ryan, Danielle Donze, and others allowed me to have at Rhodes. I'm blessed for my experiences at Rhodes to my new home here at Texas Lutheran.
My experience working in the Sports Information Office under James and Danielle as well as being Coach Dean's student assistant during his time as Head Athletic Director gave me a lot of insight on the job, but once I arrived in Seguin, I realized I still had a lot to learn. I've trusted the process and take it day by day in hopes to obtain the same goal I had when I launched "Can't Knock the Hustle," give D3 athletes the best experience possible and emulate the "D1" experience as much as I humanly can. I believe D3 deserves just as much publicity and promotion as anyone else due to the time we put in. Coach Miller, the staff, and our student-athletes have bought in and seen my vision of what I'm trying to accomplish, and we're going to inch closer to that with each passing day.
It's been fun so far too. Whether it's traveling across the state of Texas with our football team, seeing Texas Lutheran go from next to last to second in all social media metrics in our conference, or working and getting an ESPN production credit when Texas Lutheran had the privilege to scrimmage The University of Texas as a part of a celebration of our head basketball coach, Mike Wacker, who played for Texas in the 1980s.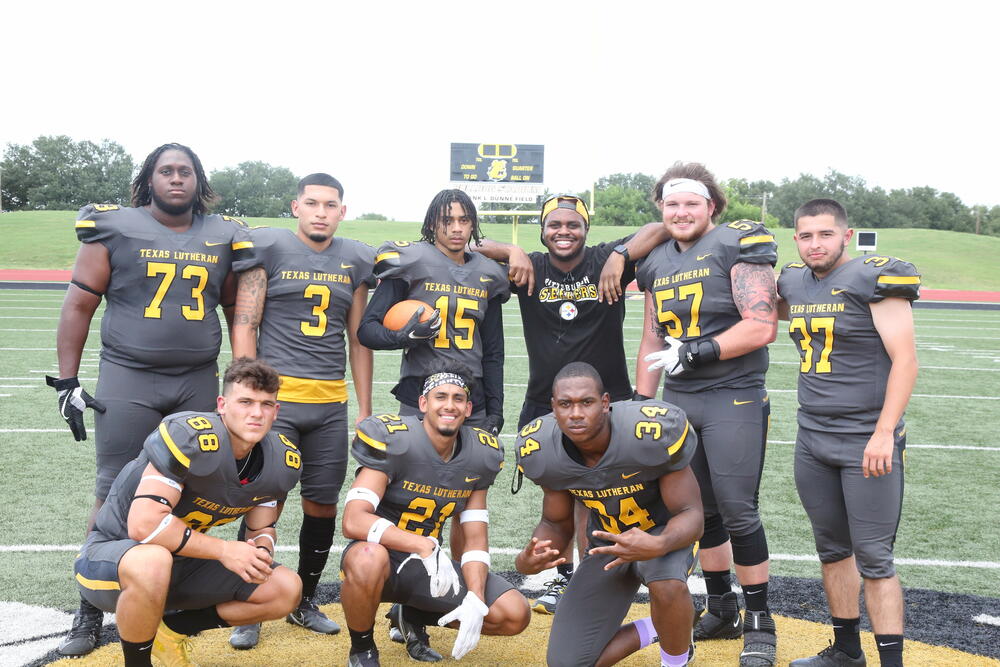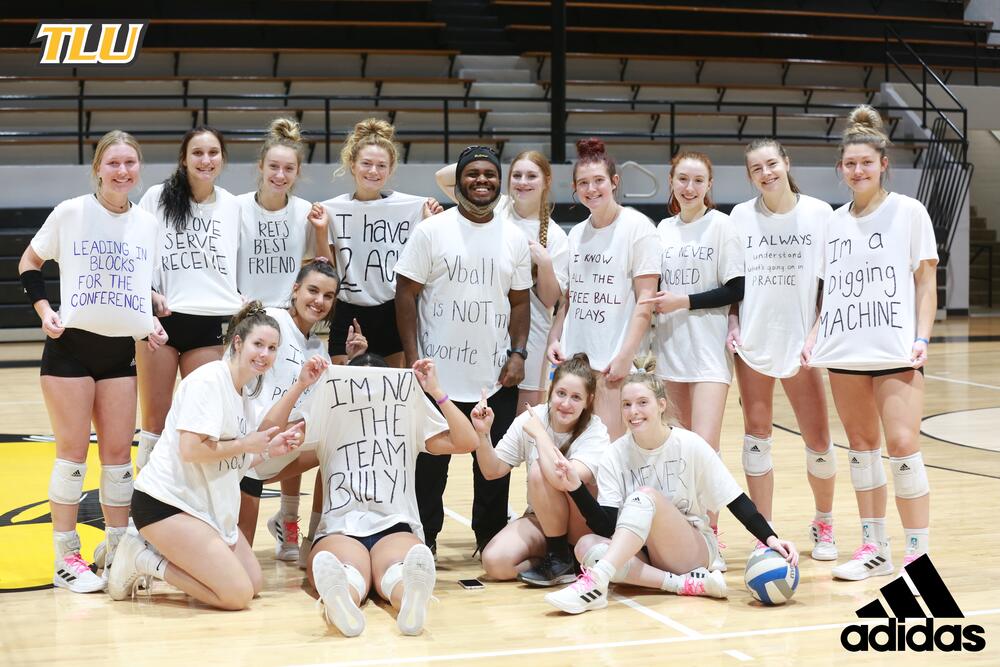 AM: So far, what have you learned during your time within this position?
BH: There's a lot you don't see as a student-athlete that goes into this job. That's the simplest answer I can give. It's a very tedious job that can span into an assortment of different avenues, but when you go to work with the student-athlete's interests in mind and constantly keep the program in conversation with positive marketing and have fun doing it, it can be an extremely rewarding job. The sports world can be extremely fast paced at times, especially during periods of overlap in seasons, but if you pace yourself, take time to breathe and center yourself, you'll get through it. That's something I try to carry in every aspect of life. Things will go wrong sometimes. That's life. Stay positive. Don't panic. Pray on it if you have to and keep pushing because the reward after whatever tough times you're going through will be worth it.

AM: What is your favorite part about being the Director of Sports Information and Sports Marketing?
BH: The kids. I say "kids" as if I'm not just a year or two older than them with some of them actually being older than me due to the extra COVID year that some of the athletes obtained. This job can be hard, especially when there's a lot going on, but seeing the appreciation for what you're doing from not only the student-athletes, but the student-workers too keeps you going and motivates you to keep getting better at your craft. We've got a sleeping giant down here at "Too Live U," with a softball team that's been to two-consecutive national championship games, winning one, a baseball team that made the College World Series a few seasons ago, and several other teams on the verge of something special. It's been my pleasure working with our student-athletes in different capacities this season and I look forward to making them look good on their path to success. As I remind them all the time, "we're just getting started."

Annalee McConnell '22 is an English and Theatre major, the Rhodes Theatre Guild President, and the Development Communications RSA.