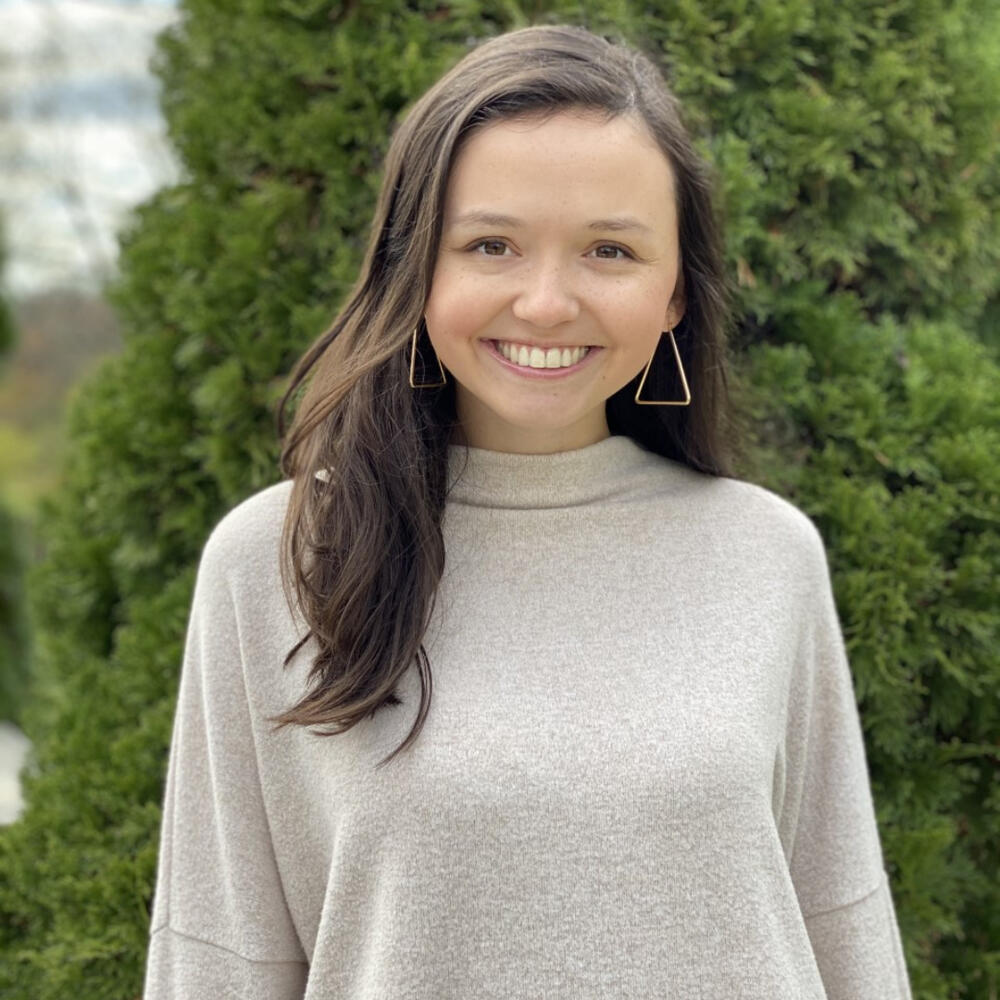 As she approached the end of her high school golf career, Annie Paris '21 found herself suffering from something many athletes are familiar with: burn out. But when she won a state championship during the fall of her senior year, Paris realized she wasn't ready to let go just yet. Though she was initially unsure about attending a small school, Paris thrived in Rhodes' intimate setting, and went on to double major in business and religious studies. Today, Paris works as a volunteer Coordinator for the FedEx St. Jude Championship + WGC-Dell Technologies Match Play, a position she initially learned about through her golf coach, Mike Clary '77. Paris credits Rhodes athletics for helping her build the skills necessary to thrive in the professional setting, saying, "I think Rhodes and Division III athletics are the reason I could do it all". Here's more of her story:
Interview conducted by Eliana Mabe '23.
EM:
How did you first find yourself at Rhodes? What put it on your radar? Did you always want to pursue golf at the collegiate level?
AP:
I've played golf since I was 10, and I played all through middle school, all through high school, and competitively throughout the summers...I was honestly getting a little burnt out by the end of my senior year. When I was touring colleges, I had my two buckets: I had A) maybe I'll play golf and look at schools like Rhodes, or B) maybe I just want to go to a big school and leave golf behind. I knew of Rhodes because my cousin is a 2014 graduate, so I took a tour, it was the first school I visited and I was like, you know, I really like it, but I just want to see all that's out there.
My senior year I won the state championship for golf.... I looked at my parents and I was like, I'm not done yet... I've gotta keep playing. So, I eliminated the schools where I could not play golf and really focused in on Rhodes and a few other schools. And this was the last one I visited on that go round and I knew driving home back to Nashville, this is the place for me. Coach Clary was awesome in the recruiting process the whole time. [He was] very patient with me- he knew from the beginning when I was being recruited as a junior, that I didn't know if I wanted to play golf anymore, but I'm so glad I did. I loved my college years playing golf.
EM:
What was your experience being a student athlete off the course? Rhodes is very rigorous and no matter what you major in, and it's hard to find that balance. Can you talk about what you learned about being a student athlete you feel is a different point of view from people who don't participate in athletics at Rhodes?
AP:
I think Rhodes and Division III athletics are the reason I could do it all. That was one thing I realized when I got to school was like, oh wait, I can be an athlete. I can make good grades and double major in things. I can be in a sorority. I can be involved in other extracurriculars. I can go have a job. I mean you've gotta be organized and you've gotta be able to plan your days out, but I've been able to kind of do it all at Rhodes, which was probably my favorite part of my experience because I never was a one trick pony, I would say. So, the fact you could do it all [was big]. I double majored in business and religious studies. Business for my career--religious studies was kind of for me, I just fell in love with all the classes and professors. Our coach encouraged double majoring and exploring new things and my professors were great about me being an athlete. As you get up into your majors and your upper-level classes, and you get to have these professors' multiple times, and some of them are your advisors and things like that, then they really get to know you and understand how important the sport is to you, and how important school is as well. So, it really kind of meshed together in a way I didn't see possible, but I'm sure glad it did.
EM:
What challenges do you feel you faced and overcame as a student athlete you have found useful to you now in your workplace or that helped you finish Rhodes?
AP:
One thing that sounds kind of interesting when you are about to be on a college team is that I did not know how to be a teammate really, because golf is so individual and most of the tournaments I had played in my whole life were individual tournaments. I had a six-week high school season, and it wasn't a great experience. And so, at Rhodes, I really learned how to be on a team, manage team dynamics, be a captain on a team, be a follower on a team, and traveling with a group. When it came time to get a job and be on a small team that runs a tournament, learning those interpersonal dynamics was huge for me. So as silly as it sounds, one thing people don't get about golf is you're not on a team, really ever, until college. And so that was awesome for me.
EM:
Can you discuss one of your favorite memories of being on the golf team at Rhodes?
AP:
<Laugh> An obvious one is when we won conference my sophomore year in 2019 and made it to the national championship- that was absolutely amazing, and I wish I would've appreciated it even more now because Rhodes still is a top golf program, and it was always the assumption that you go to nationals every year kind of going in. But then with Covid, that opportunity was gone. There was no national championship even though we were number five in the country my junior year. It didn't really matter, there was nowhere to go. And so just looking back on it, how fun it was sophomore year, how close a team that group of girls was and how, you know, we didn't go win it or anything, but we played well, we had fun and it's something I'll never forget. That was the nicest tournament I've ever played in. It made me feel really like a college athlete more than anything, playing in an NCAA championship. It didn't matter, it wasn't division one or on TV or any of that stuff. It really was a great tournament and just being around everybody was awesome.
EM:
How did you find yourself in the interview process for the FedEx tournament and how did that job become a reality so quickly?
AP:
In 2019 the tournament in Memphis switched from a PGA tour co-sanctioned event to a world golf championship, which was a huge upgrade and meant that we were going to get the best players in the world coming to Memphis.
I was a sophomore at Rhodes at that time and I went to Coach Clary and told him, "I wanna work for this tournament this summer." So, he connected me with the sports marketing department at ALSAC-St. Jude. I interned there my sophomore year from January until the tournament in August. That was my first interaction with the tournament. I absolutely loved it and was doing it again my junior year until Covid hit.
We weren't even sure the tournament was going to happen and so they pretty much let everybody go who was involved with it. Then fall of 2020 came around and we weren't back at Rhodes full-time, it was still online.... I was like, all right, I need to do something. I just, I simply can't sit around all day and I'm certainly not going to sit at my home with my parents in Nashville....I've gotta do something. So, I got a job working in the golf shop at the course where the tournament's held at TPC Southland out in the Germantown/Collierville area. So, I worked up there all fall and really got to know the tournament staff... And so, when this opportunity came about in February of 2021, they invited me to come interview for it...and I've been doing that ever since.
EM:
Do you still golf for recreation?
AP:
Yeah, so there's also a good bit of my job when we're not working 80-hour weeks around tournament time. Like this past week, I got to go play an outing for one of the charities I volunteer for, Boys and Girls Club of Greater Memphis. So, I got to play a little bit there. It's fun. I'm trying to learn how to play golf for fun. Not that college golf wasn't fun, but it was a different kind of competitive fun. This is a "ride in the golf cart and play your music" type of thing. And that's a whole new world for me. <Laugh>.
EM:
I guess my last question for you is what advice do you want to give for current student athletes or even high school seniors right now who want to pursue athletics going forward?
AP:
I think a big thing is to be proud of being a DIII athlete. Every girl ranked ahead of me [that I grew up with] went to a D1 school to play golf and so, there was some self-consciousness there like "oh I'm playing DIII" but I will say DIII was the best for me. You get to do a little bit of everything. That'd be my second thing is you're coming to school, don't just do your sport. Go explore other opportunities, do Greek life, do clubs, do rap, do something else and get a job. Literally do something else and don't feel like you are here to just do your sport because, at the end of the day, the sport does end, you have to go get a job or go to medical school or go to law school.... Just knowing that you have other skills, and you can really make that great, well-rounded resume where they're like, not only were you a college athlete, but, look at all this other stuff you did. And I think that's a unique Rhodes opportunity that I didn't really see coming and I love that I get to promote it. And then, finally, just really lean on your coaches and the other people in the athletic staff to help you. I wouldn't be where I am without my golf coach, Coach Clary. He's the one who got me in the door for that first internship and he always said, "I can't get the job for you, but I can get you in the door for you to go get it for you." That was huge for me.