Gifts to the endowment assure the growth and ongoing success of the college. An endowment enables the donor to leave a personal legacy or recognize a special individual in a meaningful and lasting way. At the same time, it enhances the education of generations of students.
Each endowment gift represents its donor's intention to provide a stable source of support that reflects his or her philanthropic interests. These generally include scholarship, faculty support, study abroad, faculty chairs, and emergency assistance. Endowments can also ensure the continuation of outstanding signature programs like Rhodes' interdisciplinary humanities courses, as well as new initiatives.
These outright gifts have the most immediate impact on college needs and they offer you the greatest tax benefits and savings. Gifts to the endowment begin at $50,000 and you may pledge to make a contribution over a period of several years. Payments can be scheduled to meet your needs. Typically, they are completed within a five-year period. Multi-year pledges may offer significant tax advantages. Please contact a member of our staff for more information.
To estimate the available income generated annually from an endowed fund, approximately five percent of a three-year trailing average is taken. Below is a simplified illustration for an endowment of $100,000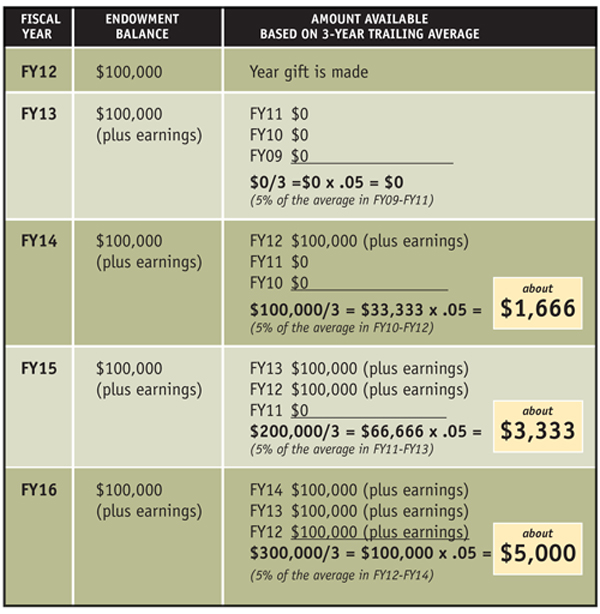 Scholarships: Help ensure that talented capable students are not denied a Rhodes education because of financial constraints. Named endowed scholarships begin at $50,000. Donors may include specific criteria in line with their philanthropic goals.
Faculty Support: Provides much needed resources for study, service and research opportunities between students and faculty. An example is a fund that provides additional money for faculty to travel with students to conferences to present research.
Faculty Chair: Since its founding Rhodes has attracted outstanding scholars. Named chairs are prestigious among faculty and support for endowed chairs and professorships serves to help recruit and retain the best and brightest teacher scholars.
Study Abroad: Supports students who otherwise would not have an opportunity for an international experience. Specific opportunities include studying at other institutions, studying with our Affiliated Programs, engaging in international internships, and studying on our faculty-led summer programs/Maymesters.
Emergency Assistance: Provides critical emergency aid to students who unexpectedly require financial help to complete their Rhodes education. Aid is awarded on a needs basis to active successful Rhodes students.
Our development staff will help you identify an area of need that most resonates with your philanthropic interests.