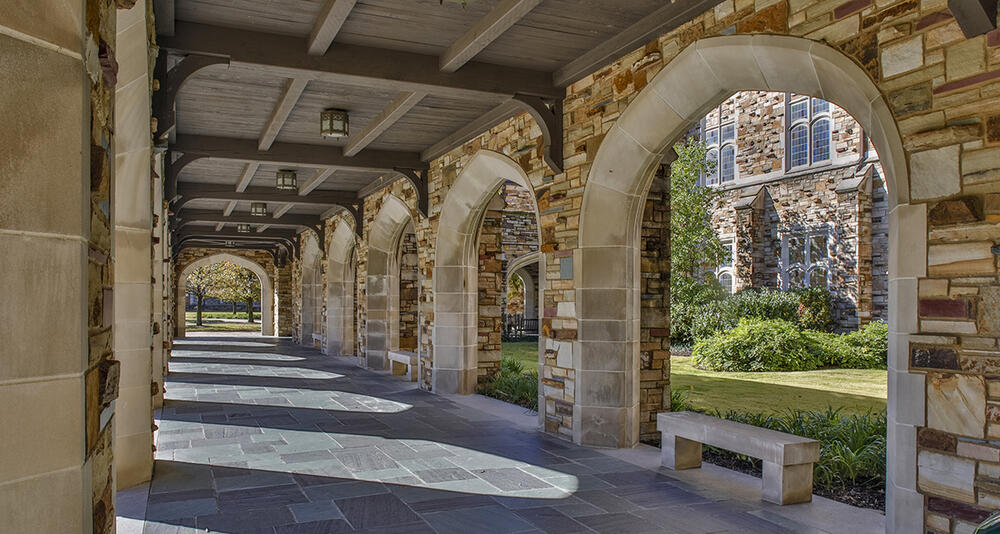 The Annual Fund lies at the heart of the Rhodes experience. It is the bridge between income from endowment and tuition and what it costs to educate a student at Rhodes. Every student benefits from Annual Fund gifts.
The Rhodes Annual Fund provides immediate financial support when students, faculty, and staff need it most. These gifts support top priorities such as providing 93% of students with financial aid as well as funding technology for remote learning.
The Annual Fund supports the 6 following areas:
Financial Aid – 93% of Rhodes students receive financial aid.
Faculty Support – this designation provides research materials, supplies including books and laboratory equipment, salaries, and travel for research and conferences.
Campus Life – ensures student programming that compliments academic work and activities that enrich campus life for our students.
Library/Technology – in addition to bolstering our collection of hardbound and electronic books, full text journals, print periodicals and film and audio visual items, the college purchases additional resources to make learning accessible every year. Your support ensures that Rhodes students have access to these materials and technology to achieve their scholarly pursuits.
Campus Preservation – support here maintains and preserves our beautiful campus, providing a place of learning that inspires integrity and high achievement.
Where Need Is Greatest – In a world of ever-changing necessities, gifts designated for Where Need is Greatest enable Rhodes to be responsive and supportive. This can range from offering additional financial support to providing food security.

Different gifts help Rhodes in different ways. Annual funds support current needs. Endowment funds provide support now and for the future. Both are important, keeping the college strong year after year and for generation after generation.
The Rhodes Annual Fund provides immediate financial support when students, faculty, and staff need it most. These gifts support top priorities like student financial aid, student activities, research, and top faculty hires in addition to providing funding for needs like tuition support, unexpected travel expenses, and school supplies—including technology for remote learning. The uses of these unrestricted funds vary from year to year depending on new opportunities and rising needs.
Annual funds make an immediate impact and must be spent each year. In fiscal year 2020 more than 4,200 alumni, parents, and friends together helped break the $2,500,000 mark, touching every student and every program across the college
The endowment is the sum of Rhodes' permanent invested capital used to generate funds each year for the college. The total endowment is made up of many smaller endowments, with many designated by donors to support specific areas of the college. Virtually all endowed funds are invested. A portion of the earnings are released every year, at a payout rate determined by the board of trustees, to support college priorities and the purposes specified by donors—without withdrawing from the principal.
Rather than serving as a cash reserve, the endowment is the college's financial foundation. Preserving and growing the endowment is the best way to guarantee Rhodes' long-term financial health and fulfill its mission.

Whether you are an alum, a parent, a student, or a friend of the college, your gift, no matter the size, supports the Annual Fund, which provides essential, unrestricted funding that touches every corner of the campus and impacts the "Rhodes Experience."
In addition to designated areas listed above, support to the Annual Fund enables Rhodes to respond with speed and agility to any new areas of need. Because of the support provided in the past year, the college has been able to respond swiftly to the emerging and ongoing needs brought on by the coronavirus pandemic.
Your gift—of any amount and to any area of need on campus—counts toward participation. Our alumni participation rate is a factor in our ranking among national college benchmarking organizations, tools used by many prospective students when choosing a college. Therefore, gifts to Rhodes improve the education of current students, as well as the reputation of the college, which, in turn, makes a Rhodes degree a more valuable commodity.

Your philanthropy begins right now. You don′t have to wait until you have reached the pinnacle of your career or finished graduate school.
As a student at Rhodes, your education and experiences were assisted in many ways by the Rhodes Annual Fund, whether it was through financial aid, student programming, library and technology resources, or research opportunities.
Gifts of $10, $20, or any higher amount from recent graduates all raise our participation rate equally. So, you can make a gift in an amount that is significant to you and fits within your budget. You could also choose to make a larger gift to join one of leadership giving societies, The Red & Black Society or the Charles E. Diehl Society.
Gifts from our recent graduates are especially appreciated because, despite the challenges you face as you start careers and families, you choose to support the school that provided you with unlimited opportunities and was the place that you called home.
We know life can get hectic and sometimes pricey after graduation, making young alumni gifts so special. Your gift means that you truly value the friends, mentors, and knowledge you gained at Rhodes.