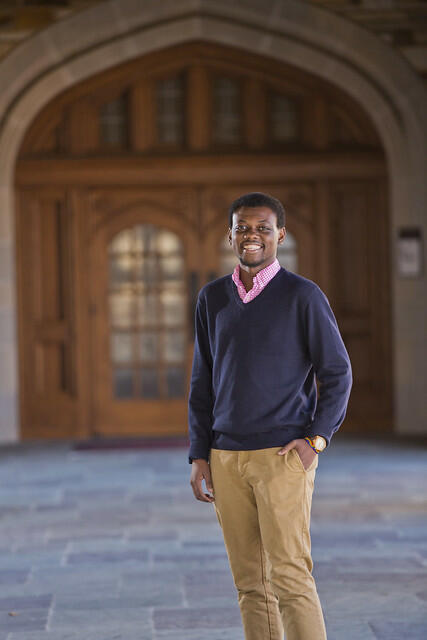 Thomas Mitchell '18, is an East Tennessee native who serves as the current Bonner Special Projects Coordinator at Maryville College in Maryville, TN. An Education Studies and Political Science double major, Thomas was very active in student government while at Rhodes, including serving as RSG President. He was kind enough to answer questions from current student and RSG Senator, Mariam Khayata '22. Here is part of that exchange.
Alumni Relations: Why did you decide to attend Rhodes College and pursue a double major in Educational Studies and Political Science?
Thomas Mitchell: I think my story is a bit different than most. I visited Rhodes two or three times in roughly the same number of months. On each tour, there were two things that caught my eye: President Diehl's "enemy of the good" quote that hangs in the Modern Language hall in Southwestern and his quote on the back of his statue, "the ideal of this college has been summarized in two words: genuineness and excellence." Both quotes seemed true based on what I'd seen during my tours. And ultimately, it didn't hurt that Rhodes calls Memphis home. I chose Educational Studies and Political Science because education is an inherently political field and one cannot advocate for educational reforms without also being knowledgeable about the strengths and weaknesses of our political system.
AR: During your time at Rhodes, you were heavily involved in student government, serving as student body president during the 2017-2018 academic year and vice president during the 2016-2017 academic year. What motivated you to be involved with student government throughout your tenure at Rhodes?
TM: I'd been involved in student council/government since middle school, so when I came to Rhodes it just seemed like an easy club to join—it was helpful that there weren't very many people running for the seats. That being said, what started as just a club for me really changed thanks to folks like Calli Pinckney '17 and Jay Hedges '17. Calli and I had been in student council together in middle and high school and she trusted me to take the lead on projects when she was our committee chair at Rhodes. Jay selected me as Academics Chair when he was Vice-President, and I then had the honor of serving as his VP. He and I worked together to push RSG to the "next level" and move away from just approving clubs and budgets towards actually debating the merits of various ideas and actions raised by students or administration. Overall, I stayed motivated to be in RSG, because I loved to help people pursue their passion and ideas for change at the college.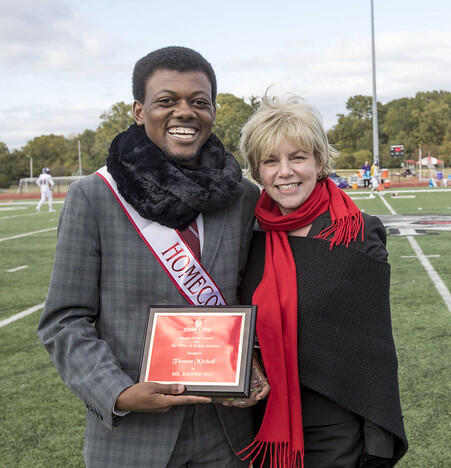 AR: While serving as student body president, you were instrumental in advocating for the renaming of Palmer Hall. What are your thoughts on the progress this campaign has made, as the building has now been renamed to Southwestern Hall?
TM: I want to first say that there so many people before me who made the same arguments I did. Ultimately, I happened to be a part of the right conversations at the right time, and that allowed me to take on a heavy role in the work. I still believe that the process took much longer than it needed to. That being said, I can appreciate that the college now has a clear set of guidelines with which it can evaluate fewer questions of naming and memorialization. With regard to the name itself, I think Southwestern Hall is an appropriate name; however, we should take time to understand and better define what people think about and experience when they hear "southwestern."
AR: You were also very engaged in community service, serving as a Bonner Scholar and working with the Kinney community service program. How have your experiences with both programs impacted your current position as the Bonner Special Projects Coordinator at Maryville College?
TM: Honestly, those experiences made my post-grad transition smooth and reduced a lot of the tension I felt after deciding to pursue a gap year. I got to work with an incredible team of staff and students, who shared a commitment to the same "common commitments" that I do. My work focused on curricula development for the Bonner Program at Maryville College and working with various departments across campus to design a new service-learning program. My experience working in high-impact and capacity positions as a student easily translated to my work post-grad.
AR: Do you have any advice for Rhodes students planning on pursuing a career in leadership or community service?
TM: The best advice I learned was that it's important to know when to get out of the way. A title or position of responsibility doesn't require you to always be at front and center in a conversation or action plan. Additionally, you will, more often than not, not be the smartest person in the room—embrace that reality, and use those opportunities to ask questions and learn more. Finally, always find time to take care of yourself. Leadership, even with seemingly low stakes, is taxing. Make sure you have the right kind of support for when things get rough.
AR: Lastly, how has life been as a recent graduate? What do you miss most about Rhodes? What do you like to do for fun?
TM: There have definitely been some changes, but almost all of them positive. It's taken time to get used to all the stuff that comes with "adulting," but I've gotten the hang of it - I think. What I miss most about Rhodes is the unpredictability of each day, whether it was a random run to Gibson's or a simple chat in the Middle Ground that became a 10-person conversation about a tv show. Having now worked at a college, I really do believe that the Rhodes community is a special one. In my free time this year, I've made new friends, try to visit one local restaurant a week (if you're ever in Knoxville, stop by Yassin's!), caught up on reading that wasn't for a class, and applied to grad school.