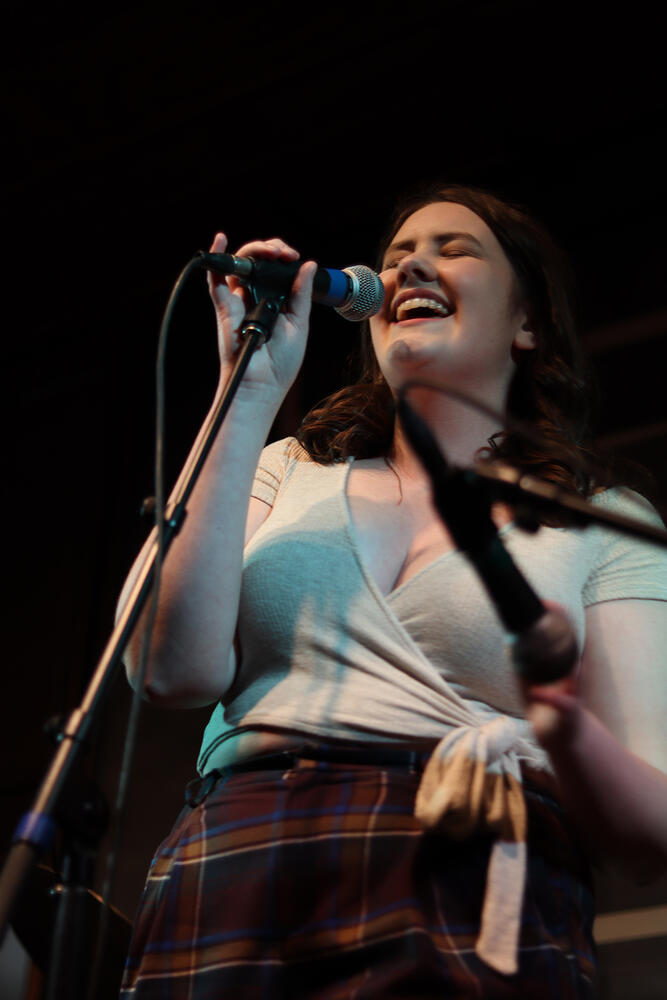 Rose Hutcheson '21, is an East Tennessee native who graduated with a Bachelor of Arts in Music. She served as a Curb Fellow at the Mike Curb Institute for Music at Rhodes, as well as completed multiple institutionally funded research projects connecting her own artistic pursuits with the culture and history of the music scene in Memphis. She recently released the product of one of these projects, an EP album entitled The Liminal Space. She is also currently an Assistant Production Manager at Sound Credits, working in artist royalties.
In the following exchange, Rose discusses the making of the album, the pandemic's effect on her creative process, and how her experience at Rhodes ultimately made this project possible.
Annalee McConnell '22: What drew you to Rhodes College? Did a desire to pursue music factor into your college decision in any way?
Rose Hutcheson: I initially applied to Rhodes College because my mom is from Memphis, so I grew up coming here a lot. I was in a very transitional period my senior year of high school trying to figure out what I wanted to do with my life, and my college applications were all over the place. I applied to schools in California, in the northeast—I had no idea where I wanted to go. I ended up applying to a couple of different music programs because I had just recently decided that I wanted to pursue that professionally, but I went to an academic prep school and really had no background in it, so I didn't end up getting into any of the music programs I wanted to. I told my parents I wanted to take a gap year to work on music, and I was between Rhodes and Belmont at the time. Belmont would not allow me to defer enrollment, but Rhodes said, just send us a letter and tell us what you're doing, and you'll be fine. We'll see you in a year! So that's why I ended up going with Rhodes, and that was my first indication that this was a school that really wanted to help me succeed in what I wanted to do. I got here, and I loved it! It was the best four years of my life so far.
AMC: What music and performance groups were you involved with at Rhodes? Do you have a favorite experience with any?
RH: I did one semester of Women's Chorus and then four semesters of Rhodes Singers. I was mostly involved with Jazz Band; I joined second semester of my freshman year and it was my favorite thing I did the whole time I was at Rhodes. I just absolutely fell in love with it! It was such a diverse catalogue to perform, and the musicians were really talented. I gained so much confidence performing and learned so much about stage presence—and singing in general—from being in that group. Jazz Band does the Rhodes night at the Levitt shell every year for Family Weekend, and I still remember the first time I got to do that my sophomore year. I was so nervous! That was the biggest audience I had ever performed for at the time, and it was on a real stage, so it was different than just performing on campus for friends. It felt like a real production, and that was a really cool moment for me. It's one of the things I really miss about being in college. I also did a couple of different theatre productions. I was in Hissifit, the punk rock musical. Then there was Firebringer, which never really got to see the light of day [due to its cancellation in response to COVID-19], which was so sad because it was such a good show. Firebringer was my favorite theatre production I'd ever been involved in. I really enjoyed all sorts of performance at Rhodes.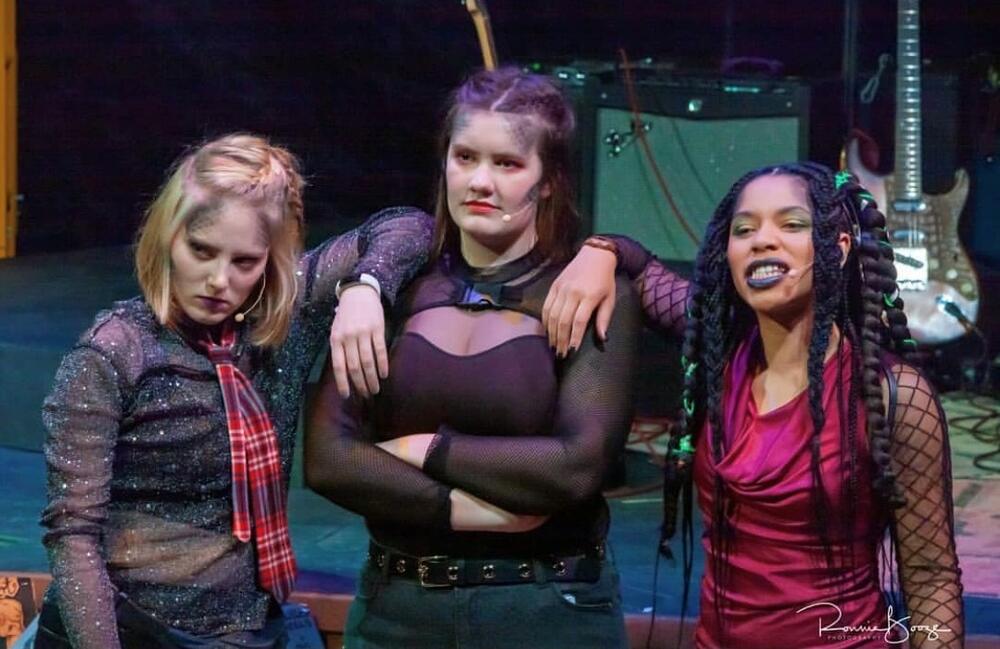 AMC: Creating an album from scratch is a daunting task. Can you talk a little bit about the process? What instigated the idea for The Liminal Space and how did this project ultimately come to fruition?
RH: It started with Hissifit, actually. The cast recorded the original soundtrack, and then Dr. John Bass and Dr. Joy Brooke Fairfield approached me and asked me if I wanted to help mix the album over the summer through a Rhodes Institute for Regional Studies fellowship. I remember thinking it was so cool that I was getting paid by the school to make music, and I wondered if there would ever be an opportunity for me to do something like that again. My friend was doing a project with the Lynne and Henry Turley Memphis Center at the time, working on a documentary about the queer bar scene in Memphis, and he encouraged me to apply so I could use that opportunity to fund the making of my own music into an EP. Dr. Bass was my advisor, and it ended up being my senior project for my music degree. COVID-19 definitely influenced the whole process as well. I think if we hadn't been stuck inside alone all this time, I might have reached out to more collaborators, or I might not have had the time to devote to it. But over the past two years, I invested in studio equipment with money that I made through the Hissifit Rhodes Institute project. I bought speakers, interface, and a microphone, and I started working on projects at home for fun. The album still sounds a little homemade to me because I'm very critical of my own work, but considering I did all of this by myself in just a few months, I'm proud of the way it turned out.
AMC: The title of the album, The Liminal Space, feels like an allusion to the world's current circumstances, the effects of COVID-19 creating its own kind of liminal space in many of our lives. Was this intentional? Did the pandemic change the way you approached the creation of this album?
RH: I heard this word, "liminal," for the first time in my AP English class in high school and I remember thinking it was such a cool concept, as something that's sort of in-between—not one thing and not the other. It was definitely influenced by the pandemic, because it felt like everybody's life was put on pause. It's like I was kind of in college, but kind of not, and everything about my life felt like an "in-between." A lot of the songs that I wrote for this also felt like they inhabited a liminal space of relationships that weren't exactly relationships, feelings that I couldn't quite identify, and things that I just couldn't define as one thing or the other. I decided to go with the liminal space because I really liked this concept of creating something in that summer space between college and where I am now. The album is about those in-between moments in our lives that maybe don't get as much attention as the big starts and the big ends.
AMC: You mentioned in an Instagram post (@rosehutcheson) that you sang "Mirages," your debut single that is included on the album, in front of an audience for the first time in 2018 at the final showcase for your Acting I class. How does performing this song now feel different than it did back then?
RH: Performing it then was a lot closer to when I wrote it, so it was a lot more vulnerable to sing it in front of strangers at the time. I felt like I was reading a page out of my diary for other people to hear. I was still gaining confidence in performing, so it was all very scary. And now, I've been working at this coffee shop, and my friend who works there too will put the song in the queue of our playlist all the time. Something like that used to embarrass me so much—I would have to leave the room—but now I can just listen to it and be like yeah, that's my song, whatever! It doesn't feel as raw as it used to, and a little bit removed from what exactly I was feeling at the time I wrote it. I can appreciate it more as a work of music rather than something that's coming right from my brain.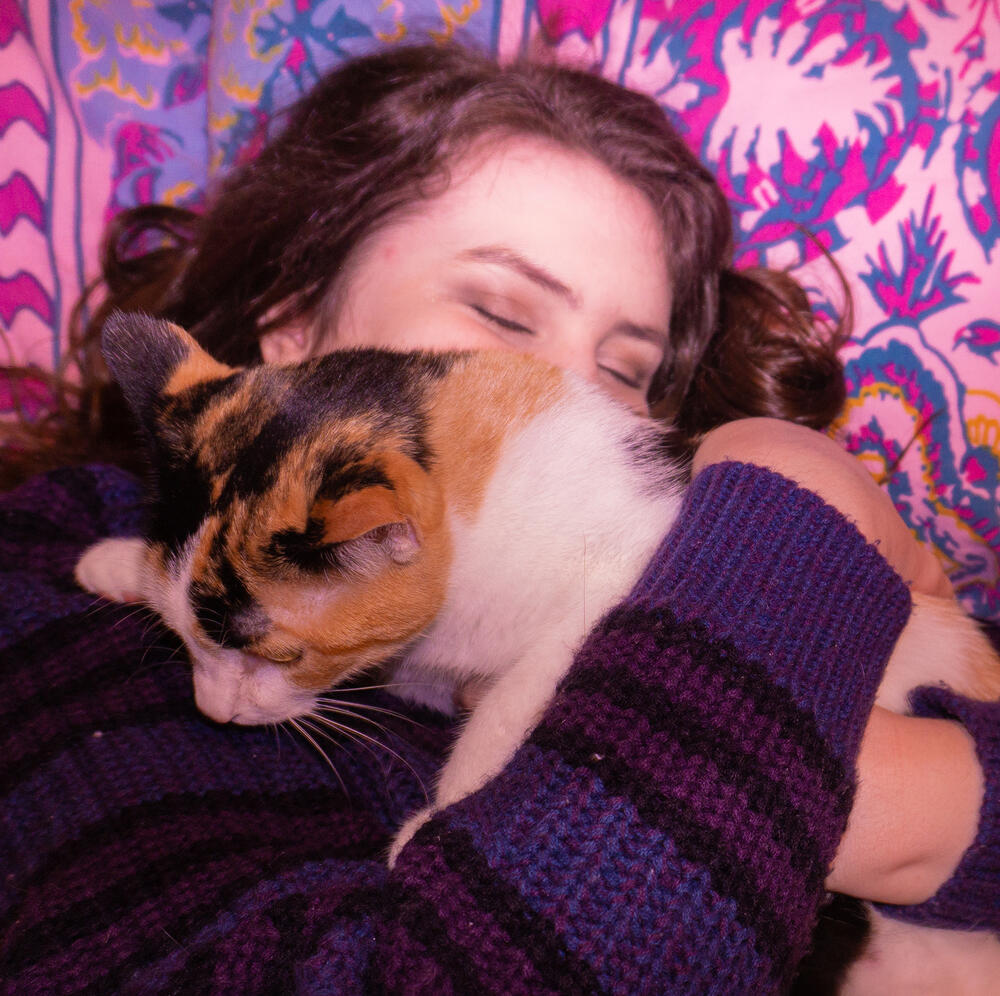 AMC: Who have been some of your most valuable mentors or artistic influences?
RH: Definitely Dr. Bass. None of this would have happened without him. He's been a huge part of the whole process by providing his creative input. In the Mike Curb Institute for Music, which I was part of since my sophomore year, he did so much great work connecting the students at Rhodes with the Memphis community at large, giving them access to studio space on campus, and really just allowing students to learn to do whatever they want to in music. My college experience would not have been what it was without Dr. Bass and the Curb Institute. That was a huge part of me being able to create this album.
AMC: What advice do you have for current music students at Rhodes who hope to produce their own work? Have there been any valuable lessons you have learned so far as a blossoming artist?
RH: Get involved with the Curb Institute! I love the Rhodes Music Department as well, but I think especially if you want to do commercial music, the piece of my music degree provided by the Curb Institute was essential. At Rhodes I was able to explore all sorts of different genres thanks to the Curb Institute.
For me, a big part of my music journey was learning to be less shy. I think college in general really allows you to come into your own as a person, so if I could give advice to myself going into freshman year I would say, don't be scared. It's college! No one really cares what you're doing to begin with, they just want to be your friend and hangout, or they aren't thinking about you at all [laughs], so you can go in and do whatever you want to do. And if you have a passion or interest, there's a way for you to get involved in it at Rhodes. Take the time out of your schedule to learn, take music tech classes and audio engineering, and look into different projects. Take advantage of programs like the Rhodes Institute for Regional Studies! I had no idea that you can get paid to do a research project until my Senior year. Just take advantage of resources, and don't be scared to try new things and see wherever it goes. If you make the most of your opportunities, you will learn so much.
AMC: Finally, as you continue your promotion for The Liminal Space, what is next for you as an artist? Do you have any short-term or long-term plans in the works?
RH: I recently started a position working in artist royalties with a company called Sound Credit. I'm excited to learn about how artists get paid and about working in the music scene. Personally, for my artistry career, I'm hoping to do a pop EP for my next release. With The Liminal Space, I had this collection of songs that I really liked but were all kind of diverse and different from each other. It felt like I was genre hopping a lot, which is a great way to express the range of what I can do and showcase an artist portfolio. For my next release I think I want to do something that's a little bit more cohesive. For me, I feel like the greatest albums are either one or the other—its either entirely its own genre of music or a whole smorgasbord of different sounds. This was kind of my smorgasbord piece, and my next one I want to be a very cohesive, five track pop EP with some dance and upbeat music. Short term, I have a music video coming out hopefully within the next month. It was produced and directed by another alum and friend of mine, Gunner Smith '21, who approached me with the idea and storyboarded the whole thing. He had already done a lot of photography for my album cover, so we had been working together. We shot the whole thing in my apartment in one long weekend, and he's in the process of editing it. It was kind of his passion project, he wanted to add a music video to his portfolio and obviously if someone approaches me and says, "let me help you do a music video basically for free," I'm going to say yes [laughs], so that should be coming out soon! I'll post links to it on all my socials, and it'll go up on my YouTube channel.
Stream Rose's album The Liminal Space on iTunes and Spotify and keep up with her by following her socials linked below.
Instagram: @rosehucheson
YouTube: Rose Hutcheson
Annalee McConnell '22 is an English and Theatre major, the Rhodes Theatre Guild President, and the Development Communications RSA.