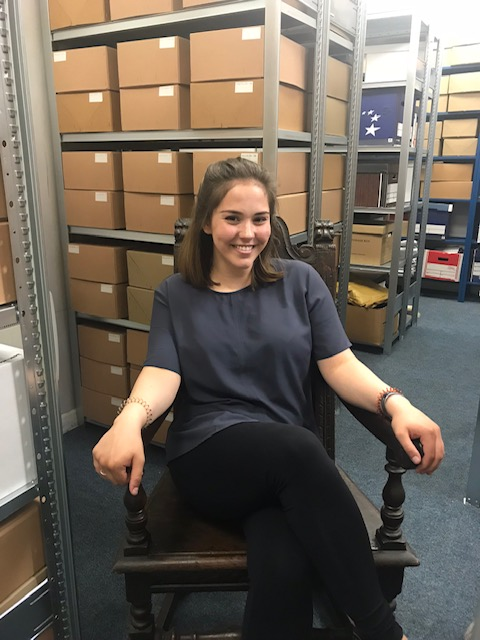 Olivia Gacka '17, graduated with a self-designed major in Anthropology/Sociology and Theatre. Olivia received her Master's degree in Irish Theatre History and Archives from the National University of Ireland Galway. She is currently the assistant director for Theatre Memphis' upcoming production of Mamma Mia! The show runs August 16 – September 8, 2019.
In the following exchange, Olivia talks about working with Cecelia Wingate, Ireland, and why it is important for her to stay connected with Rhodes.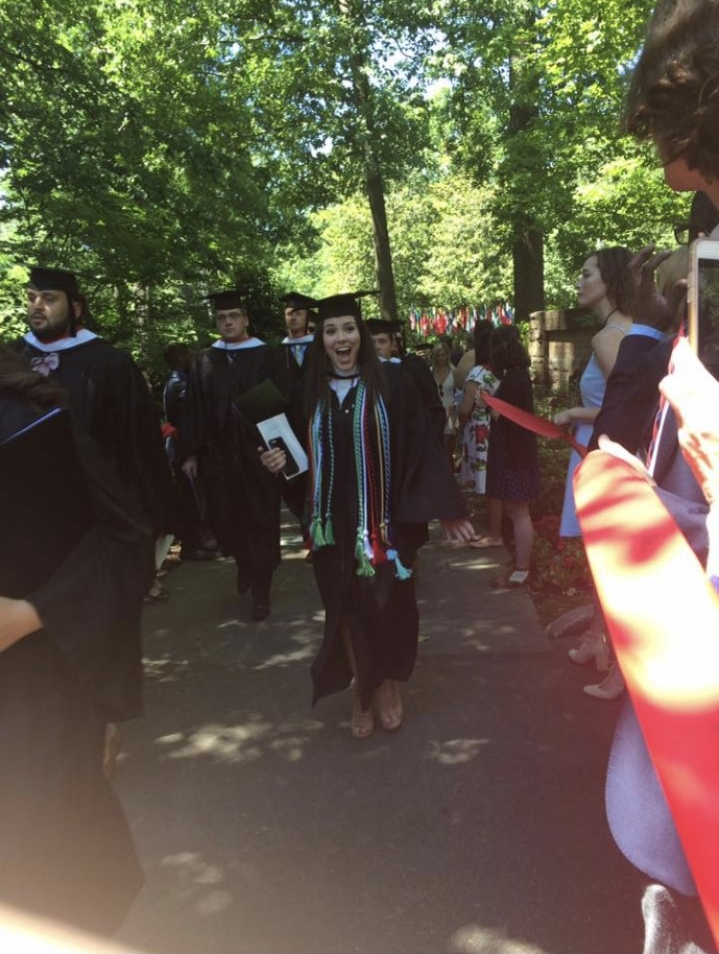 Alumni Relations: How did you decide to attend Rhodes and how was your experience during this time?
Olivia Gacka: Rhodes came way out of left field for me. I was born and raised in Westchester, just outside of New York City, and we moved to Saint Louis, MO when I was 15. When it was time to look at colleges, I swore up and down I would go back to the Northeast. I saw a pamphlet for Rhodes and thought, "Ok, schools can look that nice?!" So my parents and I took a trip to Memphis to visit for what I described as a "test run." It was a chance to explore a new city and to practice college visits, so when I visited colleges I liked up north, I'd be ready. Once on campus, we took one step out of our car and it was over. The grounds were gorgeous, the ethos of a liberal arts education was calling my name, and the only bad thing my mother could think to say about the entire experience was "there are a lot of FedEx planes overhead, that noise might be distracting!" (And no, it never was).
My time at Rhodes was defined by the people I spent it with, the people who shaped me as a thinker, an artist, and a human being. My professors in particular were absolute game changers for me. Professors like (now retired) Cookie Ewing, who taught me how to be a better actor, but more importantly, how to help other people become better actors. Dr. Angela Frederick encouraged me to embrace my Theatre roots in my first Sociology class, laying the foundation for my interdisciplinary major. Dr. Dave Mason taught me how to think about and question what defines theatre, and encouraged me to submit my work for an international theatre research conference in Sweden as an undergraduate. Dr. Brian Shaffer, whose love of all things Irish theatre and literature actually altered the course of my life, ultimately inspired me to pursue my Master's Degree in Ireland, where I lived for a year. Then there was Kevin Collier '90, who was my boss when I worked in the McCoy Business Office for two years. He taught me an incredible amount about the importance of patience, tact, and understanding how much harder things can be than they sound when you're trying to run a theatre. It was in very large part because of him that I had the tools I needed to direct and produce Heathers the Musical at the end of my senior year. That's the thing about Rhodes, they draw students in with the gorgeous buildings, the excitement of Memphis, and Fried Chicken Friday, but it's the people that keeps them.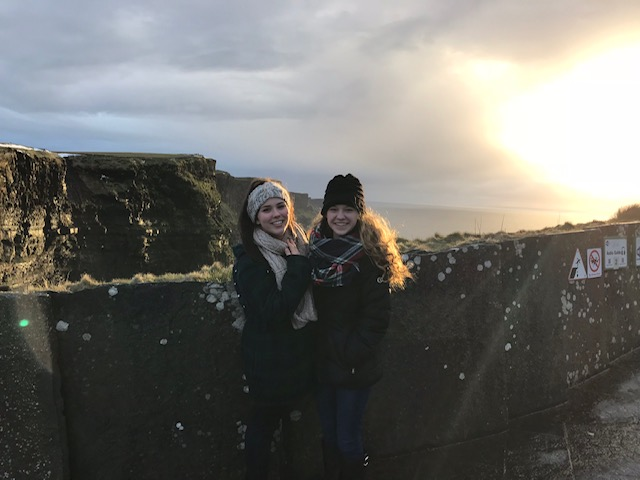 AR: You are currently the Assistant Director for Theatre Memphis' upcoming production of Mamma Mia! Can you talk about how this experience has been thus far?
OG: It has been a blast, and extremely eventful! Nailing down our phenomenal cast was an adventure, because we needed so many people, ones who could effectively tell this story to its fullest as singers, dancers, and actors. Isabel (Celata '19) probably won't believe me, but I had nothing to do with her being cast. I was silent for the deliberations on who would play Sophie! She truly is perfect for the role.
About a month and a half before rehearsals were set to begin, Cecelia Wingate, our director, found out that she was offered a lead in a play at the Kennedy Center in Washington D.C., and that she would have to miss the first three weeks of rehearsals for Mamma Mia!. Cecelia and I worked all day for two straight weeks on doing all the pre-show work we'd normally wait another month to do. It was a challenge to go ahead with rehearsals without the director, but Cecelia and I had prepared enough that most of what she wanted to happen was written down or tucked somewhere in my brain so that things could go ahead smoothly. While she was gone we focused on music and choreography, and once she got back, we hit the ground running with scene work and it got us to where we are today!
Overall it has just been the perfect way to spend the summer, listening to ABBA in an air conditioned rehearsal hall with some of the best talent in the city. You can't ask for more! The cast has just embraced this story about love and self-discovery in the most beautiful way. I'm so proud of them!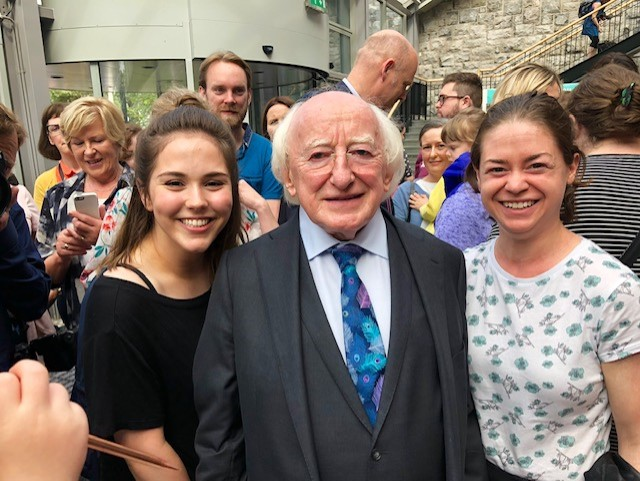 AR: You were an Anthropology/Sociology Major in College. How did you get into working in Theatre?
OG: I graduated from Rhodes with a self-designed major in Anthropology/Sociology and Theatre. It is indeed a mouthful (don't get me started on the fact that my Master's Degree is in Irish Theatre History and Archives. I favor academic degrees with long names). I came to Rhodes to be involved in Theatre. It was because of the Fine Arts Fellowship in Theatre that I could afford to attend the College, and I remember thinking how incredible it was that I was going to be paid to do something I was going to be happily doing anyway. (Shh, don't tell them!!)
It wasn't until my sophomore year that I took my first Sociology class, and everything shifted. Sociology provided me with a language to describe all these things that Theatre did, does, and can do. I had to find a way to smash them together. That's when I learned that students can propose their own interdisciplinary majors! I spent about a year working on that proposal, and it passed in the fall of my junior year.
Also in my sophomore year, I took an elective course about 20th Century Irish Theatre, just to fulfill the requirements of my major. It ended up changing my life. Even for people who do not go the route I did, taking a class from Dr. Brian Shaffer is a highlight of being a student at Rhodes. If you go to Rhodes, and you're reading this, take his class. You can thank me later. It was in that class that I found the perfect case study for my argument for my bridge major, that theatre simultaneously comments on and creates social change. Ireland's cultural revolution (that occurred only just a century ago) started and ran parallel to its socio-political revolution, and it is evident in the kinds of theatre that came from that era, and the theatre the country still produces today. There was so much to cover that the one class I took with Dr. Shaffer was not enough, and we ended up designing an independent study course that basically consisted of the two of us meeting in his office every week discussing a new Irish play or playwright. I think more students should take advantage of the Independent Study opportunity in whatever area interests them.
So after graduating from Rhodes, I moved to Ireland for a year to pursue my Master's degree at the National University of Ireland Galway. While I was there I took a week-long master class from Tony Award-winning director Garry Hynes, worked for the Abbey Theatre archives, and the Galway International Arts Festival, met so many incredible Irish artists that are world famous for their work, and saw Waiting for Godot four times! I also got to meet my personal hero, Michael D. Higgins, the President of Ireland. It was a dream year. I saw Irish theater, saw Ireland, and made lifelong friends (friends who I'll always be able to stay with whenever I want to go back and visit!) I was even able to conduct original research while I was there, I am the proud foremost scholar on the work of early 20th-century Irish playwright R.J. Ray, whose diaries were recently donated to the NUIG Archive. As a result of that donation, I was able to fill the gaps and conduct the first full-scale research investigation of his life and his work, and how he contributed to the Irish theatrical canon. Until we got our hands on those diaries, no one knew anything about him, and it turned out that his work was pretty popular and significant at the time, drawing the attention of people like W.B. Yeats and George Bernard Shaw. So I was able to leave Ireland knowing I made my mark.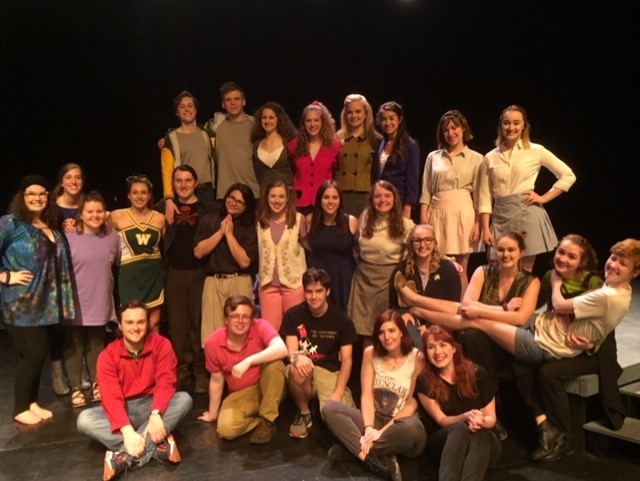 AR: What other productions have you worked on, and how has Mamma Mia! differed from those?
OG: I have been working on at least one show every year since I was 9 years old. Yes, I am tired. But I wouldn't have it any other way!
During my time at Rhodes, I performed in multiple productions that all presented their own rewards and challenges. But the biggest challenge of all was directing and producing Heathers the Musical for my senior project. That year, the McCoy had not included any musicals into their season. There were so many underclassmen who were itching to do a musical, and who had the talent and the passion for it. At the same time, I was looking for a senior project that would fulfill the marriage between Sociology and Theatre that I was looking for, and Heathers was perfect, because of the ways in which it examined gun violence in schools, depression in adolescents, and social forces affecting young people in America. So it just happened. At every turn it should not have worked, but we raised the money, independently put up the show, and sold out our entire run.
Since graduating, I have worked on various productions in the Memphis theatre community. I love working at Theatre Memphis and I love working with Cecelia Wingate, my mentor and one of the best directors in this city. I got my start with her when she came to direct The 25th Annual Putnam County Spelling Bee at Rhodes my junior year. Being able to make that connection with her while I was at school paved the way for me to have a directing career in Memphis. Cecelia is uncompromising in her quest for nuance and detail, and there's a reason she has won as many local awards as she has. She's an incredible person to learn from as a young director. Collaborating with her is so instructive because she'll be the first person to admit if someone else's idea is better than the one she had, but she'll just as easily say "no, that's interesting but it won't work" or "I like you but I don't like that idea and here's why". She creates a safe environment in which to fail, and I always learn something from it.
AR: You have stayed connected and are an active supporter of Rhodes, which we appreciate! Why do you think it is important to stay connected with your alma mater? What would be some things/ideas/projects that Rhodes College could do to stay connected, perhaps reengage, with our younger alums?
OG: I felt so bad for the poor student who called me during this year's Annual Fund Phone-a-Thon and started to give me the whole speech about her experience as a Rhodes student and how much the money helps and I just cut her off and said really fast "here's my credit card number, I can't talk for long because I'm pulling onto campus right now to visit someone and I have to tell Campus Safety where I'm going". I figure, I still benefit from the beautiful campus (my beagle, Rua, loves to come visit students who need a study break and want to pet her and walk her around) so I should contribute a little something to it.
But even if I wasn't in Memphis, I'd still feel that it's important to me to donate to Rhodes, specifically in the areas that benefited me when I was a student. It is important to me as a donor to the Annual Fund that I'm able to specify where my money goes, what exactly it is that I'm supporting. As a younger alum with less money than, say, older alums who have been in their respective careers longer, I like knowing that the little I have to share is going exactly where I want it to. So if it's important to you to fund support for the professors who changed your life, you can do that. If a scholarship is the only reason you were able to afford to come to Rhodes, you can make sure your money goes towards the next generation of students who need support to attend college.
I think a good way to keep the younger alums engaged is to understand that as time goes on the generations change. What's important to this generation's young alums is irrefutably going to be different from the previous generation's priorities when they were young alums, and the next generation of young alums will be different too. Making a clear effort to understand what is important to people in our age bracket, right here and now in 2019, what it is we want to support, what we want to change, what we loved about our time at Rhodes, what we wished could have been different, is the best way to make us feel heard and make us feel that our money and our resources are going towards what mattered to us as students and what matters to us now.
AR: After Mamma Mia! finishes, what are your current short-term and long-term plans?
OG: After Mamma Mia!, I'll be directing the musical Next to Normal at Germantown Community Theatre. This will be my first solo directing gig since Heathers the Musical, and I'm excited to utilize everything I've learned over the past few years to create some really incredible theatre. After that, who knows what projects I'll take on! In the long term, my goal is to have a PhD in Theatre Studies and work for a liberal arts institution like Rhodes, teach theatre classes and mentor future generations of artists and thinkers, while getting to create work in a community like the Memphis theatre community after class hours. That would be a pretty sweet combination of the things I love to do!