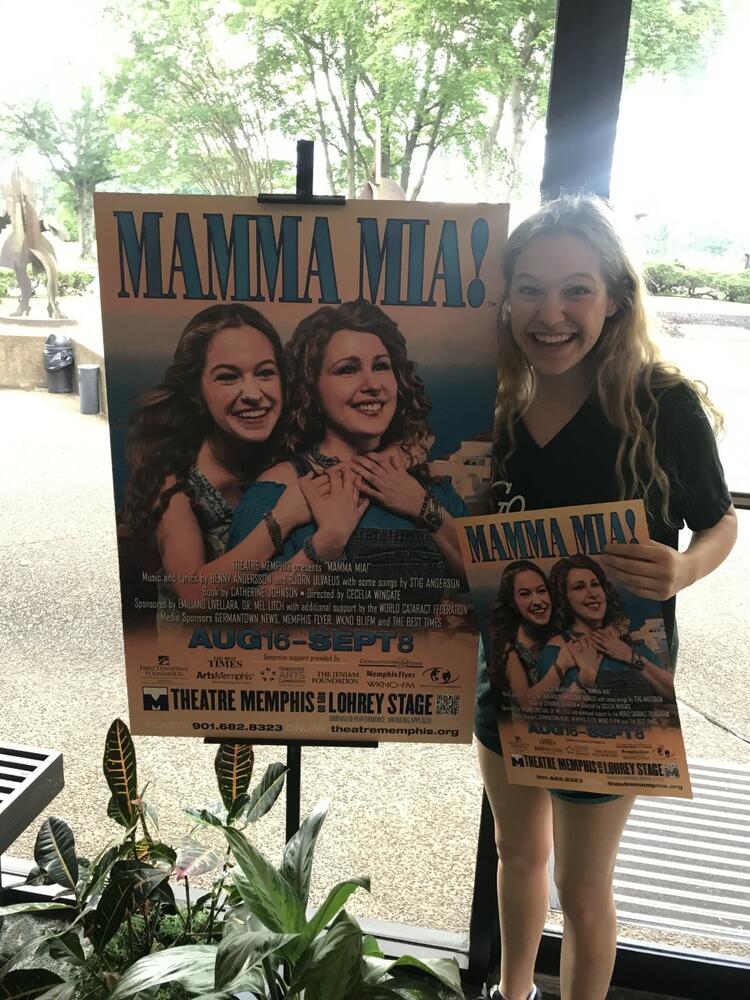 Isabel Celata '19, was a Music and Political Science double major while at Rhodes. She has been very active in the local theater scene since moving here from Louisiana. Isabel is currently in rehearsals for the role of Sophie Sheridan in Theatre Memphis' upcoming production of Mamma Mia! The show runs August 16 – September 8, 2019.
Alumni Relations: You're originally from New Orleans. How did you decide to attend Rhodes College and pursue a double major in Music and Political Science?
Isabel Celata: I began my college search looking for a small liberal arts school. I came from a private high school with fifty kids in each grade and knew that attending undergrad at a large state school where I would be just a number, wasn't for me. I looked at a lot of liberal arts schools but most of them were in the middle of nowhere. Coming from New Orleans, I knew that I needed a school in a city where I could both explore and have fun as well as make essential connections that would help me once I graduated. I came to Rhodes intent on being a double major, I thought in theatre and political science. I grew up singing and dancing as well as acting in musicals at my high school, but my main goal at the time was to become a lawyer. I have always had a passion for social justice and felt at the time that being a public interest lawyer was my best bet for making a positive impact on the world. When I got to Rhodes, I intended to take voice lessons and sing in the Rhodes Singers, while double majoring in theatre and political science. Once I got here, however, I began to realize what a special music program Rhodes has. My voice teacher and advisor, Dr. Carole Blankenship '85, helped me both further my passion for musical theatre as well as learn more about a new passion, opera and classical vocal music. I ended up deciding to major in music and political science, while continuing to take a few theatre classes and perform in musicals at the McCoy.
AR: How was it being a double major with these two different fields?
IC: Completing a double major was certainly challenging but worthwhile. It required a lot of planning and collaboration with my advisor and professors, but I would recommend it to anyone! I got to do a deep dive into both subjects. If you're going to spend four years at college, why not commit to learning as much as possible and get two degrees while you're at it? One of my favorite aspects of double majoring is how the two majors complement each other. Music is completely influenced by the time period in which it is was written, and politics and leadership are essential aspects of any historical time period. For example, my music history professor, Dr. Vanessa Rogers, taught my European Musical Heritage II class about music composed in Soviet Russia and how the government used the music and their world-famous composers as a "testament" to the benefits and powers of communism. It was one of my favorite topics we covered in the class. Additionally, my professors were so supportive of my commitment to double major. One of my political science professors, Dr. Stephen Wirls, and I even formed a great bond over our love for classical music. He came to my junior voice recital, and I found out that we share the same favorite opera, The Marriage of Figaro!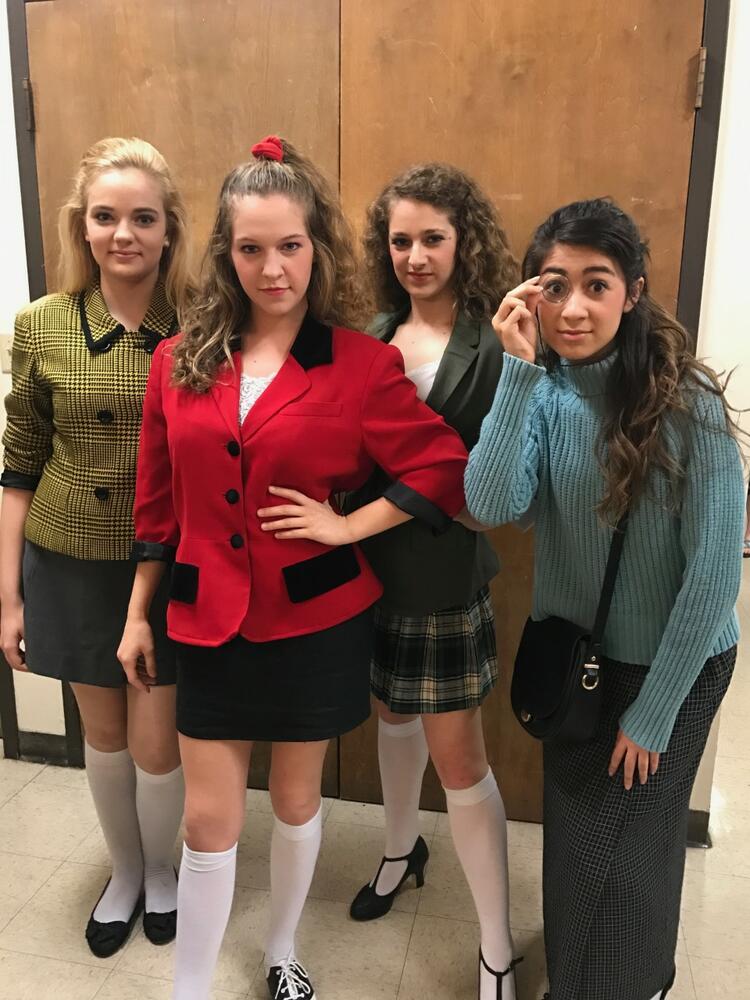 AR: Were you in any productions while at Rhodes?
IC: Yes! My freshman year, I was cast as Marcy Park in The 25th Annual Putnam County Spelling Bee, directed by Cecelia Wingate. Being cast in Spelling Bee as a freshman was an honor and such a life-changing experience. When Rhodes brought in award-winning director Cecelia Wingate, they provided students both a chance to work with a phenomenal director and to make connections in the community. Four out of the six students who were in this performance of Spelling Bee have used the experience as a springboard to perform and work in the Memphis theatre community. Olivia Gacka '17, assistant director of Mamma Mia!, played Rona Lisa Peretti in Spelling Bee. Her connection with Cecelia led to her being given the opportunity to assistant direct multiple shows that Cecelia directed, allowing her to learn directly from Cecelia. Recently, Cecelia has gone on to perform in the play Byhalia, Mississippi both at the Steppenwolf Theatre in Chicago and at the Kennedy Center in Washington, DC. Rhodes gave us the opportunity to have Cecelia Wingate on our resume. Cecelia is also the director for Mamma Mia!, an opportunity that I was likely more seriously considered for because Cecelia had already worked with me. (Fun addendum: Spelling Bee is where Olivia and I first became friends. Now, four years later, we have grown into inseparable best friends. One of the best parts of working on Mamma Mia! is that we get to do it together!)
My sophomore year, then-senior Olivia Gacka '17 made her directorial debut, directing Heathers the Musical. I was cast as Heather Chandler. Olivia self-designed her own major while at Rhodes, combining her love of anthropology and sociology with theatre. Therefore, all of her choices in Heathers, which deals with themes of teen suicide, bullying, and depression, were informed by sociological research on said topics. Olivia's concept for Heathers helped me to more deeply consider how art can comment on the society we live in and even help to change and heal that society.
When I was a junior, I was fortunate enough to receive the Hyde Award in Music and a Music Fellowship from Rhodes to fund a trip abroad to the Prague Summer Nights Young Artists Festival in Tabor and Prague in the Czech Republic. While there, I performed in an opera scenes program, sang musical theatre in a famous Prague night club, and performed as the Second Spirit in one of my favorite operas, Mozart's The Magic Flute.
Senior year, I began to audition in the community. I was cast in Hairspray at Theatre Memphis and then as Sophie in Mamma Mia!, also at Theatre Memphis.
AR: Do you have any advice for current students that are interested in performing arts?
IC: My best advice would be to never count yourself out before trying. Auditioning for shows, especially in the community, can be daunting! I did not audition for a community show until the end of my senior year, when I auditioned for Theatre Memphis's production of Hairspray, because I thought there was no way I would be cast. Once I finally pushed myself to audition, I was cast as a Nicest Kid in Hairspray and, closely thereafter, as Sophie Sheridan in Mamma Mia! So, my best advice would be to believe in yourself and to audition for shows not only at Rhodes, but in the Memphis community. There are so many opportunities for theatre in Memphis, so take advantage of the city you're in!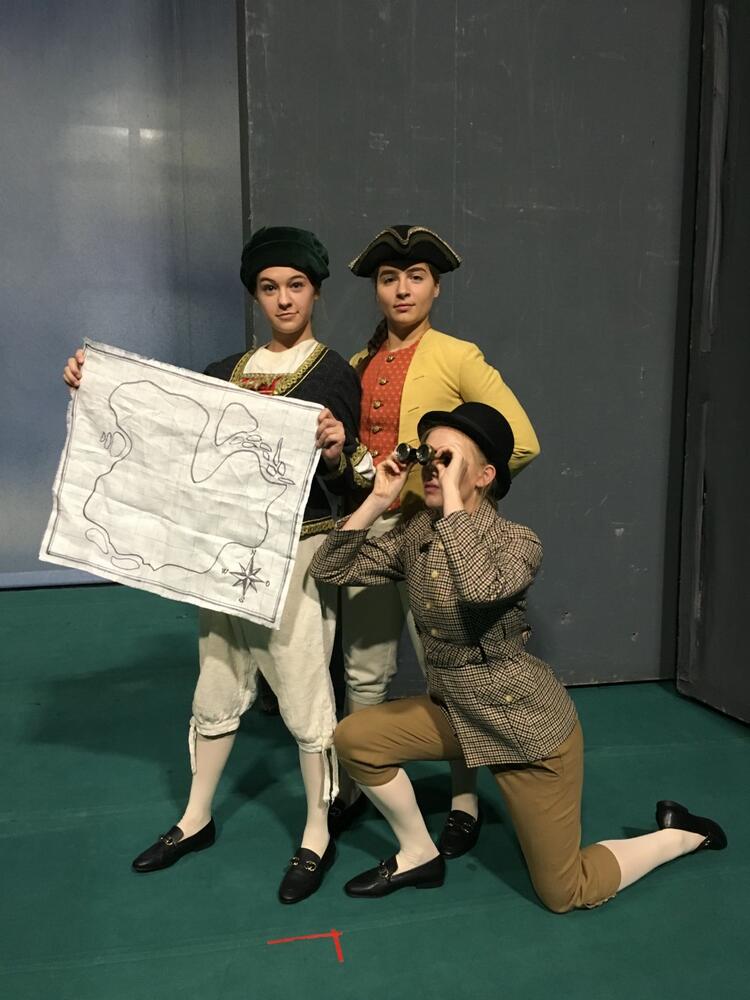 AR: As you mentioned, you are playing the role of Sophie Sheridan in Theatre Memphis' upcoming production of Mamma Mia! Can you share how this experience has been thus far?
IC: I auditioned for Sophie at the end of my senior year of college, while balancing Hairspray rehearsals with finishing out my last year of college. I was writing a 30-page honors paper, studying for exams, trying to decide where to attend graduate school, serving as vice-president of the Rhodes Singers and preparing for our final concert, helping to organize Rhodes's annual Broadway and Opera Scenes Showcase, doing my RSA job as the Musical Arts Production Assistant, and attending classes, all while rehearsing for Hairspray and preparing to audition for Mamma Mia! Not to mention, I was trying to spend as much time as possible with my Rhodes friends, many of whom were also graduating and moving away. It was certainly a lot to balance but was so worth it! I have had so much fun working on this show. We spent the first two weeks in music rehearsals and then hit the ground running with choreography and blocking. In the past few weeks, we have moved from the rehearsal room to our stage and have gotten to work with our set. We just began "tech week", where we start to introduce the technical aspects of the show, such as lighting and sound design. Soon, we'll add costumes and the orchestra and then be ready for the final aspect of the show - an audience! I cannot wait to show everyone the hard work we have put into this production. It's going to be beautiful!
AR: What would be your dream role to play?
IC: Honestly, I have been so lucky to play a few of my dream roles already! Heather Chandler in Heathers and Sophie Sheridan in Mamma Mia! were on my list! Some other roles I would kill to play are Christine in Phantom of the Opera, Cosette in Les Miserables, Jerusha Abbot in Daddy Long Legs, and Susanna in Le Nozze di Figaro.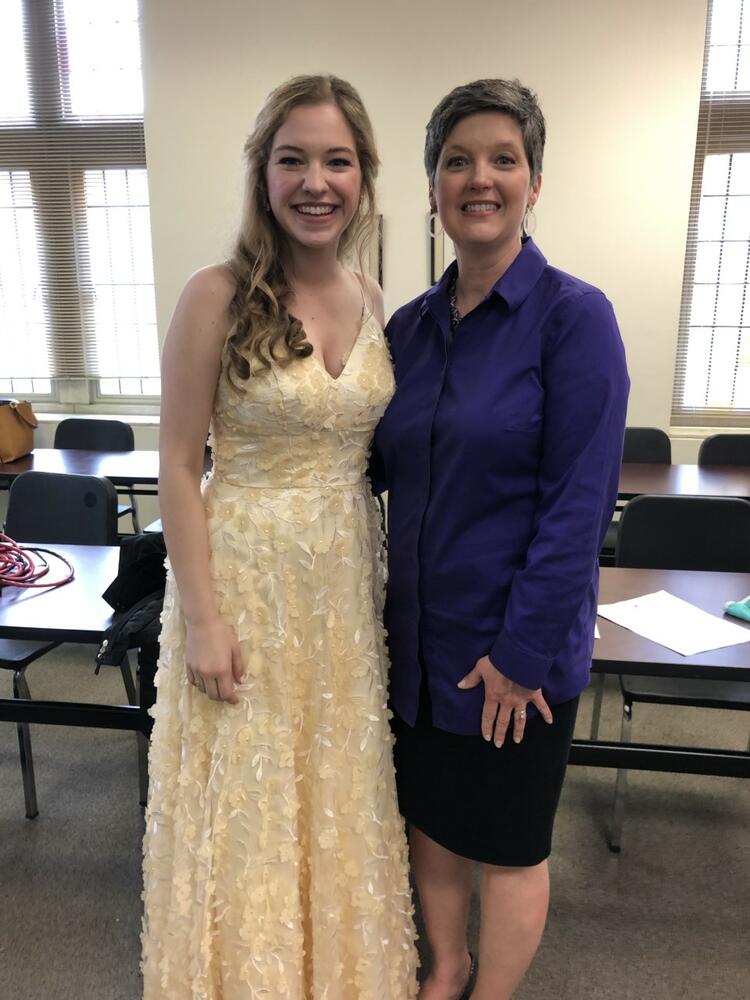 AR: After Mamma Mia! finishes, what are your current short-term and long-term plans?
IC: I begin graduate school at the University of Memphis at the end of August, while I'm still performing in Mamma Mia!. I will be pursuing my Master's degree in Vocal Performance. I have a few more musicals I hope to perform in the community, and I will be auditioning for the operas that U of M will be putting on. Long term, I hope to be a professor of music, hopefully for a school like Rhodes, where I'd be able to teach both musical theatre and classical/opera voice. I am also very passionate about social change. I used to think I would change the world by being a lawyer, but now I hope to help by bringing music and music education into schools, allowing all children a way to creatively express themselves and experience the power of music.