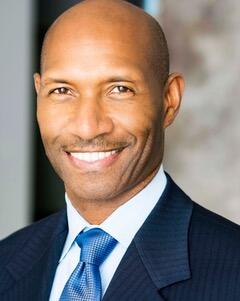 Charles Holt '89 is an actor that has performed in such celebrated productions as: Smokey Joe's Café, Jesus Christ Superstar, The Rocky Horror Show, and The Lion King. He is currently preparing to be the headliner for the cruise ship, Brilliance of the Seas, setting sail in early March 2019. Holt is the founder and creator of The Open Frames Project, a non-profit organization that is designed in training individuals in the course of emotional literacy and its importance in learning to navigate the challenges of tough life experiences, problematic encounters, and difficult relationships. He took some time out of his busy schedule to answer some questions for Alumni Relations. This is part of that exchange.
Alumni Relations: How did you decide to attend Rhodes College and was your plan to always focus on the Performing Arts?
Charles Holt: I initially enrolled at the University of North Alabama, where I had received a football scholarship. After a very disappointing experience, I called Coach Mike Clary and asked if he would consider helping me in my efforts to Rhodes College. He obliged. I knew Coach Clary from a recruiting visit he and Coach Ellingsworth made to my house while I was still in high school.
My plan was to get a degree in Business Administration. However, after struggling through one of former Professor Sue Legge's Accounting classes, I heeded her advice and began searching for other disciplines that seemed to interest me. Performing Arts had never entered my mind as a possible study or career. I had not been exposed to much theatre at all. During my entire time at Rhodes I did not enter the McCoy for a class nor did I ever attend a performance.

After Rhodes, I began my career with IBM. After about six months, I knew that I would not be spending the rest of my career with "Big Blue." I left IBM after two years and signed on with another corporate outfit, thinking that the "grass would be greener." It was not. The company was located in Atlanta, where I relocated, and a year from the date that I started, they fired me. It was one of the most devastating, liberating times of my life. I knew I didn't fit the corporate style, but getting fired was a blow nonetheless.

As soon as I moved to Atlanta, I began going to a jazz dive bar and participating in their "open mic." I would sing songs that I grew up with while in Nashville. One evening, a gentleman encouraged me to think about auditioning for some of the musical theatre shows in town. After initially being hesitant, I decided to give it a try.

After many auditions and performances, I got a big break by being cast in the Alliance Theatre's production of The Amen Corner, based on James Baldwin's novel. I finished the show in March 1996. July 6, 1996 I moved to New York City with $400 in my pocket and a big dream of landing on a Broadway stage. A month after my arrival, I was cast as Simon in Jesus Christ Superstar with Ted Neeley and Carl Anderson, both stars of the 1973 movie. A month after that show closed, I was cast in the first national tour of Smokey Joe's Café, which became the longest running musical review in Broadway history. I was later cast as the first African American to play Rocky in the European Tour of The Rocky Horror Picture Show. In 1999, I was cast in the biggest show of my life, The Lion King. I spent eight glorious years in the Pridelands.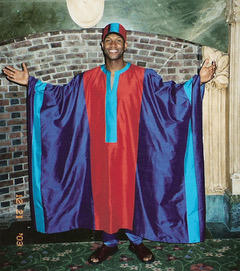 AR: Do you have any advice for current Rhodes students that are interested in being an actor?
CH: My advice for aspiring actors is to take as many classes as possible, while getting out and attending shows in the community. Know the history of your craft. Continue to work on areas in which you feel you need improvement. Go after EXCELLENCE. Mediocrity is not an option in any discipline. The performance arts call for an individual's best at all times. If one cannot commit to this, then being an actor will not be a good choice of direction.
AR: You just finished up a performance with the Memphis Symphony Orchestra, Devil at the Crossroads, can you talk a little about the project and your role?
CH: Robert Moody, Music Conductor of the Memphis Symphony Orchestra, saw me in a performance that was hosted by the Memphis chapter of Facing History and Ourselves. After the performance, Robert asked that I give him a call. "I want to work with you", he said. Two years later, he brought me back to Memphis for his brilliant rendition of Devil at the Crossroads. It is a merging of Igor Stravinsky's The Soldier's Tale and Delta Blues prodigy Robert Johnson – an unfolding story of how the Devil bargains his way into possessing the fiddle of the soldier in exchange for a book that predicts the future. As with most bargains of this type, things don't work out too well for the soldier in the end.
AR: You are also about to start a role on a cruise line. What is the role and how did this opportunity come about?
CH: I am going to perform on a cruise ship, Brilliance of the Seas, for the first time in my career. When the opportunity to audition came, I was hesitant and not excited. The day before leaving for Memphis and my premiere with the Memphis Symphony Orchestra, I decided to submit my songs to the casting office of the cruise ship. Two days later they emailed me offering me the role of "featured" singer, touring parts of the world.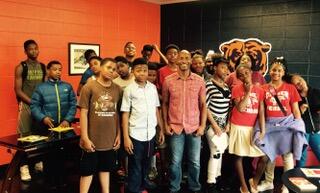 AR: How do you warm-up for a show?
CH: I start my day with a few warm-up exercises. I spend around forty-five minutes to an hour casually, yet consciously, tuning my voice. My best warm-up, however, is having conversation with others. This warms my voice up and gives me a gauge on where I may need more preparation. I try not to eat two hours prior to a performance. If I get too hungry before a show I eat an apple or have some steamed vegetables.
AR: What has been you most memorable role/experience thus far and why?
CH: All of my performances have made a lasting impression on my career as well as my personal life. Lion King stands at the top of the list. The story, the music, the language, and the time in which I performed the show all made the experience life changing and transformational. Being on the Broadway stage is one of the most blissful encounters I have had as a performer. There is nothing like it and there is no feeling like it.