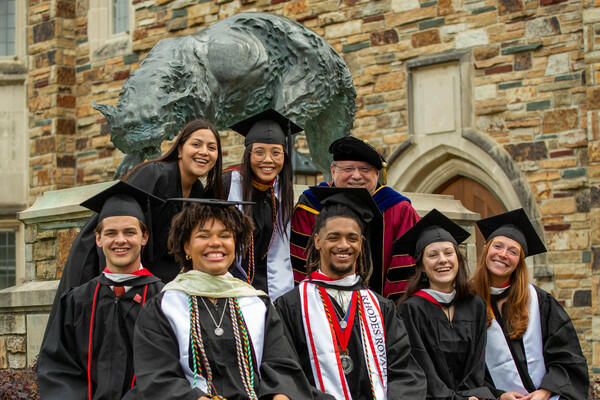 Rhodes loves Memphis. We now offer a scholarship for Memphis students who share our passion.
Clarence Day was committed to excellence, service to others, and to his hometown of Memphis. We are seeking outstanding applicants from Memphis and Shelby County who have the potential to become future leaders in Memphis. Each year, we select 10 incoming first-year students who have already demonstrated a passion for this city but want to continue to make a difference here. If selected as a Day Scholar, students will have opportunities to participate in campus and community events related to the Day Foundation and Memphis leadership initiatives in addition to the generous scholarship benefits listed below.
What benefits will I receive as a Day Scholar?
Scholarship of $35,000* per year
Eligibility for a one-time fellowship or project that aligns with the goals of the Day Scholars Program. All fellowships and projects will have a Memphis focus and be consistent with the college's engagement efforts in the city. Expenses related to the fellowship or project will be covered by the program up to $5,000. Examples could include:

Participation in established Rhodes summer programs such as the Rhodes Institute for Regional Studies and Summer Service Fellowship, or through other established college fellowships supervised by faculty or staff mentors (students must apply and be accepted into these programs).
Participation in fellowships conducted during the academic year through programs such as the Memphis Center and Mike Curb Institute for Music, or through other established college fellowships supervised by faculty or staff mentors.
Individual or group projects developed and implemented through the Day Scholars program and approved by the director of the program.

A four-year program of personal development, reflection, and civic engagement
Commitment to meet financial need (if any) up to our direct costs with gift aid and student employment
How do I qualify?
Requirements for Day Scholarship:
Students must attend high school in Memphis City or Shelby County
Application for admission to Rhodes submitted by January 15
Day Application due by February 3 at 5:00 p.m.
Free Application for Federal Student Aid (FAFSA) submitted by January 15
SAT or ACT scores that are competitive for admission (submission of test scores is optional)
A high school record that is competitive for admission
Strong record of involvement in both the Memphis community and the school community
All students who meet these requirements will automatically be considered for the Day Scholarship.
Application Submission
Complete the Day Scholarship Application online by February 3 at 5:00 p.m.
Funding for this program is provided by the Day Foundation.
*Please note that the Day Scholarship, as with all scholarships, may have to be reduced if you receive awards from outside sources that in combination exceed the cost of attendance.