On our beautiful campus in Memphis, Tennessee, Rhodes College provides a world-class college experience for our students. We offer more than 50 majors and minors, and our 10:1 faculty/student ratio, award-winning faculty, and supportive community empowers students to hold nothing back in pursuing their wildest dreams. Students discover their place in the Rhodes community, our city, and the world thanks to hundreds of opportunities for exploration inside and outside the classroom. Our legacy speaks for itself: Rhodes College has graduated impactful changemakers and transformative leaders for over a century.
Meet Your Counselor
At Rhodes, you'll find a welcoming atmosphere like no other. Our admission counselors are eager to get to know you and your students. Find the admission counselor who works with students from your area of the country!
Visit Campus
Once you're here, you'll know—there's simply no college experience that is quite like Rhodes. Our tight-knit, residential campus fosters community like no other. We invite you to visit and see for yourself!
Get to Know our Students
Rhodes enrolled a first-year class of 488 diverse and talented students, accepting 47% of our nearly 6000 applicants. Of our depositing students, 60% applied test optional. Our student body currently represents 45 states and 63 countries. You can download our class profile to learn more.
Counselor Visits to Rhodes 
Rhodes hosts an annual counselor visit program each spring for approximately 25 counselors. Please ask your admission counselor for more information. We also welcome your individual visit anytime and would love to treat you to some Memphis BBQ! Memphis is approximately 3 hours from Nashville, 2.5 hours from Little Rock and 4 hours from St. Louis if you are planning to visit other colleges.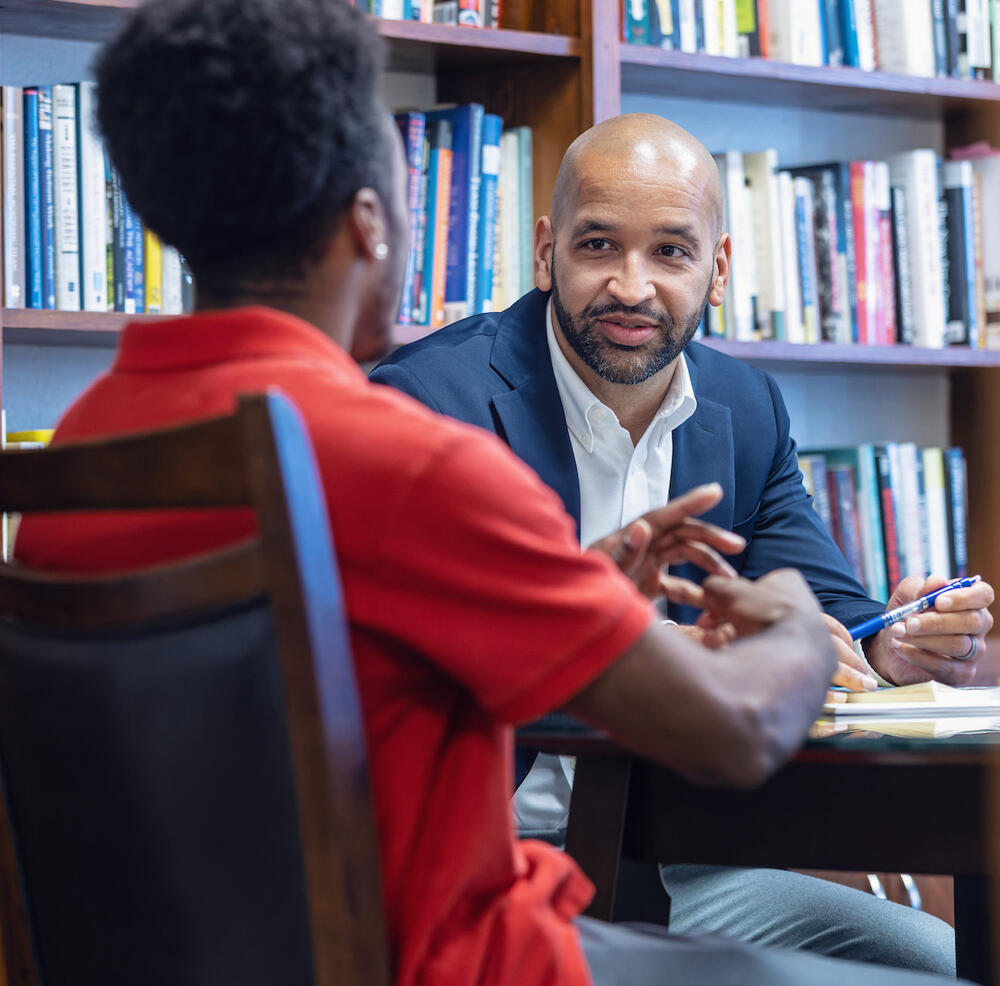 Admission Decision Information
Rhodes' admission office will continue our test-optional policy for admission and merit scholarship consideration. No student will be disadvantaged by not submitting a test score.
To remove all bias from first reads, we review all applications test-free. If a student chooses to submit test scores, we consider scores in subsequent reviews. However, we continue our long-standing policy of being selectively test-blind above the benchmark level of 28/1300. We try to only consider test scores when submitted if it helps us advocate for a student.
Early Decision I and II applicants can expect a response (including financial aid, if applicable) within two weeks of completing their application.
Demonstrated interest will again play a role in our admission process this cycle. We strongly encourage applicants to engage with the college in-person and/or virtually to gain a better understanding of the culture of Rhodes and to help determine personal fit in their student-centered college search.
You can learn detailed information about each of our decision rounds by visiting the Apply section of our website.
Scholarships and Financial Aid
Rhodes has a priority deadline of Dec. 1 for merit-based scholarships.
The Common Application also serves as the application for Rhodes' merit-based competitive scholarships. With our merit-based and need-based financial aid packages, it is not uncommon for the out-of-pocket expense of attending Rhodes to be no greater than that of attending a large state university.
Rhodes Merit Scholarships
Merit awards serve to recognize individual students for their academic talent, service, or leadership achievements.
Cambridge Scholarship: $40,000 per year
Dean's Scholarship: $35,000 per year
Presidential Scholarship: $33,000 per year
Ralph C. Hon Scholarship: $31,000 per year
Diehl Scholarship: $28,000 per year
Fellowships
Fellowships provide a way to put academics into action. These five fellowships require a special application process.
Rhodes no longer requires the CSS Profile. All applicants seeking need-based aid consideration must complete the FAFSA and possibly complete a few additional questions on the Rhodes Financial Supplement.
International students are eligible to be considered for merit scholarships. International students should submit the Rhodes Non-US Citizen Financial Information Form to enter consideration for need-based aid. Admission is more competitive for international students seeking need-based aid.
Prospective Student Programs 
Crossroads: A Program for Admitted Multicultural Students
Rhodes will host our annual Crossroads program for cultural inclusion in the winter and spring of 2022. All admitted students who identify with underrepresented groups will receive an invitation to register online.
Summer Writing Institute
Rhodes offers a two-week intensive Summer Writing Institute for high school students in June. Students earn two college credits and complete a portfolio of college-level writing. For more information, please visit the Summer Writing Institute webpage.
Mock Trial Academy 
Rhodes also hosts a one-week Mock Trial Academy for high school juniors and seniors. Rhodes' Mock Trial Team has received more national bids than any other collegiate mock trial program in the country. For more information, please visit the Mock Trial section of the site.
What's New at Rhodes? 
After a comprehensive nationwide search, Rhodes' 21st president, Jennifer M. Collins, assumed office on July 1, 2022. President Collins previously served as the Judge James Noel Dean and professor of law at Southern Methodist University in Texas. She succeeds Carroll Stevens, who had served as the college's interim president since July 1, 2021, following the departure of Dr. Marjorie Hass. We are beyond excited to welcome President Collins, an impactful higher education leader, to the Rhodes Community.
Gil Villanueva joined the college as vice president for enrollment in July 2022. Villanueva has more than three decades of experience in recruitment, admission, and enrollment management. He formerly served as assistant vice president and dean of admission at the University of Richmond.
Our previous athletic director, Matt Dean, is taking on an associate role in the Athletics Department and we are pleased to announce the promotion of Jim Duncan to Athletic Director. Jim previously served as Senior Director of Athletic Giving.
Construction continues on our newest residence hall, East Village C, a 61,717-sq.-ft. residence hall that will hold 150 students, provide flexible work and study space, spacious common areas, and a lodge designed for the college's multicultural VOICES student organization. East Village C is slated to open for occupancy in January 2023.
Rhodes has expanded opportunities for in-person and telehealth counseling sessions. Access to mental health counselors is available free of charge 24/7/365 to students.
Rhodes now offers an undergraduate certificate in journalism through the Department of English. A highly requested area of study, the Journalism certificate program enjoys a unique partnership with Memphis magazine, which offers our students opportunities for professional publication as undergraduates.