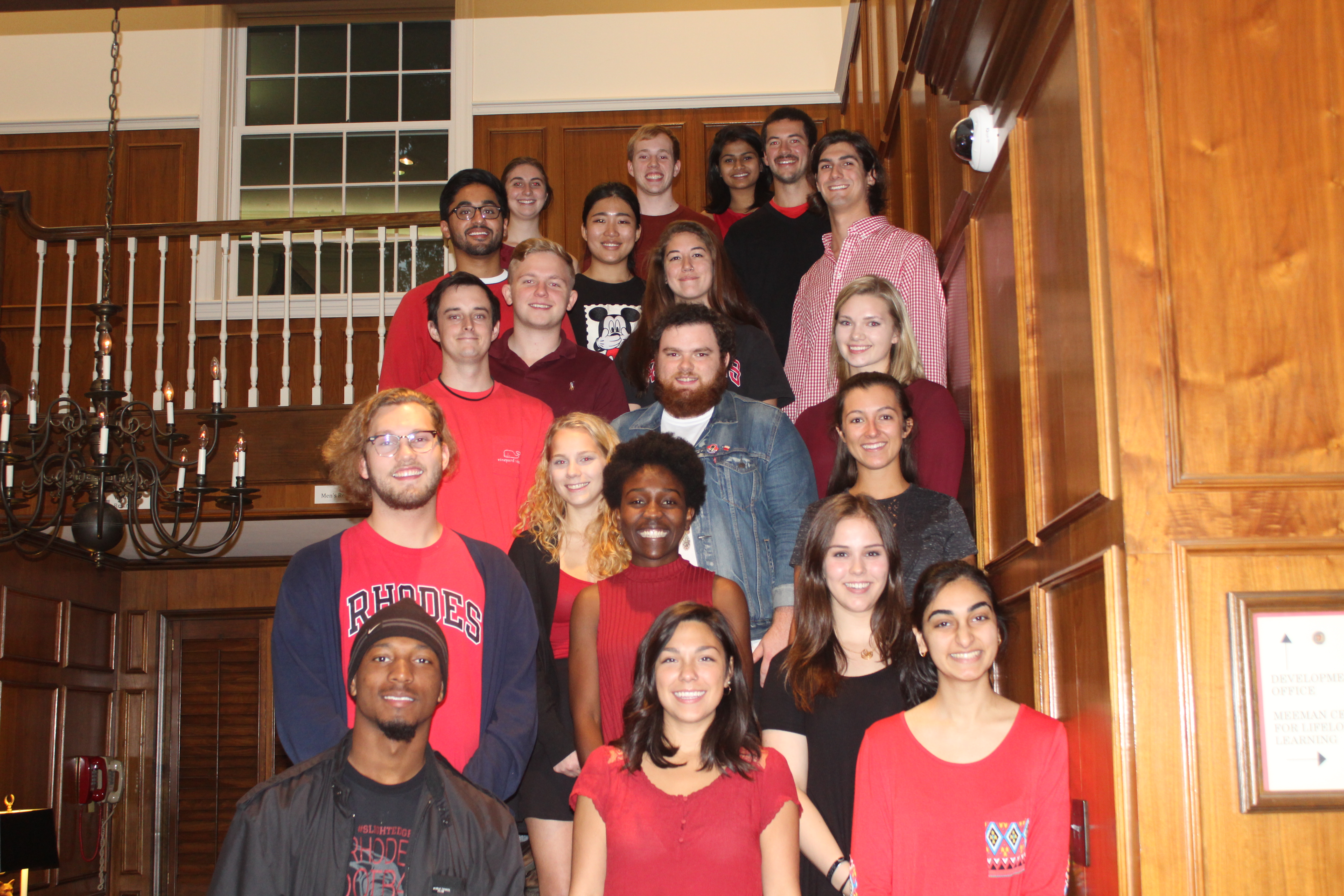 The Class of 2017 Senior Gift Committee
As seniors we have come to appreciate how unique Rhodes is. The lifelong relationships we build with classmates, faculty, staff, parents, and alumni are founded on an excellent education and the desire to make this world a better place.
Many of the experiences we have had were made possible by the generosity of community members who are committed to the Rhodes vision to graduate students with a lifelong passion for learning and the ability to translate academic study and personal concern into analysis and action.
Committee Members:
Natey Kinzounza, Co-Chair
Cullen Williams, Co-Chair
Monica Bushong
Jim Bugg
Henry Castner
Xuyan Chen
Laura Dew
Olivia Gacka
Georgia Harris
Katie Keller
Roz KennyBirch
Andrew Lowrie
Joseph Ozment
Mira Patel
Anna Pearson
Caylon Pettis
Amit Shah
Roc Sherrell
Nathan Smith
Sarahanne Vaughan
Maria Yousuf

The Senior Gift
The Senior Gift Campaign is a great way for students to partner with alumni, parents, faculty and staff and give back to the college that has given us so much. To show our appreciation, we are committed to continuing the tradition of supporting the Annual Fund. Our goal is for 65% of our class to make a gift to the Annual Fund. We ask you to consider a gift of $20.17 to commemorate our graduation year. The minimum suggested gift is $5.00. We ask that you join us at one of our many events throughout the year to learn more about the Senior Gif Campaign including the Senior Gift Holiday Mixer, Senior Gift Trivia Night and the Senior Gift End-of-the-Year Party!
Just remember, your participation is key to reaching our class goal.
Alumni participation, which is the percent of alumni who make a gift to Rhodes, is one factor in our U.S. News & World Report ranking. As alumni our gifts help increase the overall alumni participation rate. Reaching, and surpassing, our goal is crucial! A higher participation rate means a higher ranking, which increases the value of our diplomas. Rhodes seniors have demonstrated tremendous support in recent years. Let's show them what the Class of 2016's got, and go above and beyond our goal!
It′s Really Simple...
Making a pledge has never been easier. You can pay your pledge in one or more payments between now and graduation.
For your convenience you may make a gift with your credit card online at www.rhodes.edu/gift
Come to our events and be on the lookout for any Senior Gift news. Each Spring, all seniors who have pledged or given are invited to attend the Senior Gift Party!
Email for Co-Chairs, Natey Kinzounza (kinnm-17@rhodes.edu) and Cullen Williams (wilcr-17@rhodes.edu)