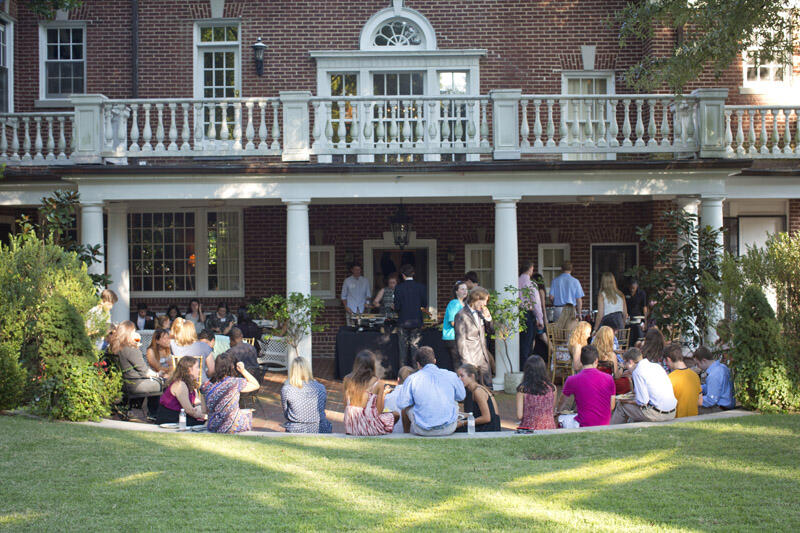 The President's Home not only houses the college president, but also historically has served as a popular site for large student, alumni, faculty, and staff gatherings and celebrations.
Four presidents have called the current residence "home." The first to occupy it was Dr. James H. Daughdrill Jr. and his wife, Libby. In 1999, Dr. William E. Troutt and his wife, Carole, moved into the home. In June 2017, Rhodes' 20th president, Dr. Marjorie Hass, and her husband, Dr. Lawrence Hass, moved in to begin President Hass' tenure at the college. In July 2022, President Jennifer M. Collins and her husband, Adam Charnes, took up residence.
In 2017, much-needed renovations were also begun to attend to deferred maintenance and to complete necessary updates. Built in the 1930s, the President's Home had been largely untouched, in part due to the active schedule of events that take place there. Both Dr. Daughdrill and Dr. Troutt hosted numerous alumni receptions there, and the Troutts hosted holiday and Mardi Gras parties for staff and faculty. A new tradition of hosting a reception for the first-year class during Welcome Week, the week prior to the start of fall semester set aside for the incoming class, began with the Troutts. In true Memphis-style, the reception featured a visit by an Elvis impersonator, who posed for photos with the new class members. President Hass began a new tradition of hosting a breakfast brunch at the home for the incoming first-year classes. With President Collins now at the helm, the President's Home will continue to fulfill an important role in the life of the Rhodes community.