Timely Warning & Emergency Notification Requirements
Passed in 1990 and named for Jeanne Clery, a Lehigh University student who was sexually assaulted and murdered on campus in 1986, the Clery Act is a consumer information law that requires Rhodes College to communicate with prospective and current students and employees about several campus safety and security policies and practices. The Annual Security and Fire Safety Report includes current information on a variety of campus safety, crime prevention, sexual and interpersonal violence, and fire-related topics. The college distributes a notice of the availability of this report by October 1 of each year to every member of the campus community.
The Report also contains reported campus crime and fire data for three years at certain defined campus locations. The Clery Act also requires Rhodes to disclose crimes and fires reported to the Campus Safety Department in a publicly accessible daily log.
Finally, while the Clery Act requires Rhodes to make several real-time disclosures to the campus community, the college must also inform the campus community about crimes, hazards, and other critical incidents to the campus community through either a "timely warning" or an "emergency notification."
The table below summarizes the differences between these two requirements.
 

Emergency Notification

Timely Warning Report
Scope of Incident
Any serious event affecting the health or safety of the campus community
A Clery Act-defined crime
Reason to Send
Event is actively occurring or threat of event is imminent
Crime has already occurred and may represent a serious or continuing threat to campus community
Location of Incident
Anywhere on campus
Anywhere within Clery Act geography (On-Campus, On-Campus Student Housing, Non-campus, or Public Property)[1]
 
Timing Notification
Must be sent once the College confirms the serious situation, threat, or emergency
Must be sent as soon as pertinent information becomes available
[1] The Clery Act includes precise definitions for each of these geographical areas.

Campus Safety Notice
Rhodes College publishes campus safety notices when certain crimes or incidents are reported on or near campus property, as supplemental information to the Jeanne Clery Disclosure (the Clery Act) requirements of Campus Security Policy and Campus Crime Statistics Act. 
These incidents do not meet the requirements for Emergency Notification or Timely Warning, but will be placed on the Crime Log if they occur in our Clery geography. A campus safety notice provides information about incidents and are intended to keep our campus community members informed and to provide prevention information and resources.
 
Clery Geography Map (Downloadable PDF)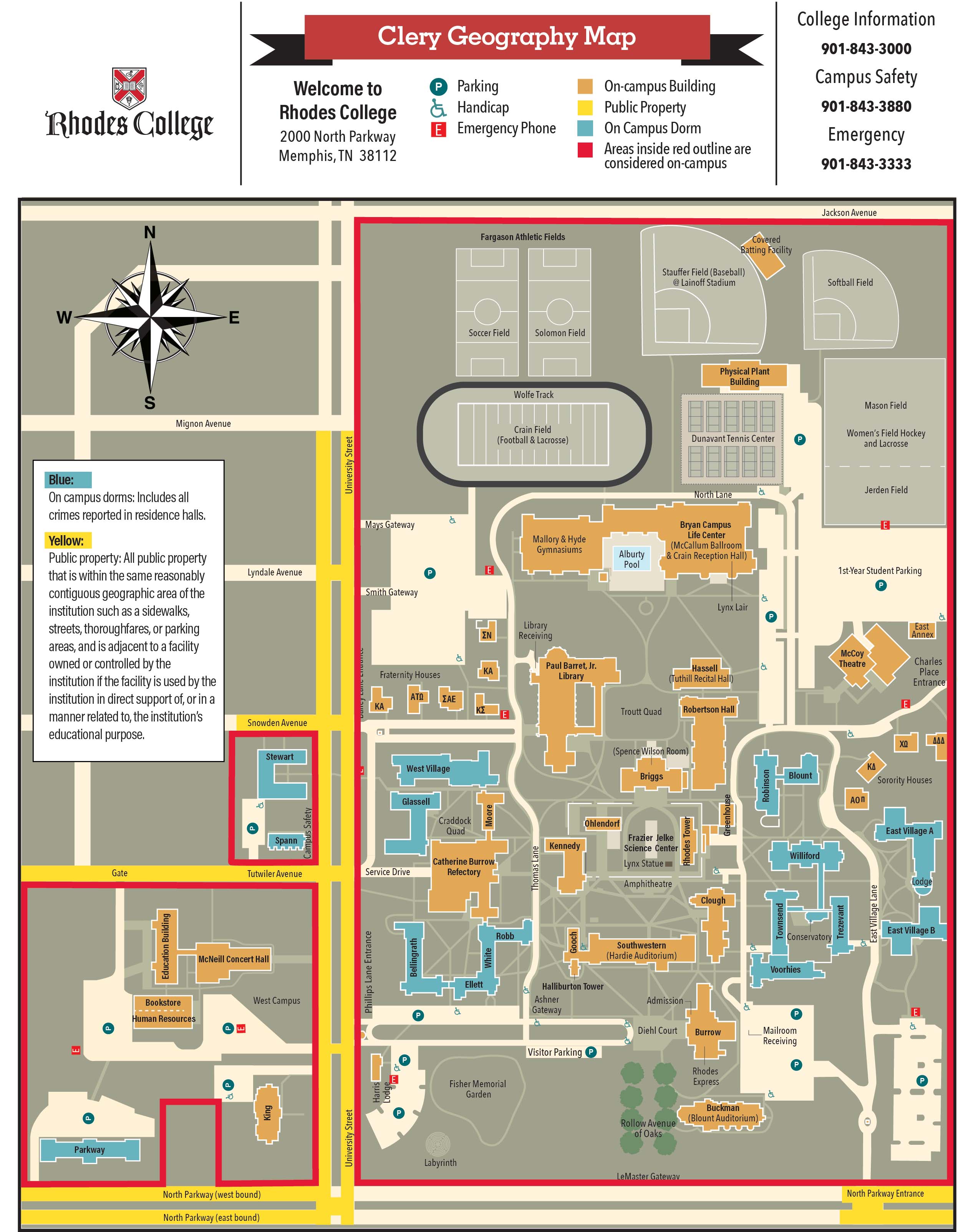 Campus Security Authority Training
Who are CSA's?
A campus police department or a campus security department of an institution.
Any individual or individuals who have responsibility for campus security but who do not constitute a campus police department or a campus security department (e.g., an individual who is responsible for monitoring the entrance into institutional property).
Any individual or organization specified in an institution's statement of campus security policy as an individual or organization to which students and employees should report criminal offenses.
An official of an institution who has significant responsibility for student and campus activities, including, but not limited to, student housing, student discipline and campus judicial proceedings. An official is defined as any person who has the authority and the duty to take action or respond to particular issues on behalf of the institution.
List of CSA's Rhodes College by general position/Department
Campus Safety and Department, Campus Safety Student Workers, Director of Athletics, (All athletic coaches and trainers), Director of Fraternity and Sorority Life, Director of Special Projects, Director of New Student Programs and Leadership, Title IX Coordinator, Title IX Deputy Coordinators, Student Activities Coordinator, Director of Residence Life Staff, Res Life RA's, Director of Community Standards, Dean of Students, Senior Leadership, Faculty/Staff advisor to student groups.
CSA Annual Training
CSA training completed annually.