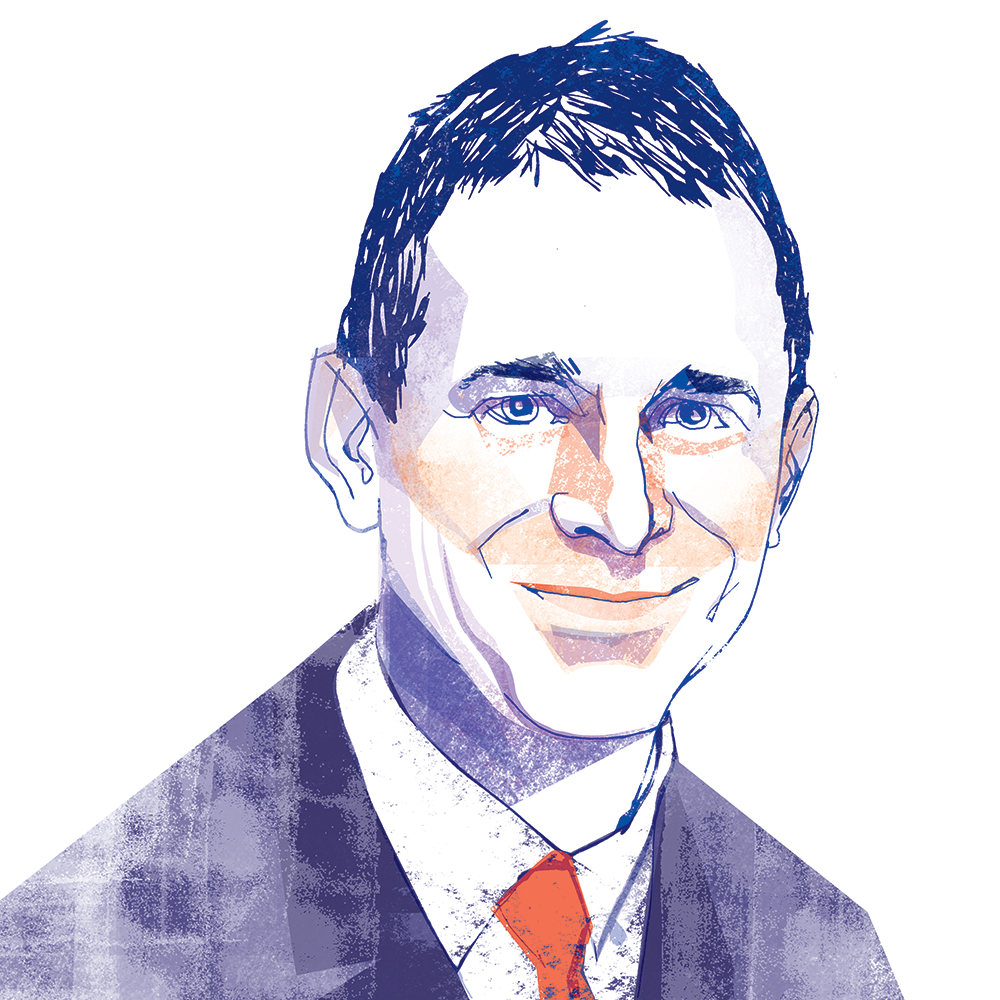 Scott Newstok
Professor of English, Director of the Pearce Shakespeare Endowment
Scott Newstok teaches literature of the English Renaissance as well as film, rhetoric, education, lyric poetry, and the humanities. In 2012 Professor Newstok received the Campus Life Award for Outstanding Faculty Member and in 2016 he received the Clarence Day Award for Outstanding Teaching. Before joining the Rhodes faculty in 2007, Professor Newstok earned his doctorate from Harvard University, taught at Oberlin College, Amherst College, and Gustavus Adolphus College, and held the Post-Doctoral Fellowship in the Humanities at Yale University Library′s Special Collections.
Dr. Newstok has published three books: a scholarly edition of Kenneth Burke′s Shakespeare criticism; a collection of essays on Macbeth and race (co-edited with Ayanna Thompson), and a monograph on early modern English epitaphs. Newstok′s work has been recognized by grants and fellowships from the American Philosophical Society, the Folger Shakespeare Library, the Institute for Research in the Humanities, the Marco Institute, the Mellon Foundation, the National Endowment for the Humanities, the National Humanities Center, and the Newberry Library.
Newstok coordinates the Pearce Shakespeare Endowment,  has been Co-Director (with Dr. Judith Haas) of Postgraduate Scholarships, and has served as the Humanities faculty member of the Rhodes Board of Trustees and the President of Rhodes′ Phi Beta Kappa chapter (2011–14). Vita. He is a trustee of Humanities Tennessee, the state chapter of the National Endowment for the Humanities, and a board member at the Libertas School of Memphis.
SELECTED PUBLICATIONS
Book projects 
"How to Think Like Shakespeare," drawing upon the history of rhetoric and the liberal arts as catalysts for precision, invention, and empathy in today's world (advance contract, Princeton University Press).
Twinomials: "Residual Bilingualism and Philological Citizenship in English Renaissance Literature," supported by a fellowship from the American Philosophical Society
Editor, Paradise Lost: A Primer, by Michael Cavanagh (under contract at Catholic U of America P)
Books
Weyward Macbeth: Intersections of Race and Performance (Palgrave Macmillan, 2010) (co-edited with Ayanna Thompson)
Reviews: African American Review, Borrowers and Lenders,Chapter 16, CHOICE, College Literature, Discoveries, GRIOT, Journal of the Northern Renaissance, Modern Drama, Parergon, Seriously Shakespeare, Shakespeare Bulletin, Shakespeare in Southern Africa, Shakespeare Quarterly, Studies in English Literature, Theatre History Studies, Theatre Journal, Theatre Survey, Theatre Topics, This Rough Magic, The Upstart Crow
"Weyward Macbeth is an astonishingly wide-ranging volume, taking in an impressive swath of theatrical and cultural history. . . . This is a provocative collection, certain to animate discussion of Macbeth, and much more, for some time to come." — W. B. Worthen, Alice Brady Pels Professor in the Arts, Barnard College, Columbia University
"Weyward Macbeth deserves reading--and re-reading . . . it′s an intellectual delight." — James Hatch, Professor Emeritus, The Graduate Theatre Program at the City University of New York
Quoting Death in Early Modern England: The Poetics of Epitaphs Beyond the Tomb (Palgrave Macmillan, 2009)
Reviews: Appositions, Cahiers Élisabéthains, English Studies, Essays in Criticism, Forum for Modern Language Studies(FMLS), The Journal of Ecclesiastical History, Journal of the Northern Renaissance, Modern Language Review, Mortality, Notes & Queries, Parergon, Reformation,Renaissance Quarterly, Review of English Studies (RES),Seventeenth-Century News, The Shakespeare Institute Review, Sixteenth Century Journal, Studies in English Literature(Poetry), Studies in English Literature (Drama), Times Higher Educaton (THE), Times Literary Supplement (TLS), Zeitschrift fur Anglistik und Amerikanistik
"Quoting Death exemplifies new formalism at its best. Ludic and strikingly original . . . An innovative stylist, Newstok writes in short, carefully honed sections that stand apart as brilliant mini-essays in their own right. In the speed and intellectual elegance with which he moves from historical specifics to profound meditations on aesthetics and the pathos of humanity′s efforts to overcome death, Newstok becomes a latter-day Thomas Browne." --John Watkins, Studies in English Literature
Editor, Kenneth Burke on Shakespeare (Parlor Press, 2007)
Reviews: Anthropoetics, Appositions, Around the Globe, As We Like It, Cercles, College Literature, Comitatus, Comparative Drama, Discoveries, Early Modern Literary Studies(EMLS), Early Theatre, e-Colloquia, English Studies, Essays in Criticism, Études Anglaises, Folio, A Groat′s Worth of Wit, Hudson Review, Interdisciplinary Humanities, Journal for Early Modern Cultural Studies (JEMCS), Journal of the Northern Renaissance, KB Journal, Kritikon Litterarum, Liminalities, Multicultural Shakespeare, Notes and Queries, Parergon, PlayShakespeare.com, Raritan, Religion and Literature, Renaissance Studies, Review of Communication, Rhetoric Society Quarterly, Rocky Mountain Review, Sewanee Review,Shakespeare Bulletin, Shakespeare Geek, Shakespeare in Southern Africa  Shakespeare Matters, Shakespeare Newsletter, Shakespeare Quarterly, Shakespeare Scene, Shakespeare Studies, Shakespeare Yearbook, SHAKSPER, Shenandoah, Sixteenth Century Journal, South Atlantic Review, Southern Humanities Review, Studia Anglica Posnaniensia, Studies in English Literature (SEL), Studies in Medieval and Renaissance Teaching (SMART), Theater History Studies, Theatre Survey, Théâtres du monde, Times Higher Education (THE), Times Literary Supplement (TLS), The University of Toronto Quarterly, The Upstart Crow, & The Use of English.
Articles
"'Here Lies': Sincerity and Insincerity in Early Modern Epitaphs Onstage," Christianity & Literature (2017)
"The Crafts of Freedom: Martin Luther King, Jr. and the Liberal Arts," Chapter 16 (April 2, 2015); reprinted in 4Humanities, National Civil Rights Museum, Smart City Memphis
"A Plea for ′Close Learning,′" Inside Higher Ed (July 11, 2013); reprinted in Liberal Education (November 2013) and Reinventing Liberal Education (2014).
"′A Joint and Corporate Voice′: Reworking Shakespearian Seminars," Shakespeare Survey (2013)
"Memphis as Cultural Crossroads Continues," Smart City Memphis (2012)
"George W as Henry V," co-authored with Harry Berger, Jr., Shakespeare Yearbook special issue on "Shakespeare after 9/11" (2011)
"Certain Tendencies in Criticism of Shakespeare on Film," co-authored with Richard Burt, Shakespeare Studies special issue on "After Shakespeare on Film" (2010)
"Greening Shakespeare in Memphis," Smart City Memphis (2010)
Interview with Welcome Msomi, Shakespeare in Southern Africa (Summer 2009)
"The Poetics of Closure: Epitaphs Ending Renaissance Elegies 'Here,'" "Literature of the Graveyard" special issue of Studies in the Literary Imagination (Spring 2006)
"re: vs." Review of the play Quinnopolis vs. Hamlet. Borrowers and Lenders: The Journal of Shakespearean Appropriation (2006)
Editorial preface to Kenneth Burke essay, Shakespeare Quarterly (Autumn 2006)
"Renewing Burke's "Plea for the Shakespearean Drama," Literature Compass (Spring 2006)
"Touch of Shakespeare: Welles Unmoors Othello," Shakespeare Bulletin (Spring 2005)
"Right Pitches Dubya as Henry V," AlterNet (May 28, 2003)  
Contributions to Books
"Making 'Music at the Editing Table': Echoing Verdi in Welles's Othello," The Oxford Handbook of Shakespeare and Performance, ed. James. C. Bulman (Oxford UP, 2018)

"Creative Imitation: The Survey as an Occasion for Emulating Style," Teaching the Literature Survey Course: New Strategies for College Faculty (West Virginia UP, 2018).
"Reading Shakespeare Tropically," Routledge Research Companion to Shakespeare and Classical Literature (2017)
"Death," Shakespeare in Our Time, SAA volume on the 400th anniversary of Shakespeare′s death, ed. Dympna Callaghan and Suzanne Gossett (Bloomsbury, 2016)
"Loving and Cherishing ′True′ English: Shakespeare′s Twinomials," Interlinguicity, Internationality, and Shakespeare, ed. Michael Saenger (McGill-Queen′s UP 2013)
"After Welles: Re-do Voodoo Macbeths," in Weyward Macbeth (2010)
"Appendix: Selected Productions of Macbeth Featuring Non-traditional Casting," co-authored with Brent Butgereit, in Weyward Macbeth (2010)
"Elizabeth I's Death Rehearsal," Goddesses and Queens: Iconography of Elizabeth I (Manchester UP, 2007)
Entries in Shakespeares After Shakespeare: An Encyclopedia of the Bard in Mass Culture and Popular Culture (Greenwood Press 2006)
Reviews
Annabel Patterson, Milton′s Words in Modern Philology (2013)
Eric Langley, Narcissism and Suicide in Shakespeare and His Contemporaries in Forum for Modern Language Studies (2011)
Anthony Guneratne, Shakespeare, Film Studies, and the Visual Cultures of Modernity in Renaissance Quarterly (Spring 2010) 
Stephen Cohen, Shakespeare and Historical Formalism in Shakespeare Quarterly (December 2008)
Amy Scott-Douglass, Shakespeare Inside: The Bard Behind Bars in The Upstart Crow (2007)
Russ McDonald, Shakespeare′s Late Style in Renaissance Quarterly (Fall 2007)
Lawrence Rhu, Stanley Cavell′s American Dream in Shakespeare Bulletin (Winter 2006)
Lectures and symposia
Annual James D. Kennedy Lecture in Shakespeare, University of Tennessee at Chattanooga (2019)

Keynote lecture, Ohio Valley Shakespeare Conference (2018)

Keynote lecture, University of Dallas, biennial Shakespeare conference (2018)

Organizer, Plenary Session on "The End of Study ," with John Guillory and Marjorie Garber, Shakespeare Association of America Annual Meeting (March 31, 2018)

Conference paper, "Hearing 'Here,'" Space, Place, and Image in Early Modern English Literature, Lausanne (2017)

Organizer, "Jews & Muslims in Shakespeare's World," Rhodes College (2017)
Conference paper, "Hearing 'Here,'" Space, Place, and Image in Early Modern English Literature, Lausanne (2017)

Invited speaker, "Off Target: Archery, Assessment, and Craft," Jno Owens Conference, Austin College (2017)

Keynote lecture, "How to Die Like Shakespeare,"Shakespeare's Globe (2016)

Keynote lecture, "The Truth about Shakespeare in Duluth," Medieval Association of the Midwest, College of St. Scholastica (2016)

Invited Speaker, "Crafty Shakespeare: Theatre as Intellectual Workshop," University of Mississippi (2016)

Organizer, "1616 Symposium," Rhodes College (2016)

Invited speaker, "Beyond Shylock: Marlowe's Jew of Malta on the Elizabethan Stage," Beth Sholom Lehrhaus, Memphis (2016)

Panel discussion, "Adapting Dido," Opera Memphis (2015)
Presenter, "Shakespeare and Film" panel, Renaissance Society of America (March 29, 2014)
Invited speaker, "The Crafts of Freedom," Southwestern University (March 18, 2014)
Invited speaker, "Echoes of Verdi in Welles′ Othello," Shackouls Honors College, Mississippi State University (February 20, 2014)
Organizer, "The Past and Future of the Book" symposium, Rhodes College (October 11, 2013)
Participant, "Versions of the Winter′s Tale," Summer Institute in Literary Studies, National Humanities Center (June 23-28, 2013)
"How the American Macbeth Became ′Black,′" invited lecture, University of Geneva (May 24, 2013)
Organizer, "Global Hamlets" symposium, Rhodes College (October 5, 2012)
Seminar member, "Professions and Identity," International Shakespeare Conference, The Shakespeare Institute (August 2012)
Organizer, "1611: A Symposium on the 400th Anniversary of the ′King James′ Bible," Rhodes College  (November 10-11, 2011)
"How Macbeth Became ′Black,′" invited lecture, Agnes Scott College (February 2011) 
"Returns to Philology," graduate seminar at the University of Geneva (September 2010)
"Teaching Writing in the Liberal Arts College," faculty wokshop at the European College of Liberal Arts(ECLA) (September 2010)
Organizer, "Green Shakespeare: A Symposium on Environmental Studies and the Bard," Rhodes College  (March 26, 2010)
"Henry V after September 11, 2001," What′s the Word radio program (September 2009)
Seminar member, "Shakespeare Spin-offs," Shakepeare Association of America Annual Meeting (April 2009)
"Shakespeare and Presidential Politics," invited lecture, Centre College (October 2008)
Seminar member, "Shakespeare′s Medieval Tautologies: Loving and Cherishing English," International Shakespeare Conference, The Shakespeare Institute (August 2008)
Seminar leader, "Burke and Shakespeare," Kenneth Burke Society Triennial Conference, Villanova University (June 2008)
"Welles, Verdi, Othello," Film Music Conference, Bradford International Film Festival (March 2008)
Organizer, "Shakespeare in Color: A Symposium on Macbeth and African-American Performances and Appropriations," Rhodes College  (January 25, 2008)
"Civics Lessens:  Un-condensing the Seminar," invited lecture, Hudson Strode Program in Renaissance Studies symposium (April 14, 2007)
Organizer, Roundtable on "The Military Theatre: Drafting Shakespeare," Shakespeare Association of America Annual Meeting (April 13, 2006)
Education
Ph.D., English and American Language and Literature, Harvard University, 2002
B.A., English, Grinnell College, 1995—magna cum laude, Phi Beta Kappa,
President′s Medalist
National Humanities Center, Summer Institute in Literary Studies, 2013
Yeats International Summer School, 1997
Folger Institute, Folger Shakespeare Library, 1996
Newberry Library, Research Seminar in the Humanities, 1993