David Mason
(901) 843-3936
My research wanders around in the overlap of theatre and religion. Broadly, I think theatre and religion operate similarly and accomplish similar aims. While doing other things, as well, both develop the conditions out of which emerges heightened experience, or what psychologist Abraham Maslow called "peak experience". A shared device by which both phenomena make heightened experiences available is role-play. Theatre and religion offer adjunct identities, through the playing of which people bring ideal realities into existence. By playing the "Hamlet" role, or by playing the devotee role, a person may come to experience Hamlet's world, or the world imagined by Christianity or Hinduism or What-have-you-ism.
Which is not to say that my work argues that religion is fake. My correlation of theatre and religion does not accept that theatre is fake. Aristotle felt that he had to reduce theatre to mimesis in order to rescue the art from Plato, who thought we'd be better off without theatre. But Aristotle was wrong. Playing roles does transform people, and theatre does throw the world into confusion. Plato, in fact, was right, and we should be afraid of theatre. Very afraid.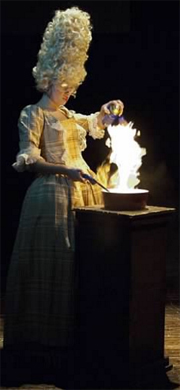 Currently my work is concerned with theatre audiences and with private devotion. I would argue that theatre audiences that do have some kind of heightened experience—and if you cried at the end of Old Yeller, you know what I mean—approach that experience by taking on and playing a role that anticipates the materialization of that experience. To some extent, I am following Hjalmar Sundén's "role theory of religious experience", here. But I would add that elements of cognitive theory, narrative theories of personal identity, and existentialism contribute significantly to understanding how we experience reality as something other (or more) than what reality should be.
My first book examined râs lîlâ theatre in Vrindavan, India, which exists almost exclusively to facilitate devotion to the divine Krishna. For actors and audiences, together, râs lîlâ performances do not merely represent (or imitate) Krishna, but manifest Krishna, and this religious tradition is rather up front in the way that it encourages and values role-playing as genuine devotional activity.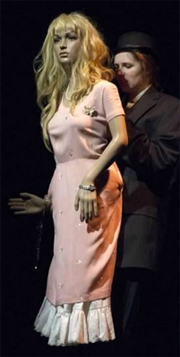 My second book—a biography of Brigham Young—was a bit of a detour. If I'm the only person who learned something from that book, the effort was still well worth it.
My third book was a study of religion and performance phenomenology. The book considered a variety of phenomena that involve role-playing, so as to better identify the role-playing mechanisms that change the way we perceive our own identities and realities. Some of the things this book looked at are Krishna devotion, the Infant Jesus of Prague, Trappist monks, Paleolithic cave painting, and video games—not RPG's, but FPS's and augmented reality games.
Incidentally, the accompanying photos are from my 2013 production Bouffant:
La Teuer de Vampires (there's no "Buffy" here). Yes, I'm aware that
teuer is not a French word.
SELECTED PUBLICATIONS
The Performative Ground of Religion and Theatre (New York: Routledge, 2019).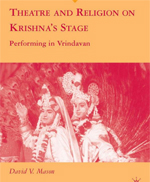 Brigham Young: Sovereign in America (New York: Routledge, 2014)
Theatre and Religion on Krishna's Stage (New York: Palgrave, 2009)
"Video Games, Theatre, and the Paradox of Fiction", Journal of Popular Culture 47.6 (2014): 1123-35.
"Rasa and the 'Saturated Event'", Studies in South Asian Film and Media54.1 (2013): 47-55.
"The Phenomenology of Audience in Vrindavan's Râs Lîlâ Theatre", Journal of Vaishnava Studies 21.1 (2013): 131-43.
"Religious Experience as a Model for Emotional Experience in Theatre", Journal of Dramatic Theory and Criticism 22.2 (2008)
"Rasa, 'Rasaesthetics', and Dramatic Theory as Performance Packaging", Theatre Research International 31.1 (2006)
"Who Is the Indian Shakespeare? Appropriation of Authority in a Sanskrit A Midsummer Night's Dream", New Literary History 34.2 (2003)
"Stanislavsky, Smarana, and Bhâv: Acting Method as Religious Practice in Vrindavan, India", Journal of Dramatic Theory and Criticism 18.1 (2003)
SELECTED RESEARCH AFFILIATIONS
2014 HOWARD FELLOW, The George A. and Eliza Gardner Howard Foundation
2001 FULBRIGHT-HAYS FELLOW, United States Department of Education
PROFESSIONAL AFFILIATIONS
ASSOCIATION FOR ASIAN PERFORMANCE (board member)
INTERNATIONAL FEDERATION FOR THEATRE RESEARCH
UTAH STATE HISTORICAL SOCIETY
OTHER STUFF
I′m working on an online Introduction to Theatre In India textbook.
Completely free as long as the power is on in my house.
Education
Ph.D., Theatre Research, University of Wisconsin-Madison
M.A., South Asian Studies, University of Wisconsin-Madison