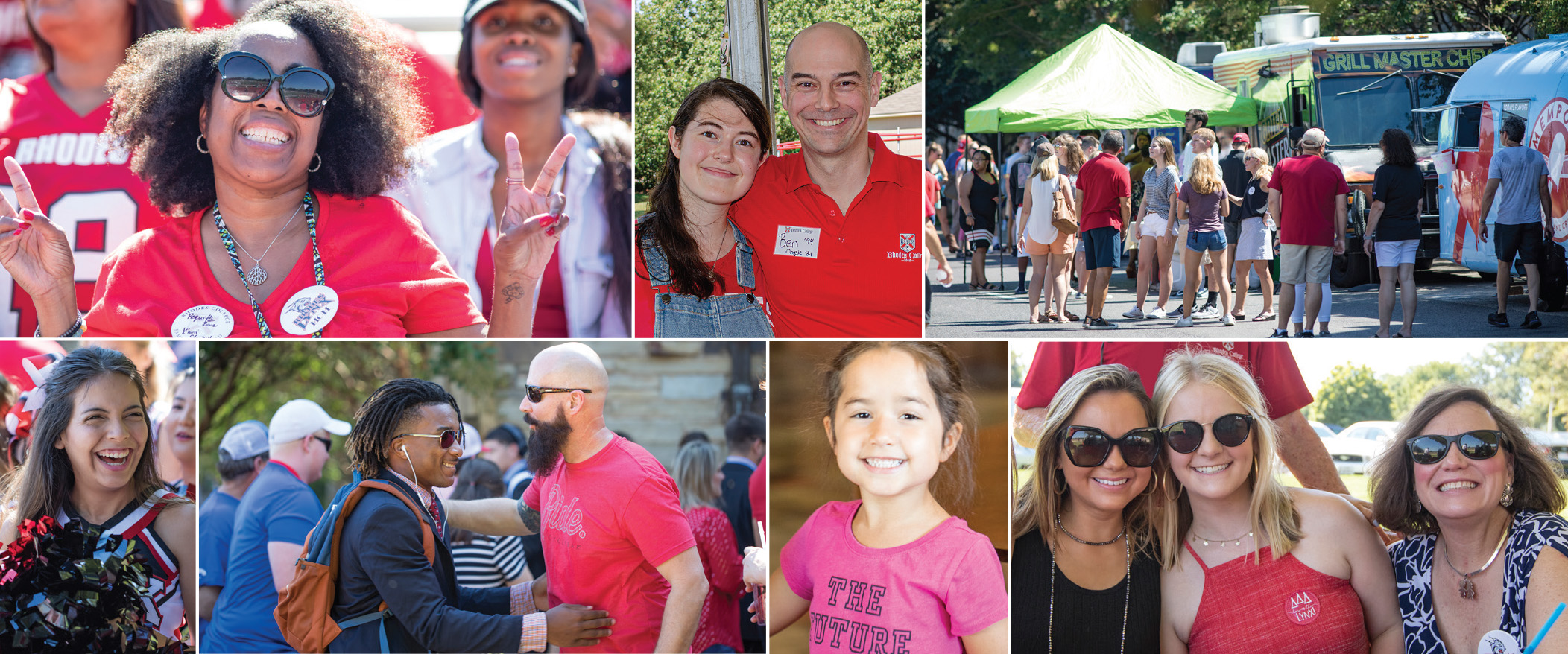 Family Weekend is a fun opportunity for parents and families to catch up with their students and experience Rhodes campus life. 
Family members are an essential part of our Rhodes community. We look forward to welcoming you to campus and celebrating the weekend together. 

If you have any questions of comments, please contact Alumni Relations, 901-843-3845 or alumni@rhodes.edu.
Friday, September 23
Greetings and Weekend Information
Burrow Hall
9:00 a.m. - 5:00 p.m.
Obtain schedules for the weekend and get campus information. Staff will be present to answer any questions you may have upon arrival.
Attend a Rhodes College Class
Various Classes
9:00 a.m. - 5:00 p.m.
A list of classes open to families will be available at Registration.
Rhodes Arboretum Tour of Campus
Meet at Diehl Court
3:00 p.m.
Mertie W. Buckman International Internship
Blount Auditorium, Buckman Hall
3:00 p.m. - 4:30 p.m.
Students will share reflections and lessons from their various summer internship experiences.

Campus Tours
Meet at Diehl Court
4:00 p.m.
Enjoy a campus tour led by a Rhodes Student Diplomat. The tour concludes at Diehl Court.

Cocktail Reception Hosted by Rhodes Student Life Division
Location: TBD
5:00 - 6:00 p.m.
Registration Required
Join members of the Rhodes Student Life for a complimentary wine and cheese reception before dinner.

Family Dinner
Catherine Burrow Refectory
6:00 - 8:00 p.m.
You can choose to have a family dinner in the Refectory (Approx. $12 per person, paid at the door) or have dinner on your own at one of Memphis' many fantastic restaurants. 

Kappa Delta All-Sing
Mallory Gymnasium
7:00 p.m. (Venue opens at 6:30 p.m.)
Founded in 1948, All-Sing is the longest running student-led event at Rhodes. The event features a wide variety of student organizations and groups who will be competing for bragging rights among their peers while entertaining the audience. Tickets available at the Catherine Burrow Refectory on Friday during the day and at Mallory Gymnasium prior to the event. Proceeds go to Prevent Child Abuse America and Prevent Child Abuse Tennessee.
Saturday, September 24
Greetings and Weekend Information
Burrow Hall Lobby
8:30 a.m. - 12:00 p.m.
Obtain schedules, maps, and get campus information.
Grandparent Gathering for Breakfast
Lillian Goldman Hall, Catherine Burrow Refectory
8:30 a.m. - 9:30 a.m.
We invite grandparents to gather with each other for an early, informal breakfast/coffee to visit with other grandparents before your students begin their day!  Approx. $8 per person, paid at the door.

Multicultural Family Brunch
Crain Reception Hall, McCallum Ballroom
9:30 a.m. - 10:30 a.m.
Join the offices of Equity & Engagement, Alumni Relations, and Development for a complimentary brunch celebrating our multicultural families.
The Theodore W. Eckles International Internships
Blount Auditorium, Buckman Hall
9:30 a.m. - 10:30 a.m.
Recipients of the Theodore W. Eckles International internships will give their stories of being abroad and share the process for applying.  Light breakfast provided.
Internships, Fellowships, and Study Abroad
Room 110, Buckman Hall
10:30 a.m. - 11:30 a.m.
Staff will discuss exciting opportunities for domestic and international experiences beyond the classroom, including internships, fellowships, and study abroad.

Backbeat Memphis Mojo Tour
Departs and returns from West Campus Parking Lot (near Rhodes bookstore)
11:00 a.m., 1:00 p.m., 3:00 p.m., and 5:00 p.m.
This highly rated bus tour combines live music, comedy, and narration to create a unique adventure through Memphis' musical heritage.
Reservation Required- $25 per person

Concert in the Garden/ Memphis BBQ Lunch
Hubert F. Fisher Memorial Garden
11:30 a.m. - 1:00 p.m.
Sponsored by the Mike Curb Institute for music, the Development & Alumni Relations Offices.  Cost includes meal ticket, non-alcoholic drinks, and two wine and beer tickets for those 21 and up.
Join fellow Rhodes Families and area alumni for an exciting outdoor lunch and concert.  Bring lawn chairs and/or blankets and enjoy music from the Rhodes Student Jazz Band.  Experience Memphis music and enjoy the world's best BBQ!
Registration preferred.  $10/ under the age of 21; $15/ 21 and up.

Football: Rhodes vs Westminster College
Crain Field at Fargason Fields
6:00 p.m.
Join us "under the lights" for the first home game of the 2022 football season!  Local food trucks will be available as you cheer on the Lynx!
Sunday, September 25
Sunday Brunch
Catherine Burrow Refectory
11:00 a.m. - 1:00 p.m. Approx. $10.00 per person, paid at the door.