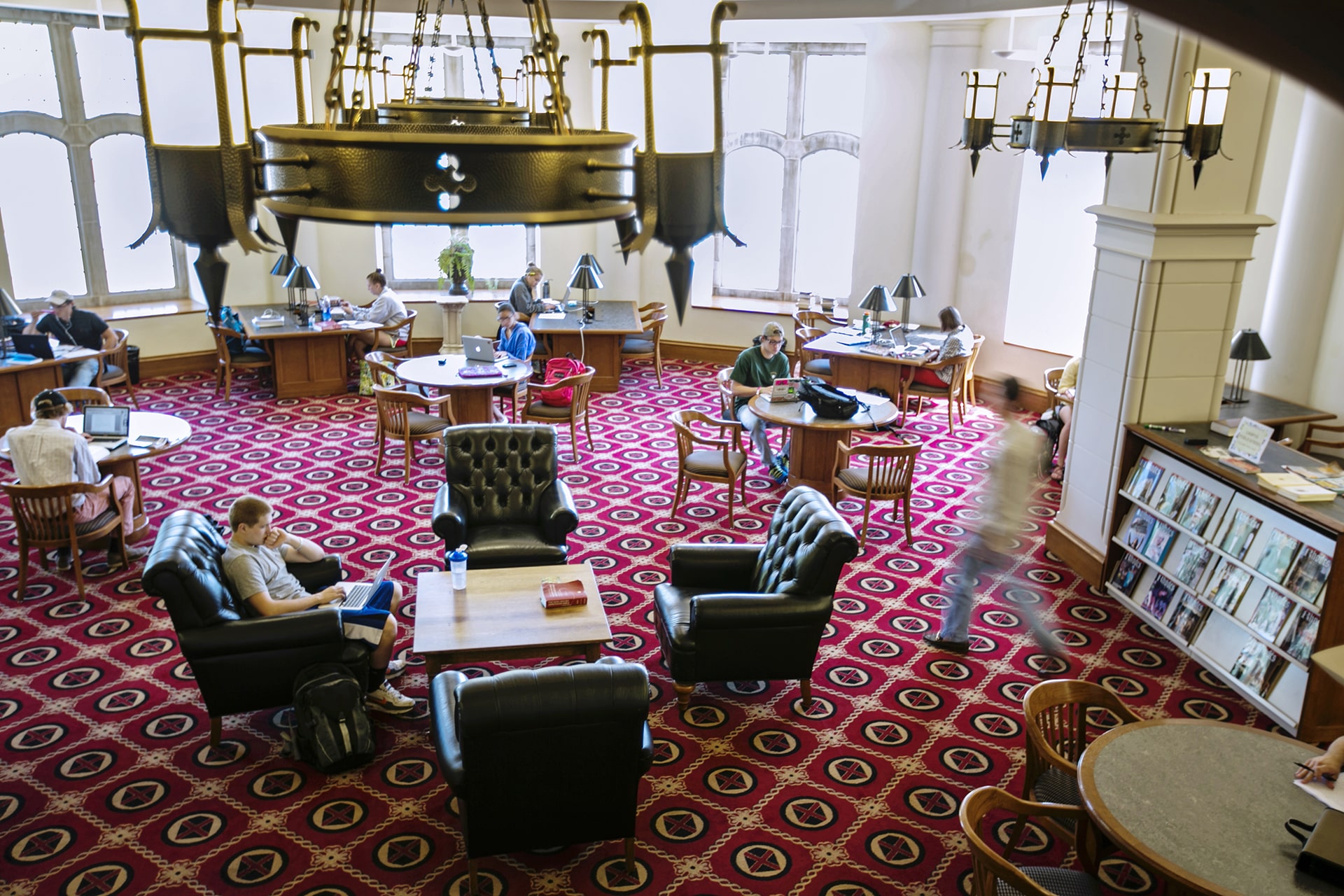 International students bring enormous talent and distinctive perspectives to our campus and are warmly welcomed. The Rhodes curriculum and faculty provide an ideal experience for students seeking a broad understanding of cultures, languages, the arts, science, and social issues. Our location in Memphis further enriches the experience of international students who often benefit from our partnerships with FedEx, St. Jude Children′s Research Hospital, International Paper, and numerous other government, healthcare, financial, nonprofit and legal agencies, and firms. Prospective international students seeking to be a full-time student may apply to Rhodes using the Common Application.
The International Student Services Office provides a support system for all international students during their time at Rhodes. These services include making travel arrangements, shopping trips and tours in Memphis, help with the transition to American culture and free diction and academic-writing workshops.
How to Apply
International students interested in applying for admission to Rhodes are encouraged to apply Early Decision or Early Action, but also have the option to apply Regular Decision. Admission to the college is highly selective. Admission for international students seeking need-based aid is even more competitive. All international applicants are required to submit the following:
High School Transcript Translated into English
SAT or ACT Scores (optional; international students who do not submit SAT/ACT scores may be asked to participate in a virtual interview.) More information is available at Test Optional FAQs.
TOEFL, IELTS, or Duolingo English Test scores if English is not your native language. This requirement may be waived for those students whose academic instruction in secondary school is in English. Applicants most competitive for admission score at least a 95 on the TOEFL, a 7.0 on the IELTS, or 120 on the Duolingo English Test.
Teacher Recommendation
School Report Form
Rhodes Non-US Citizen Financial Information Form to show your financial support for your education and to request need-based financial aid, if applicable. This form will be accessed via your Rhodes portal after you submit your Common Application.
If you are a South Korean student who has taken the CSAT, learn about a special admission process for Fall 2022.
We strongly recommend that all international applicants for whom English is not their native language participate in an interview conducted by InitialView. Since many international students are coming from educational systems that are different from that of the U.S., we find it valuable to be able to view an unscripted interview where each applicant may discuss his or her unique background and goals. InitialView will conduct the interview and record the conversation so that it can be reviewed by our office. We realize there is a cost for this service; please know that these interviews are recommended, but not required.
How to Apply for Financial Aid
International applicants may be eligible and competitive for merit-based scholarships ranging from US $10,000 to $36,000.
Rhodes meets the demonstrated financial need of international students. Aid is awarded in the form of grants or "gift" aid, which varies in dollar amounts according to each student's demonstrated financial need. International students may also be considered for on-campus student employment. Need-based financial aid for international students (non-U.S. citizens) is determined by students and their families when they complete the Non-US Citizen Financial Information Form. This form will be accessed via the student's Rhodes portal after they submit the Common Application.  For the 2022-23 school year, international students may choose to submit the CSS Profile to Rhodes, although it is not required and Rhodes does not offer CSS Profile fee waivers. The Rhodes Financial Information Form in the Rhodes portal is sufficient for financial aid consideration for international applicants.
Coronavirus (COVID-19) Information for International Students
To our students in regions around the world that have undertaken prevention efforts regarding the coronavirus (COVID-19), we hope that you, your family, and your community are safe and healthy.
Applying and Admitted Students:
We are aware that many testing sites have closed and high schools are adapting their educational models out of precaution and in response to government requests. Consistent with our commitment to holistic evaluation of applicants, Rhodes always strives to take such extenuating circumstances into consideration. If you are an applicant who has been affected by the coronavirus outbreak, we encourage you to update us with any relevant information by emailing Steve Thomas, Director of International Admission, at THOMAS@rhodes.edu. We will be as accommodating as possible, within the constraints of the overall admission process. We hope that this additional consideration will help to alleviate some of your concerns about your application.
Visa Information for Enrolled Students:
For all international enrolling students, regarding an F-! student visa to enter the U.S., Rhodes typically begins working on visa paperwork in the beginning of May. We will be able to provide an I-20 document, however the ability to get a visa appointment at the US embassy will be contingent on the U.S. Department of State. We are hopeful for a smooth I-20 and visa process this year for all incoming international students and will work with you as much as we can to prepare for your arrival on-campus.  If you have any questions, please email Lauren Sefton, Senior Associate Director of Admission, at SEFTONL@rhodes.edu.
Contact
Steve Thomas, Director of International Admission
Rhodes College, Office of Admission
2000 North Parkway, Memphis, TN 38112 USA
Email: thomas@rhodes.edu
Phone: +1 901.843.3700
Fax: +1 901.843.3631
Territory:  Asia, Europe, Africa, Australia, and Canada
Lauren Sefton, Associate Director of Admission
Rhodes College, Office of Admission
2000 North Parkway, Memphis, Tennessee, 38112 USA
Email: seftonl@rhodes.edu
Phone: +1 901.843.3700
Fax: +1 901.843.3631
Territory: Central and South America