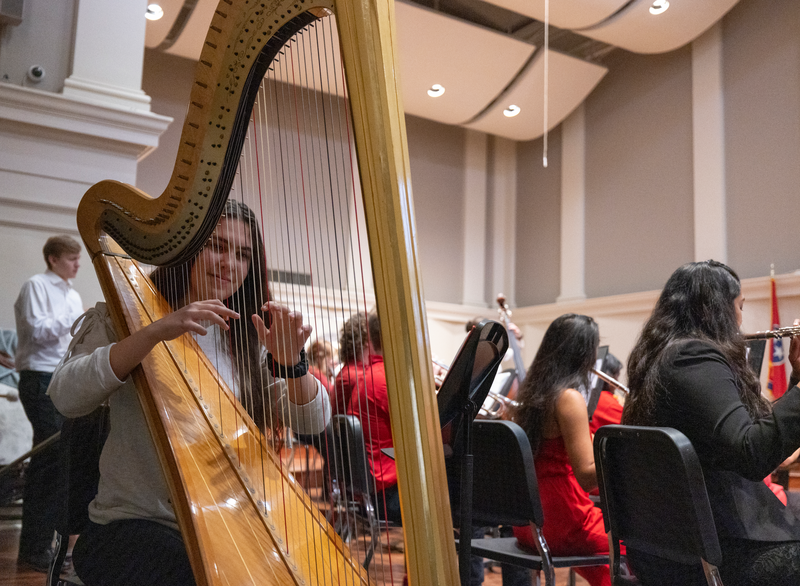 Scholarships range from $500 to $13,000 per year. Incoming students interested in these scholarships are required to audition or submit a portfolio for composition or history & analysis. 
Music scholarships are available in the following areas and auditions should include the following::
Jazz Studies - Applicants for a music scholarship in jazz will need to prepare two selections

A piece of their choosing in 12-bar blues form with two improvised choruses to follow.

A jazz standard of their choosing, playing melody and improvising one chorus.

Orchestral - Orchestral applicants must prepare two contrasting works from standard repertoire that demonstrates their current and highest level of technical and lyrical development.

Voice - Applicants for voice must prepare two contrasting vocal pieces of any genre. Audition material must be memorized.

Piano - Piano applicants should prepare two contrasting pieces from the standard repertoire that demonstrate their current and highest level of technical and lyrical development. Audition material must be memorized.

Composition - Composition scholarship applicants must submit the following:

A minimum of two and a maximum of four PDF scores and/or sound files that show your current compositional or production activity. Compositions should be in contrasting styles and for ideally different media. The audio submission does NOT have to be professionally recorded.

A short description (250-500 words) about each composition.

A list of your composition activities. This should include dates of compositions, instrumentation (if applicable), duration of each piece, and any public performances or shows.

Music History/Music Theory - To apply for music history and/or music theory scholarships, applicants must submit a writing sampled in the form of a research paper on music history, music literature, or a music analysis topic. Papers should be 6-8 pages in length, double-spaced, in 12-pt Times New Roman font, and with numbered pages. All images must be numbered and clearly labeled. It is recommended that the research paper have a cover page with the title of the essay and your name.