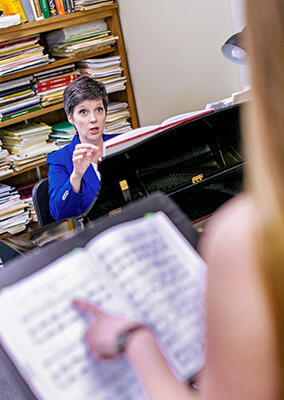 The Rhodes College Department of Music offers private applied music instruction in piano, organ, voice, and standard orchestral and band instruments to all students, including beginners. Weekly forty-five minute lessons are available to all students without audition.
Four semesters of lessons meets the College Foundation requirement [F5].
Online registration for private lessons takes place during the regular registration and Drop/Add periods.
Applied Music Fee
Fees for music instruction are $490 per semester. The fees for lessons are often waived for students with music scholarships. Music scholarship students may have specific applied music lesson requirements; scholarship recipients should consult their award letter and their advisor. The fees are also waived for declared Music Majors (8 semesters) and Music Minors (4 semesters).
Applied Music Lessons are available for the following instruments:
Flute, oboe, clarinet, saxophone, bassoon, French horn, trumpet, trombone & tuba, guitar, harp, violin, viola, cello, bass, drums & percussion, piano, voice, etc.  See course numbers MUSC 160-179.
Jury Information
Each student will perform a final examination, or Jury, on the applied instrument.  The final performance examination will be administered by faculty on Reading Day according to the semester schedule (the Thursday Reading Day). The student will perform music chosen in consultation with the faculty and according to the syllabus.