Studying French can give students insights into an array of cultures and world views in over forty different countries on five different continents. French is also one of the official languages of the United Nations, the International Federation of the Red Cross and Red Crescent Societies, Doctors Without Borders, the Olympic Committee, and the European Community. French is the most frequently spoken language in American households after English and Spanish.
We offer courses in French language and French and francophone cultures at the introductory and intermediary levels to students who seek to attain proficiency and fulfill the College's language requirement (F 10). Upper-level courses lead our minors and majors to explore French and francophone literary texts, films, political discourse, and the media, while honing and enhancing linguistic skills and critical thinking. Many of our majors choose to double major and select courses in our French program that establish connections between language and culture studies and the various disciplines taught at Rhodes.
French majors and minors are strongly encouraged to study abroad. The French Section offers students a spectrum of opportunities for immersion and study in a francophone country, whether for a summer, a semester, or an academic year. For more information visit the study abroad office. During the senior year, majors and minors have the opportunity to compete for a post-graduate teaching position as an English conversation assistant in Paris.
Information for Students
Tournées French Film Festival 2016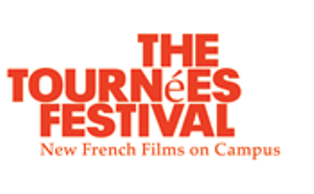 January 26-February 10, 2016
Blount Auditorium, Buckman Hall
Free admission
Films screened with English subtitles
Open to the public
The Tournées French Film Festival is a program of FACE (French American Cultural Exchange), in partnership with the Cultural Services of the French Embassy, which aims to bring contemporary French cinema to American college and university campuses. Rhodes College is proud to announce that the Spring 2016 Tournées French Film Festival will be held for the fourth year in a row on our campus.
This series is generously sponsored by the Department of Modern Languages and Literatures, the Film Studies Program, the Spence L. Wilson Chair of Humanities "Communities in Conversation" series, the Africana Studies Program, the Gender and Sexuality Studies program, the Alliance Française de Memphis, and Indie Memphis.
For event invitations and announcements, please join our facebook page.
The Tournées Festival is part of the Communities in Conversation series at Rhodes College. Beginning its second year, Communities in Conversation provides a forum for dialogue on a variety of topics in the humanities as well as those related to current affairs. Please join our Communities in Conversation facebook page.
Support for the Tournées Festival is provided by :
Cultural Services of the French Embassy in the United States / Centre National de la Cinématographie et l'Image Animée/Campus France USA / Florence Gould Foundation / highbrow entertainment www.face-foundation.org
Student Groups
Club CAFÉ: Rhodes's student-run French Club, Club CAFÉ, is a vibrant group that allows students with an interest in French and Francophone cultures to connect campus wide, to reach out to the local Francophone community, and to participate in French-related cultural activities in Memphis. In the spring of 2010, Club CAFÉ members partnered with other campus organizations to raise $5000 for survivors of the earthquake in Haiti, and in 2012 raised funds to donate to a residential girls' school in Morocco. The club sponsors the campus's annual, well-loved "Stinky Cheese Contest," gathers weekly for lunch and informal conversation at the "Table française," and organizes movie, crêpe-making, and game nights, outings to French-related events in Memphis, including trips see theater performances in town ( "Les Miserables" at Playhouse on the Square in 2013 and to "The Phantom of the Opera" at the Orpheum Theater in 2014), wine-tastings and picnics on campus complete with croquet and boules competitions! In 2014, we inaugurated the first-annual "Tour de Midtown" bike excursion to a French café in downtown Memphis.
For more information about upcoming events, please join the facebook page of the Club CAFÉ and the French section, French@Rhodes.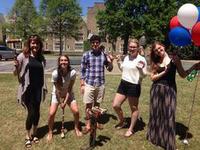 Pi Delta Phi is the French National Honor Society for undergraduate and graduate students at accredited public and private colleges and universities. The society′s mission is to recognize outstanding scholarship in the French language and its literatures, to increase the knowledge and appreciation of  the cultural contributions of the French-speaking world, and to stimulate and encourage French and francophone cultural activities. Each Spring, Rhodes College, home of the Nu Nu chapter of Pi Delta Phi, initiates new members into the society. Our Spring of 2012 initiates are: Annie Harper (′12), Sheerin Mehdian (′12), Anna Meyerrose (′12) and Claire Weinstein (′12).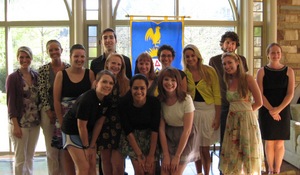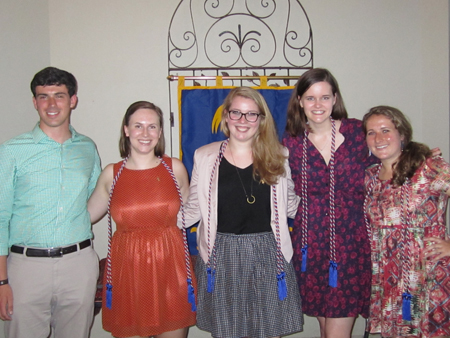 Members of the 2014 National French Honor Society, Pi Delta Phi.  Pictured above: Morgan King ′14, Taylor Koczut ′14, Ellie Skochdopole ′15, Adele Malpert ′15, Samantha Anscher ′14
Postgraduate and Career
In our global economy, the knowledge of French enhances success in careers as diverse as international law, tourism, and advertising. A good command of French is also important in international business, medical research (only France and the U.S. are at the forefront of advanced AIDS research), the field of communications technology, and the aerospace industry. For further information on careers in French, visit the Career Services office.
Our graduates (French majors and double majors) have fared very well in their careers. A few have been the recipients of prestigious fellowships (Rotary, Fulbright, Rhodes), which involve actively using their French in post-graduate study.  Others have earned doctorates in French from top-tier research universities. Many others are working with French on a daily basis in the fields of law, health and business in the United States, Haiti, Belgium, France, Switzerland, and Francophone Africa.