Rhodes College Vision
Rhodes College aspires to graduate students with a lifelong passion for learning, a compassion for others, and the ability to translate academic study and personal concern into effective leadership and action in their communities and the world. We will achieve our aspiration through four strategic imperatives: Student Access, Student Learning, Student Engagement, Student Inspiration
Student Achievement
The Southern Association of Colleges and Schools Commission on Colleges Principles of Accreditation Standard 8.1 (Student Achievement) requires institutions to identify, evaluate, and publish goals and outcomes for student achievement appropriate to the institution's mission, the nature of the students it serves, and the kinds of programs offered. It also indicates that the institution should use multiple measures to document student success.
Requirements for publication are further specified in the SACSCOC Policy on Institutional Obligations for Public Disclosure. Standard 8.1 is not intended to be fully comprehensive since other standards in the Principles of Accreditation: Foundations for Quality Enhancement address institutional practices, educational quality, and program effectiveness.
Performance Levels
The achievement goal is the established benchmark to meet or surpass expectations.
The actual performance level is the current level of performance in the defined measure.
Where data are available, student achievement at the undergraduate level is compared with that of the College's regional peers, the Associated Colleges of the South.
Graduation Rates within Six Years
Goal 1: Increase the six-year graduation rate to 85%.
The six-year graduation rate represents students who enrolled as first-time, full-time students six years earlier and completed their undergraduate degrees within 150% of the traditional 4-year time frame. Rhodes six-year graduation rates in 10% higher than our ACS peers and the Class of 2018 met the achievement goal of 85% for the first time. Although the six-year graduation rate is a federal reporting standard, nearly all Rhodes undergraduate students complete their program in four years.
Achievement Goal: 85%
Actual:
Community Engagement
Goal 2: All students will participate in at least one community-engaged service or research project, internship, or fellowship.
Graduates are surveyed immediately prior to commencement each year. 99% of graduates from the Class of 2018 reported having one or more experiences in at least one community-engaged service or research project, internship, or fellowship.
Achievement Goal: 100%
Actual: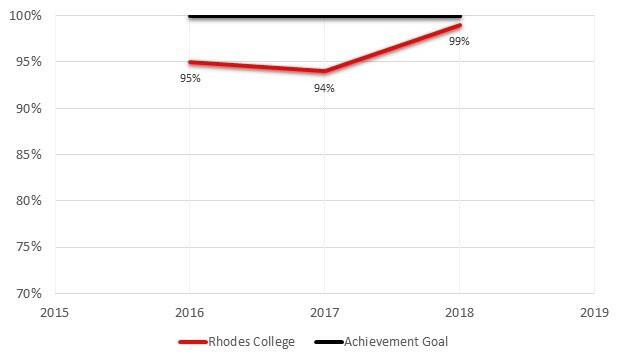 Post-Baccalaureate Activities
Goal 3: No more than 5% of students will be seeking post-baccalaureate activities six months to one year following graduation.
94% of baccalaureate recipients were attending graduate school and/or were employed within a year after graduation. 59% percent of the class of 2017 reported being employed either full-or part-time six months after completion. 31% percent of the Class of 2017 reported pursing graduate studies six months after graduation, and 3% reported being employed and pursuing graduate school.
Achievement Goal: 95%
Actual: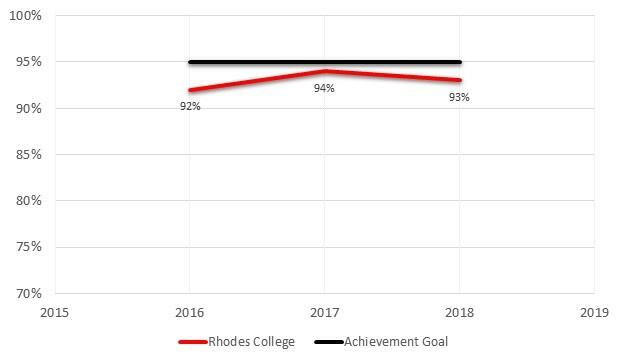 Post-Graduate Activities: MS Accounting Program
Goal 4: The MS Accounting Program will prepare students for success on Certified Public Accountant (CPA) exam.
Achievement Goal: 64%
Actual: