Rashna Richards
Associate Professor of English, Chair of Film and Media Studies
(901) 843-3399
Rashna Richards is Associate Professor and T. K. Young Chair of English. She also directs the Film and Media Studies program. Her teaching and research interests include American film and television, critical theory, and transnational cultural studies. Her first book, Cinematic Flashes: Cinephilia and Classical Hollywood (Indiana UP, 2013), offered a cinephiliac history of the studio system. Her second book, For the Love of Cinema: Teaching Our Passion in and outside the Classroom (Indiana UP, 2017) is a co-edited collection exploring the role of love—of cinema and of cinema studies—in teaching film. She is now working on Evocative TV: Mad Men and the Movies, a monograph that investigates the intertextual relationship between the AMC TV show Mad Men and the movies of its era. Vita
Books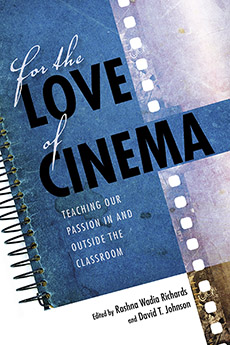 For the Love of Cinema: Teaching Our Passion in and outside the Classroom (Indiana UP, 2017)
Cinematic Flashes: Cinephilia and Classical Hollywood. Bloomington: Indiana UP, 2013.
Articles
"Love, Desi Style: Arranged Marriage and Transnational Mobility in Mira Nair's The Namesake." Canadian Journal of Film Studies 26.1 (2017). (Forthcoming)

"Translating Cool: Cinematic Exchange between Hong Kong, Hollywood, and Bollywood." Transnational Film Remakes. Eds. Constantine Verevis and Iain Robert Smith.
Edinburgh: Edinburgh University Press, 2017. 118-29.

"(Not) Kramer vs. Kumar: The Contemporary Bollywood Remake as Glocal Masala Film." Quarterly Review of Film and Video 28.4 (2011): 342-52.
"Unsynched: The Contrapuntal Sounds of Luis Buñuel′s L′Age d′Or." Film Criticism 33.2 (2008-09): 23-43.
"Loose Ends: The Stuff That Movies Are Made of." Arizona Quarterly 63.4 (2007): 83-118.
"Show-Stoppers: 1937 and the Chance Encounter with Chiffons." Framework: The Journal of Cinema and Media 48.2 (2007): 84-110.
"So Many Fragments, So Many Beginnings, So Many Pleasures: The Neglected Detail(s) in Film Theory."Criticism 45.2 (2003): 173-95.
Short Essays and Reviews

"Teaching Invasion of the Body Snatchers." The Cine-Files 9 (2015).
"Nothingness, Spectacle, Cinema." Film Quarterly 61.4 (2008): 92-93.
Review of Mira Nair′s The Namesake. Scope 10 (2008).
"Re-Viewing Cinephilia: The Movement and the Moment." Politics and Culture 1 (2006).
"Humphrey Bogart." Men and Masculinities: A Social, Cultural, and Historical Encyclopedia. Eds. Michael Kimmel and Amy Aronson. Santa Barbara: ABC-CLIO, 2003. 95-96.
Education
Ph.D., English (Film and Media Studies), University of Florida, 2006
M.A., English, West Virginia University, 2001
M.A., English, University of Mumbai, India, 1999
B.S., Business, Narsee Monjee College, India, 1997