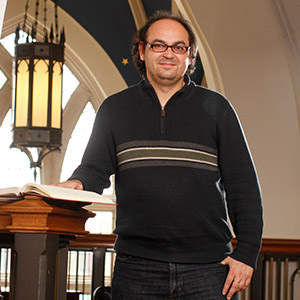 Alberto del Pozo Martinez
Associate Professor - Spanish
Professor del Pozo Martínez's research interests include exploring the relationships between literature and ideology, and between creative writing and literary criticism. He specializes in twentieth and twenty-first century Spanish American novel and short story. He also dabbles in essay and testimony, theory and history of the novel and short story, the philosophy of History, structural Marxism, and Psychoanalysis. He is the author of several articles on modern and postmodern Latin American and Spanish literature, and he is currently preparing a manuscript on the works of the Chilean writer Roberto Bolaño.
SELECTED PUBLICATIONS
"La identidad en flujo: Locura y muerte de Nadie como novela contraidelógica." Dissidences 4-5 (2009). Electronic source: http://www.dissidences.org/4PozoJarnes.html. 
"Epílogo. Hacia una ciencia literaria." Riff Raff  37 (2008): 108-113.
"Actualidad del Hermetismo." Hermetismo, Simbolismo y Modernidad. Zaragoza: University of Zaragoza Press, 2007 (67-79). 
"Borges y las escrituras del yo." Vanderbilt e-journal. 3 (2007): 95-104.
Education
A.B., Hispanic Philology, University of Zaragoza.
M.A., Spanish American Literature, Vanderbilt University.
Ph.D., Spanish American Literature, Vanderbilt University.