SERVICE CHANGES
Our offices currently remain open under normal business hours. We are also transitioning our employer and student services to a virtual format. Visit our web-based resources and find job postings and more via Handshake. 
For Students: We are offering remote career advising and employer connection options. Login to your Handshake account for more information. You may also email your resume, cover letter, or any other essential documents needed for review to our staff for electronic review. We also will schedule virtual career webinars when possible for the remainder of the semester. As always, you can reach out to the Career Services staff with questions. 
Issues related to internships and other special learning situations will be handled individually. Students who remain in Memphis have the option of continuing their internships with the permission of their host sites.
For Employers: Thank you for continuing to recruit Rhodes students! Please access Handshake any time to post and share jobs and internships. If you have questions regarding internships please contact Sandi George Tracy at tracy@rhodes.edu or 901-843-3801. If you have questions about fall events or creating recruitment options, contact Amy Moen, Associate Director, Career Services at moena@rhodes.edu or (901) 843-3805.
QuadJobs
Career Services now offers QuadJobs as a service to students and employers. QuadJobs is an online marketplace that connects students with local jobs that fit into their schedules, such as babysitting, party help, tutoring, office work, furniture moving, errands, dog walking, and more. 
Thank you for taking the time to connect with Rhodes College Career Services. We sincerely appreciate the opportunity to continue supporting our students and our employer partners during this time. If you have additional questions about our services and programs during this time, you may also contact our office at careers@rhodes.edu. 
Open Monday-Friday, 8:30am-5pm
Burrow 105 (Lower level, Burrow Hall)
Careers@Rhodes.edu | 901.843.3800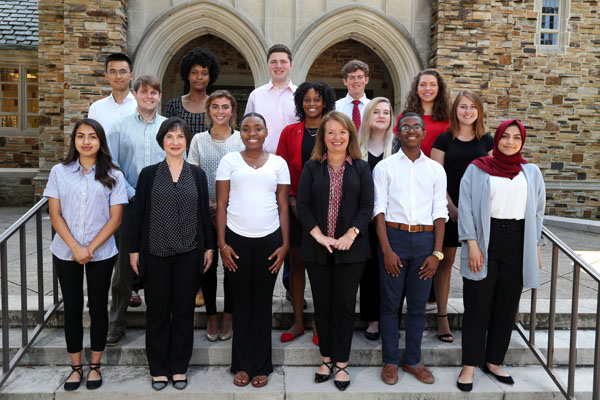 Welcome to the Rhodes College Career Services page. Let us help you achieve your professional goals!
Mission:
"To assist and guide students through the career development process and empower them to achieve meaningful careers throughout their lives."

Vision:
"All students will graduate from Rhodes College prepared, engaged, self-aware, and confident in their abilities to fulfill professional, academic, and personal goals."
"Your Journey Begins Here"
Our goal is not just for students to find jobs; it's much broader than that! Our office exists as a starting point for students to build successful and meaningful careers. Many of our students realize what their goals and aspirations will be during college, as they meet new people and undergo unique and transformative experiences. We intend to help students navigate those experiences and craft them into a plan for their future career success!
93.5% of our graduates are employed and/or attending graduate school a year after earning their Rhodes degree. See our full post-graduate report.