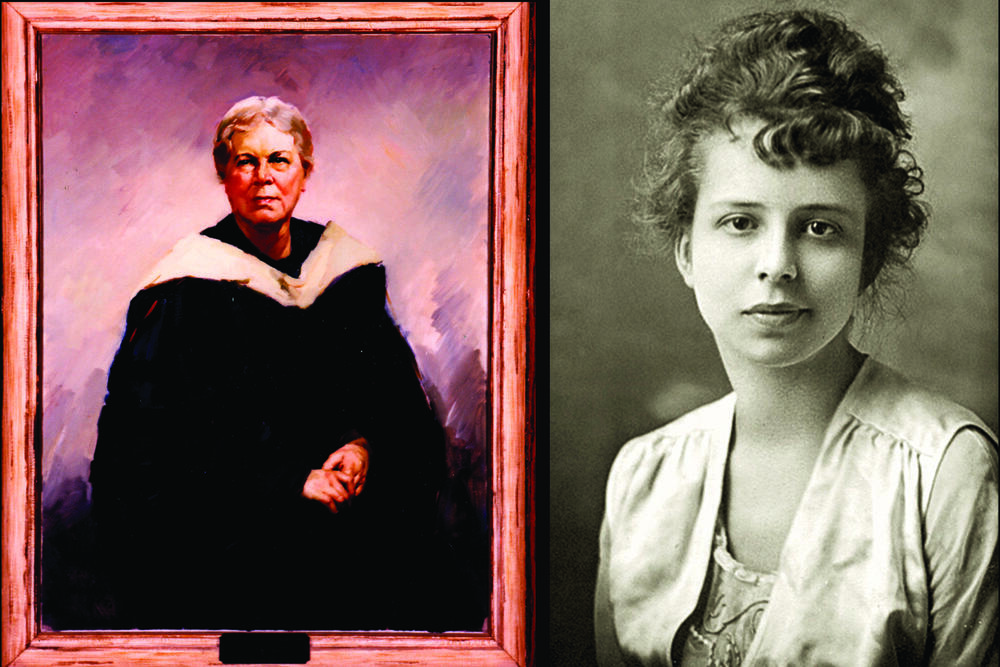 Two women stand out as "firsts" in the College's history—the first woman graduate, Margaret Trahern, and the first woman faculty member, Margaret Huxtable Townsend.  Each played an important role in creating a more inclusive institution in the twentieth century.
As early as 1880, Southwestern Presbyterian University in Clarksville (now Rhodes College) had allowed the daughters of faculty members and administrators to attend classes on a limited basis, without actually being enrolled as students.  But with a growing national trend toward co-education and the advance of the woman suffrage movement in the early twentieth century, this policy changed in 1916. That year, the Board of Trustees voted to allow women admission to the University—but with a quota of only 10 women for every 100 men admitted.  The quota soon disappeared.  In 1917, when confronted with American involvement in the Great War and the prospect of declining enrollment as men went off to fight, the University allowed the admission of women on the same basis as men, including eligibility for scholarships.
That year, Margaret Trahern and four others—all residents of Clarksville—became the first women to enroll at Southwestern Presbyterian University (SPU).  Trahern was the first of the group to graduate, in 1921, after which she remained at the university for an additional year to complete a masters' degree in history.  While a student at SPU, Trahern played on the women's basketball team (formed in 1919), joined the Kappa Delta Literary Society, and served as a charter member of Chi Omega Sorority, established on campus in 1922 while she was a graduate student.  A few years later, Trahern married William G. Patch, '20, the son of University Trustee Benjamin Patch, who later worked with President Charles Diehl to move the institution from Clarksville to Memphis.
Margaret Huxtable Townsend, born in Ontario, Canada in 1882, came to SPU as a member of the faculty in 1918.  Impressively credentialed, Towsend arrived with a degree in classical languages and literature from McGill University in Canada, as well as additional study at five other universities.  Although Townsend arrived while the university was in Clarksville, she made the move to Memphis along with a handful of other faculty members in 1925.  For the next three decades, until her retirement in 1954, Townsend served the college and her students by teaching classical and modern languages, as well as sociology.  In addition, she served as the first Dean of Women at Southwestern from 1925 to 1954.
Because of her long and important contributions to the institution, Townsend eventually became the namesake for a residence hall. In 1960, President Peyton N. Rhodes recommended to the Board that a recently opened residence hall—named "East Hall" at the time—be named in her honor.  Rhodes believed it fitting that the building, constructed to house sixty-four women students, should be named for the institution's first woman professor and Dean of Women.  The Board agreed, and the building has been named Townsend ever since.
Margaret Trahern and Margaret Huxtable Townsend were the first in a long line of women "firsts" at the College.  During the 1940s, when men again left the institution to fight—this time in World War II—women students began assuming campus leadership roles.  Mary Ann Frazier '45 served as the first women president of student government, while Anne Howard Bailey '45 became the first woman editor of the yearbook.  In 2017, Marjorie Hass became the first woman to serve as president of Rhodes College, and in 2022 Deborah Craddock became the first woman to chair the College's Board of Trustees.
Maggie Kreis, Kenan Padgett, and Timothy S. Huebner
Sources: 
Cooper, W. Raymond.  Southwestern at Memphis, 1848-1948 (1949).
Shepard, Martha Hunter. "Women at Rhodes," Rhodes Magazine (Fall 1996), 17-20.
"Women of Rhodes:  Townsend and Trahern," Lynx to the Past Podcast,
https://lynxtothepast.libsyn.com/townsend-trahern, March 28, 2023.
Wood, Bennett.  Rhodes, 1848-1998:  A Sesquicentennial Yearbook (1998).