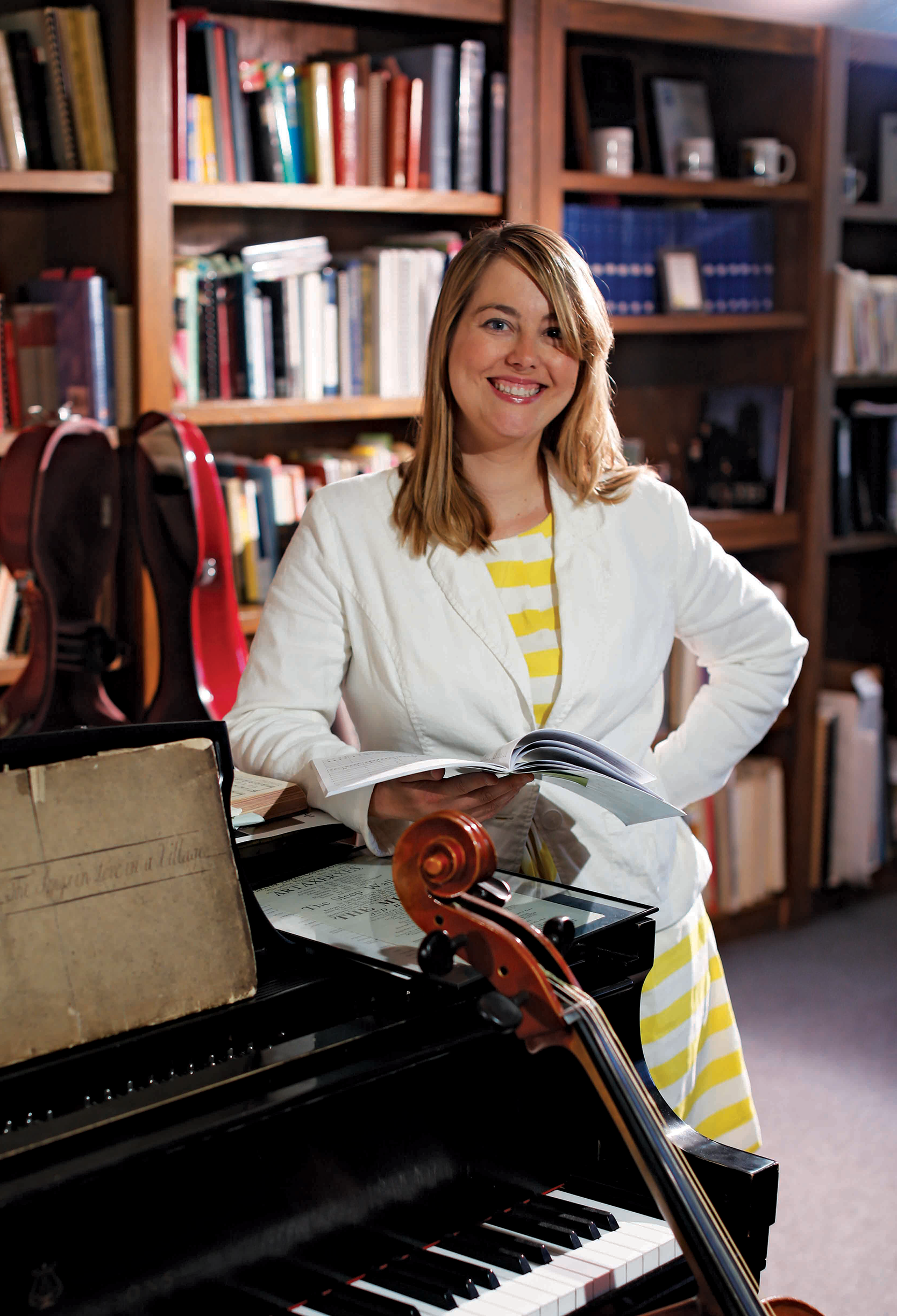 Vanessa Rogers
Associate Professor of Music, Music History Coordinator
Vanessa L. Rogers teaches courses in Music History and Literature. Prior to joining the faculty at Rhodes College, she taught music history at Wabash College and the University of Southern California in Los Angeles.  She also works as Research Associate for the London Stage, 1800-1900 database and is Principal Researcher for Ballad Operas Online: An Electronic Catalogue at the University of Oxford. 
Her primary area of research is eighteenth-century English stage music, and she has written on the subjects of Henry Fielding's ballad operas, the influence of French musical comedy on eighteenth-century English popular theatre, and iconography and orchestral seating in London theatres in the Georgian era. Current projects include a book on eighteenth-century comic opera (Ballad Operas, Burlettas, and Burlesques: Comic Opera in Eighteenth-Century Britain), a critical edition of Isaac Bickerstaff's Love in a Village (co-edited with Berta Joncus and Žak Ozmo) and articles on the salon of Violet Gordon-Woodhouse and the cult for Baroque music in early twentieth-century England, a newly-discovered 1870 music inventory of London's Haymarket Theatre, and the operas of philosopher Roger Scruton.
Dr. Rogers was one of the convenors of the Society for Theatre Research's recent conference, Theatre in the Regency Era: Plays, Performance, Practice 1795-1843, which was held at Downing College, University of Cambridge in July 2016.
Dr. Rogers also is the faculty director for the new Rhodes Summer School in London, an intensive four-week summer program open to all majors. Students participating in this 8-credit study abroad opportunity will learn about British literature, history, art (and more!) from prehistoric through contemporary times as they explore British sites, history and culture.  The courses are taught by American and British professors living on-site at the University of London, Goldsmiths. For more information, contact the Buckman Center for International Education at Rhodes.
SELECTED PUBLICATIONS
"W. R. Chetwood's The Voyages and Adventures of Captain Robert Boyle" and "W. R. Chetwood's The Voyages, Travels and Adventures of William Owen Gwin Vaughan, Esq." in April London, ed., The Cambridge Guide to the Eighteenth-Century Novel, 1660-1820 (Cambridge University Press) (currently in press)
"Orchestras on Stage in the Georgian-Era Playhouse: Unraveling the Origin of the 'Winston' Sketch" (Early Music, Oxford University Press) 44/4 (November 2016), pp. 607-625.
"Bickerstaff, Isaac" and "Chetwood, William Rufus" in Jack Lynch andGary Day, eds., The Encyclopedia of British Literature 1660-1789 (Wiley-Blackwell, 2015), pp. 241-244 and 111-117.
"John Gay, Ballad Opera, and the Théâtres de la foire," Eighteenth-Century Music (Cambridge University Press) 11/2 (September 2014), pp. 173-213.
"Art as Religion?: Considering Scruton's Violet" in Peter James Richardson-Bryson Bryson, ed., Thinking the Sacred with Roger Scruton (Bloomsbury, 2016), pp. 179-187.
"Theatre Music" in the Oxford Handbook of the Georgian Theatre, 1737-1832, ed. David Francis Taylor and Julia Swindells (Oxford: Oxford University Press, 2014), pp. 304-320.
Book chapter (with Berta Joncus): "'United voices formed the very perfection of harmony': Music and the Invention of Harriett Abrams (c1758-1821)," in Celebrity: The Idiom of a Modern Era, AMS Studies in the Eighteenth Century, No. 70, ed. Baerbel Czennia (New York: AMS Press, 2013), pp. 67-105.
Book chapter (with Berta Joncus): "Ballad Opera and British double entendre: Henry Fielding's The Mock Doctor" in Die Praxis des Timbre in verschiedenen europäischen Kulturen: Eine musikalische Praxis zwischen Oralität und Schriftlichkeit, ed. Herbert Schneider (Hildesheim: Georg Olms Verlag, 2013), pp. 101-140.
"English Caricature and the Playhouse Orchestra at London's Drury Lane Theatre, 1747-1826," Music-Images-Instruments, Vol. XII: Orchestres aux XVIIIe et XIXe siècles: composition, disposition, direction, représentation, ed. Florence Gétreau (Paris: CNRS Editions, 2011), pp. 10-31.
Book chapter (with Berta Joncus): "Beyond The Beggar's Opera: John Rich and English Ballad Opera," in The Stage's Glory: John Rich (1692-1761), ed. Jeremy Barlow and Berta Joncus (Newark, Delaware: University of Delaware Press, 2011), pp. 184-206.
"The Audience as Poet:  Traditional Tunes and Contemporary Satire in Early Eighteenth-Century Ballad Opera," Ars Lyrica: Journal of the Lyrica Society for Word-Music Relations 18 (2009), pp. 63-83.
"Fielding's Ballad Operas and Early Musical Theatre," in Henry Fielding in Our Time, ed. Alan Downie (Cambridge: Cambridge Scholars Press, 2008), pp. 327-359.
Education
M.A. and Ph.D. in Historical Musicology, University of Southern California, Los Angeles
B.M.E., Illinois Wesleyan University