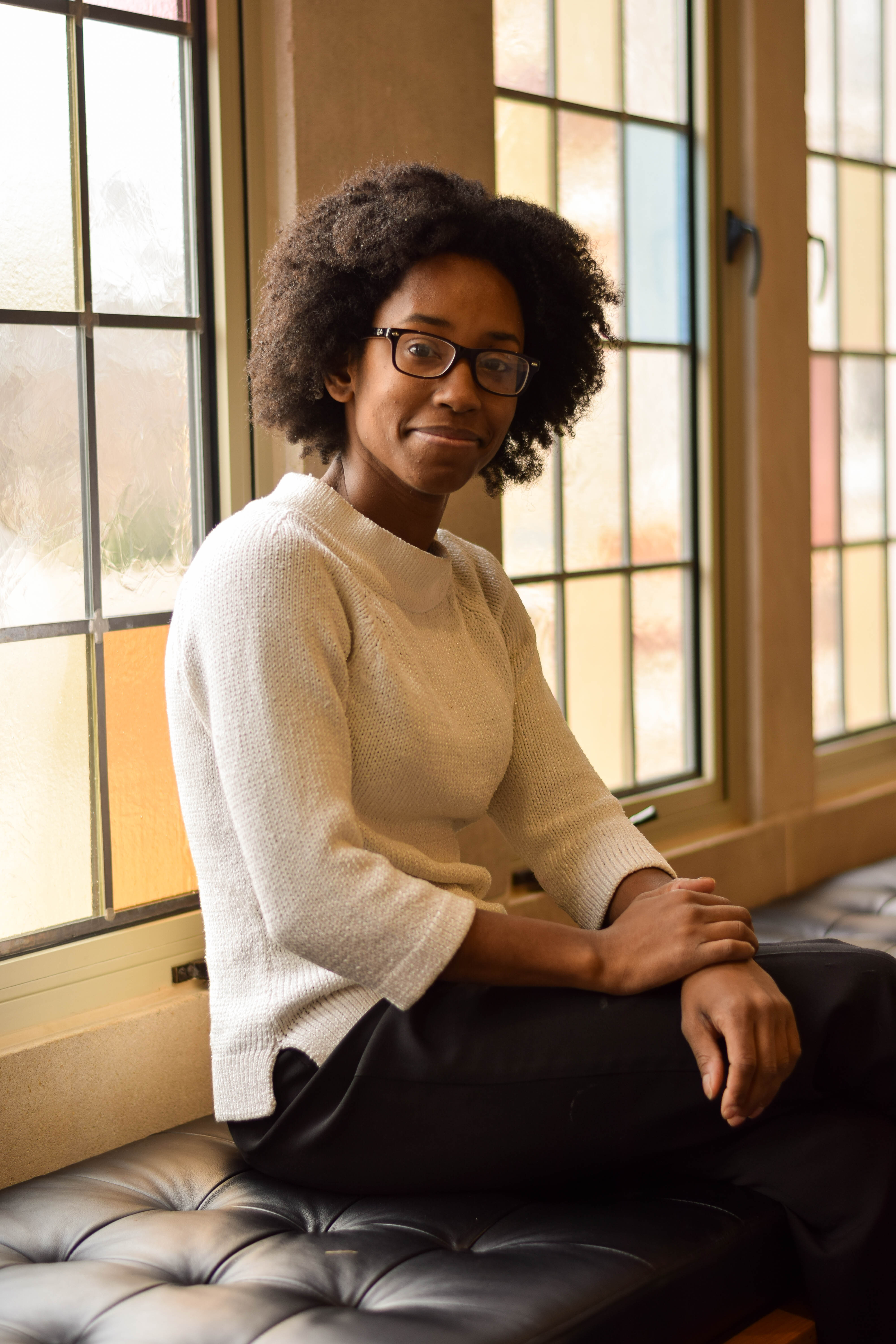 Shana Stoddard
Assistant Professor of Chemistry, Director for Student Mentoring
Photo by Noah Stewart '22
 
RESEARCH INTERESTS
Dr. Stoddard's "Molecular Immunotherapeutics Research" (MIR) lab research program focuses on improving patient outcomes with autoimmune disorders, in particular primary membranous nephritis (PMN), through development of auto-antibody-specific inhibitors, antigen-specific therapies, as well as novel methods for development of antigen specific therapies. The MIR lab also focuses on engineering proteins and design of small compounds that could assist in treatment of cancers, neurological disorders, coronaviruses, and autoimmune disorders. In addition to the design of novel therapies in Stoddard's MIR lab we develop 3-dimensional models of the proteins associated with these disorders to understand structure function relationships in these protein systems. We use a combination of computational chemistry, biochemistry, cell based-assays, protein engineering, and rational drug design to accomplish our goals.
Research site: Stoddard Molecular Immunotherapeutics Research Lab | Computational and Experimental Bio-Organic Chemistry
 
PUBLICATIONS
Shana V. Stoddard, Felissa E. Wallace*, Serena D. Stoddard, Qianyi Cheng, Daniel Acosta, Shaliz Barzani, Marissa Bobay, Jared Briant, Christian Cisneros, Samantha Feinstein, Kelsey Glasper, Munazza Hussain, Abigail Lidoski, Pranay Lingareddy, Grace Lovett, Leslie Matherne, Jackson McIntosh, Nikita Moosani, Lia Nagge, Kudzai Nyamkondiwa, Isaiah Pratt, Emma Root, Mary Rose Rutledge, Mackenzie Sawyer, Yash Singh, Kristiana Smith, Ubaid Tanveer, and Sona Vaghela. In silico design of peptide-based SARS-CoV-2 fusion inhibitors that target WT and mutant versions of SARS-CoV-2 HR1 domains. Biophysica, 2021, 1(3), 311-327.
Shana V. Stoddard, Serena D. Stoddard, Benjamin K. Oelkers, Kennedi Fitts, Kellen Whalum, Kaylah Whalum, Alexander D. Hemphill, Jithin Manikonda, Linda Michelle Martinez, Elizabeth G. Riley, Caroline M. Roof, Nowreen Sarwar, Doni M. Thomas, Emily Ulmer, Felissa E. Wallace*, Pankaj Pandey, and Sudeshna Roy. Optimization Rules for SARS-CoV-2 Mpro Antivirals: Ensemble Docking and Exploration of the Coronavirus Protease Active Site. Viruses, 2020, 12, 942 DOI: 10.3390/v12090942  
Sivaraman Balasubramaniam, Sajith Vijayan, Liam Goldman, Xavier A. May, Kyra Dodson, Sweta Adhikari, Fatima Rivas, Davita. L. Watkins, and Shana V. Stoddard. Design and Synthesis of Diazine-based Panobinostat Analogues for HDAC8 Inhibition. Beilstein Journal of Organic Chemistry, 2020, 16(1), 628-637 DOI: 10.3762/bjoc.16.59
Shana V. Stoddard, Kyra Dodson, Kamesha Adams, Davita L. Wadkins. In silico Design of Novel Histone Deacetylase 4 Inhibitors: Design Guidelines for Improved Binding Affinity. International Journal of Molecular Sciences, 2020, 21(1), 219 DOI: 10.3390/ijms21010219
Elizabeth R. Butch, Paul E. Mead, Victor Amador-Diaz, Heather Tillman, Elizabeth Stewart, Jitendra K. Mishra, Jieun Kim, Armita Bahrami, Jason L. J. Dearling, Alan B. Packard, Shana V. Stoddard, Amy L.Vāvere, Yuanyuan Han, Barry L. Shulkin, and Scott E. Snyder. Variable In Vivo Expression of Disiaganglioside GD2 in Mouse Models of Primary and Metastatic Osteosarcoma Determined Using Positron Emission Tomography.  Cancer Research, 2019 79(12), 3112-3124 DOI: 10.1158/0008-5472.CAN-18-3340
Shana V. Stoddard, Colin L. Welsh, Maggie M. Palopoli, Serena D. Stoddard, Mounika P. Aramandla, Riya M. Patel, and Laurence H. Beck, Jr. Structure and Function Insights Garnered from In silico Modelling of the Thrombospondin Type-1 Domain-Containing 7A Antigen.  PROTEINS: Structure, Function, Bioinformatics, 2019, 87(2), 136-145 DOI: 10.1002/prot.25640
Shana V. Stoddard, Xavier A. May, Fatima Rivas, Kyra Dodson, Sajith Vijayan, Swetha Adhika, Kordarius Parker, Davita L. Watkins.  Design of Potent Panobinostat Histone Deacetylase Inhibitor Derivatives: Molecular Considerations for Enhanced Isozyme Selectivity between Histone Deacetylase 2 (HDAC2) and Histone Deacetylase 8 (HDAC8). Molecular Informatics 38(3) 2018, 1800080 DOI: 10.1002/minf.201800080
Shana V. Stoddard, Mark T. Hamann, Randy M. Wadkins. Insights and Ideas Garnered from Marine Metabolites for Development of Acetylcholinesterase and Amyloid-β Aggregation Inhibitors. Marine Drugs 12, (2014) 2114-2131 DOI: 10.330/md12042114
Shana V. Stoddard, Xiaozhen Yu, Philip M. Potter, Randy M. Wadkins. In Silico Design and Evaluation of Carboxylesterase Inhibitors. Journal of Pesticide Science 35 (2010) 240-249 DOI: 10.154/jpestics.R10-06
Latorya D. Hicks, Janice L. Hyatt, Shana Stoddard, Lyudmila Tsurkan, Carol C. Edward, Monika Wierdl, Randy M. Wadkins, Philip M. Potter. Improved, Selective, Human Intestinal Carboxylesterase Inhibitors Designed to Modulate CPT-11 Toxicity. Journal of Medicinal Chemistry 52 (2009) 3742-3752 DOI: 10.1021/jm9001296
(Names in italics are students; names with asterisks are high school students)
Education
M.Ed. Freed-Hardeman University (Curriculum and Instruction: emphasis Special Education)
Postdoctoral Researcher St. Jude Children's Research Hospital (Diagnostic Imaging)
Ph.D. University of Mississippi (Chemistry and Biochemistry)
B.S. Prairie View A&M University (Chemistry)