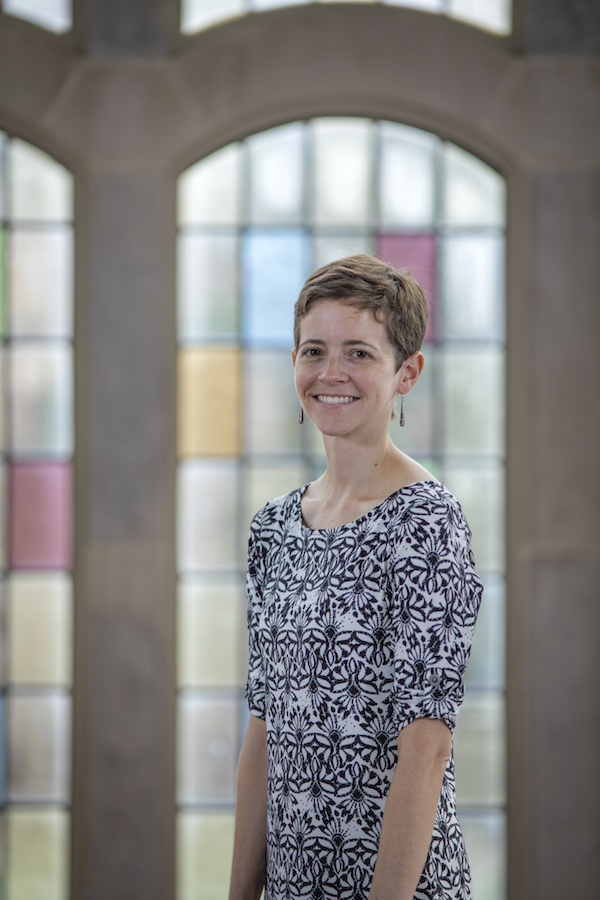 Laura Kelly
Assistant Professor of Elementary Literacy
Teaching
Laura teaches undergraduate courses in educational studies and master's level courses for future teachers in the urban education program. 
Laura taught K-12 school for eight years. She taught in Pennsylvania, Kentucky, and Tennessee (including two years teaching kindergarten in Shelby County). She taught mostly elementary school, including teaching in a bilingual program, but she has also taught high school Spanish and community college ESL. Laura also taught future teachers at Arizona State University and at the Maricopa Community College District in Arizona.
Current Research
Her research addresses elementary literacy instruction and learning, bilingual and ESL education, and teacher preparation for teaching literacy to linguistically diverse students. She uses qualitative methods including discourse analysis, content analysis, case study, and thematic coding to understand classrooms, curricular materials, and policies. She also employs quantitative methods, specifically single case design, to study educational effectiveness. Her work takes an assets-based, sociocultural approach to support school literacy success for bilingual students.
In Memphis, most general teachers only speak English, so they need strategies that support at minimum English literacy, but ideally biliteracy though they themselves are not biliterate. She is interested in supporting teachers with curriculum materials, instructional practices, and family involvement.
Publications
Laura's CV is available here.
accepted

Kelly, L. B. Draw a scientist: Uncovering students' thinking about science and scientists. Science and Children. 

accepted

Kelly, L. B., Ogden, M., & Moses, L. Collaborative conversations: Supporting speaking and listening in the primary grades. Young Children.

2018 online first

Kelly, L. B. An analysis of award-winning science trade books for children: Who are the scientists, and what is science? Journal of Research in Science Teaching.http://doi.org/10.1002/tea.21447

2018

Moses, L. & Kelly, L. B. 'We're a little loud. That's because we like to read.': Developing positive views of reading in a diverse urban first grade. Journal of Early Childhood Literacy, 18(3), 307-337.  http://doi.org/10.1177/1468798416662513

2018 

Kelly, L. B. & Moses, L. Children's literature that sparks inferential discussions. The Reading Teacher, 72(1), 21-29. http://doi.org/10.1002/trtr.1675

2018 

Kelly, L. B. Compliance and resistance: Showing future teachers how to navigate curriculum.Studying Teacher Education, 14(1), 71-87. http://dx.doi.org/10.1080/17425964.2018.1428794

 

2018

Kelly, L. B. Interest convergence and hegemony in dual language: Bilingual education, but for whom and why? Language Policy, 17(1), 1-21. http://doi.org/10.1007/s10993-016-9415-1  

2018

Kelly, L. B. Preservice teachers' developing conceptions of teaching English learners. TESOL Quarterly, 52(1), 110-136.http://doi.org/10.1002/tesq.375 (video abstract here) 

2017

Moses, L. & Kelly, L. B. The development of positive literate identities among emerging bilingual and monolingual first graders. Journal of Literacy Research, 49(3), 393-423. http://doi.org/10.1177/1086296x17713291

2017

Kelly, L. B. Welcoming counterstory in the primary classroom. Journal of Critical Thought and Praxis, 6(1), 38-52.

2017

Moses, L. & Kelly, L. B. Researching early literacy with a formative experiment. SAGE Research Methods Cases. http://doi.org/10.4135/9781526408723

2016

Kelly, L. B. Supporting scientific vocabulary, language, and discussion in elementary science. Science & Children, 54(3), 52-57. 

2015

Kelly, L. B. "You can't just write an essay in an hour": Supporting middle schoolers' peer feedback and revision process through online writing groups. Voices from the Middle, 23(2), 81-86. (podcast here)

2015

Moses, L., Ogden, M., & Kelly, L. B. Facilitating meaningful discussion groups in the primary grades. The Reading Teacher, 69(2), 233–237. http://doi.org/10.1002/trtr.1392
Education
Laura's doctorate in Learning, Literacies, and Technologies is from Arizona State University. Her specializations included elementary literacy and ESL/bilingual education. She also holds National Board Certification in Early to Middle Childhood Reading and Language Arts.