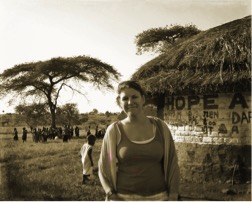 Julia Hanebrink
Assistant Professor of Anthropology
I am broadly trained as a biocultural anthropologist, with specific emphases on plural and syncretic systems of medicine in the African Great Lakes Region, global health, post-conflict reconstruction, forensic skeletal analysis, and human rights discourse and praxis. As the late, great Dr. Miles Richardson[1] once wrote: "No one ever said being a four-field anthropologist was an easy or a sure thing, but if you are an anthropologist, why be anything else?"
While I strive to gain a comprehensive view of what it is we humans are up to, my overall approach is consistent with public or engaged anthropology. That is, I do not just study the causes and consequences of human suffering; I seek to do something about them.
As Co-Director of the National Institutes of Health Minority Health International Research Training (MHIRT) program, I have been conducting research in Uganda since 2006. The MHIRT program provides students with fully-funded international biomedical and behavioral research opportunities in Brazil, Uganda, and Trinidad. My foci in Uganda include medical syncretism, health beliefs and behaviors, community-based needs assessments, and psychosocial initiatives in the aftermath of violent conflict. I am currently collaborating on a project that examines how the perceived agency of the dead impinges upon the lives and objectives of survivors of mass violence with respect to the meanings, goals, and outcomes of transitional justice processes in northern Uganda.
My position with the MHIRT program has given me the opportunity to establish positive working relationships with faculty and students both domestically and abroad. I mentor students throughout the process of research development, data collection and analysis, write-up, and presentation or publication. I have mentored, co-authored, and co-presented research with students from colleges and universities throughout the Mid-south. I am deeply committed to multidisciplinary collaborative research, and strive to maximize research and publishing opportunities for students in order to develop their skills, their vitae, their professional careers, and their own personal growth and global-mindedness.
---
[1] Richardson, Miles. Being-in-Christ and putting death in its place: an anthropologist's account of Christian performance in Spanish America and the American South. LSU Press, 2003, p. 341.