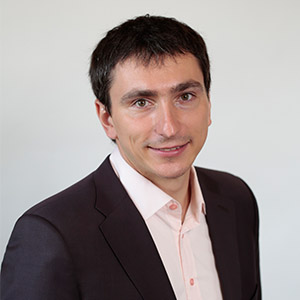 Denis Khantimirov
Associate Professor of Business
Denis Khantimirov is an Assistant Professor of Marketing. He recently completed his Ph.D. in Marketing from Old Dominion University. There, he taught such courses as Marketing of Services, Principles of Marketing, Sales Management, Marketing Research and Multi-National Marketing. His dissertation was entitled "Three Essays on Opportunistic Claiming Behavior in a Services Setting; Customers and Front Line Employees Perspectives." Professor Khantimirov's primary research interests include marketing of services and international marketing strategy. He currently serves on the Editorial Review Board for Cornell Hospitality Quarterly (CQ), as well as an ad-hoc reviewer for other academic journals.
Professor Khantimirov's teaching philosophy has always been focused on students' passion for learning through interactive engagement and drawing on extensive professional experience. Having worked in various parts of the world, ranging from Switzerland to Las Vegas, he facilitates in-class learning processes through delivering up-to-date practical knowledge of the marketing discipline from a cross-cultural perspective. Such various cultural perspectives as well as his work as a TV reporter and experience as a small business owner have allowed him to transform a classroom into a fun and exciting, yet very productive environment. An avid traveler and a soccer fan, Professor Khantimirov is proud to be a part of the Rhodes family.
SELECTED PUBLICATIONS
Khantimirov, D. (2014). Effects of Political and Business Ties on Developing Marketing Dynamic Capabilities in Emerging Economies: The Evidence from Russia. American Journal of Business and Management, 3(4), 206-216.
Education
Ph.D., Old Dominion University
M.B.A., University of Nevada, Las Vegas
Post-Graduate Studies, IHTTI, Neuchatel, Switzerland
B.A., North Ossetian State University, Russia