Chapter: Tau Sigma
Sigma Tau Delta is the International English Honor Society. A member of the Association of College Honor Societies, it was founded in 1924 at Dakota Wesleyan University.
It seeks to recognize exemplary scholarship and promote life long passions towards reading, writing, and the study of literature through its motto: "Sincerity, Truth, Design." To be inducted into Sigma Tau Delta, you must be an English Major or Minor of good standing with a minimum 3.4 grade point average and have at least three 300-level courses on your transcript. Students who have met this requirement will receive an invitational application. If you feel you have met the requirements, but did not receive an invitation, please contact Professor Lori Garner. She will review your claim and issue an application as appropriate.  

Class of 2024 Members:

Niko Baranek
Olivia Brown
Rachel Grau
Megan Patterson
Kendra Payne
Cristian Perez
Ben Reynolds
Abigail Wingfield
Isabella Wollfarth
 
Class of 2023 Members:
Brittany Ashley
Hollie Brown 
Emma Dove 
Harrison Glaze
Tillie Glucksman
Tess Herzog
Veda Krumpe
Sidney Marr
Ethan Morris
Morgan Reed
Sam Reimer
Hannah Robinson
Patsy Wardlaw
Caroline Whartenby
Ashlin Wharton
Kofi Whitehead
 
Class of 2022 Members:
President: Ellie McIntyre
Vice-President: Elizabeth Baldwin
Secretary: Olivia DuCharme
Treasurer: Caitlin Evans
Vibi Bakshi
Margot Foster
Sarah Gunter
Sujung Hwang
Ellen Lemm
Diana Miranda
Zara Raezer
Isabel Rodriguez
Taylor Stone
Adelaide Turpin
Emily Ulmer
Kymi Warren
Mary Elizabeth Whitmire
Rebecca Winchester
 
Class of 2021 Members:
Julia Bergquist
Emma Thames
Madeline Kennedy
Anne Cunningham
Shaliz Barzani
Sam Brown
Grayson Burke
Emma Dale
Miriam Ellis
Noelle Equi
Tara Fredenburg
Rebekah Hardeman
Jessica Hutchinson
Rylan Lorance
Abigail Morici
Natalie Pratt
Ian Schiller
Shelby seese
Marye Smith
Eliza Snyder
Madeleine Wright
Olivia Zavitson
Madison Zickgraf
Class of 2020 Members:
Abbey Bako
Ashley Carpenter
Eleanor Crymes
Jonathan Deming
Olivia Doty
Hilary Erde
Samuel Ertelt
Benjamin Freeman
Caitlin Gaine
Angie Harri
April Huntoon
Meg Jerit
Caroline O'Connor
Kailey Payne
Lauren Roberts
Jacob Rothschild
Jordana Terrell
Claire Zagrodsky
 
Past Events
2023 Induction Ceremony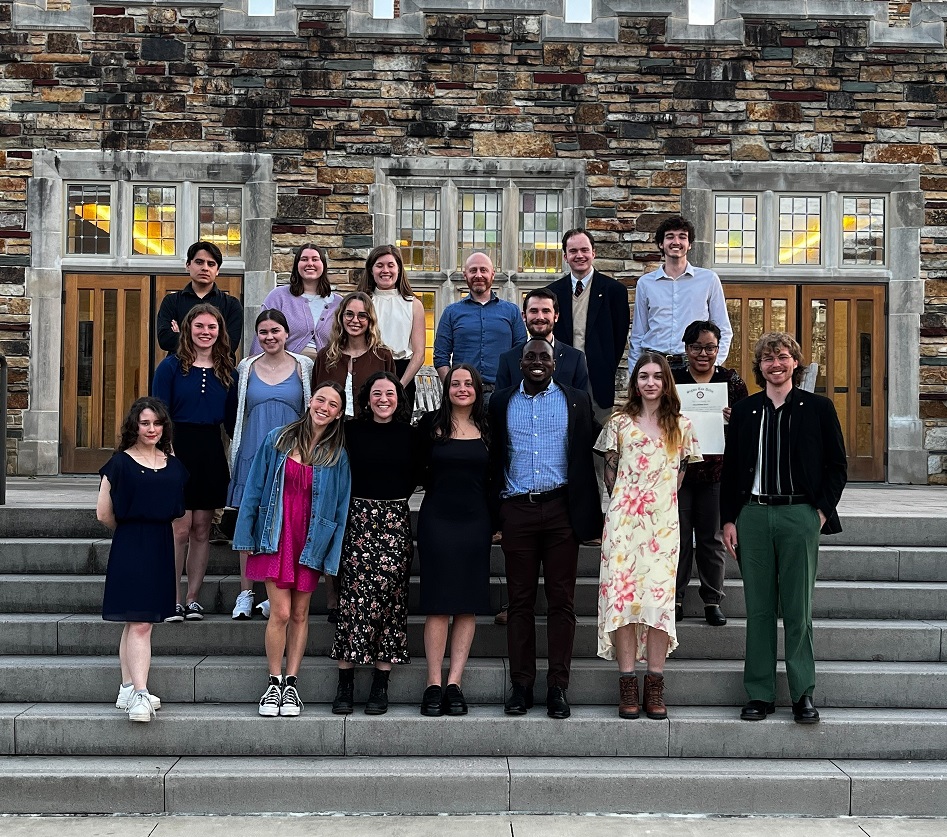 Front row, left to right: Ashlin Wharton, Abigail Wingsfield, Tess Herzog, Tillie Glucksman, Kofi Whitehead, Niko Baranek, Ethan Morris; 2nd row, left to right: Kendra Payne, Izzie Wollsfarth, Sidney Marr, Sam Reimer, Olivia Brown; Back row, left to right: Cristian Perez Zaragoza, Patsy Wardlaw, Lily Thomas, Prof. Seth Rudy, Harrison Glaze, Benjamin Reynolds
2022 Induction ceremony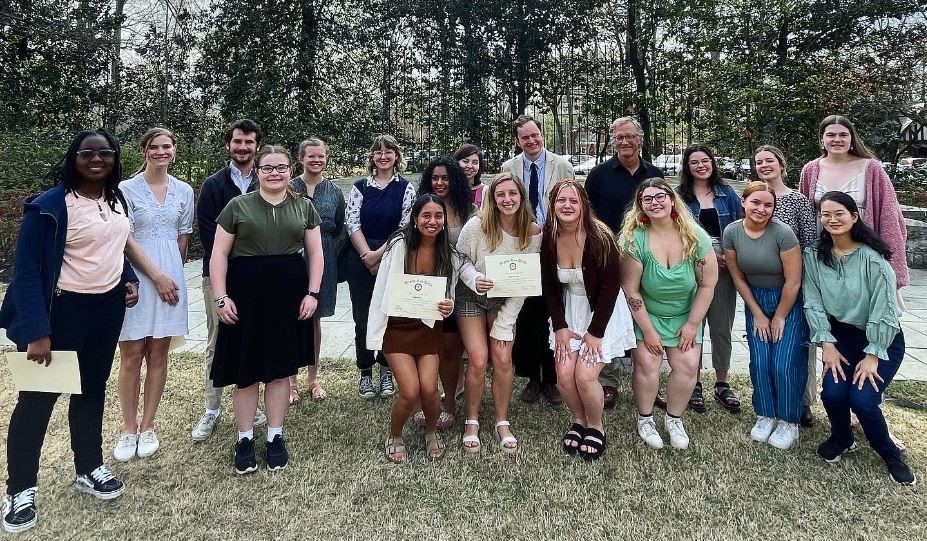 2021 Virtual Induction Ceremony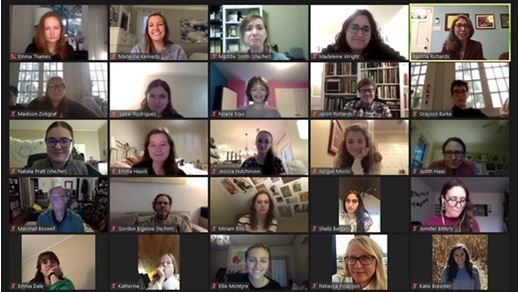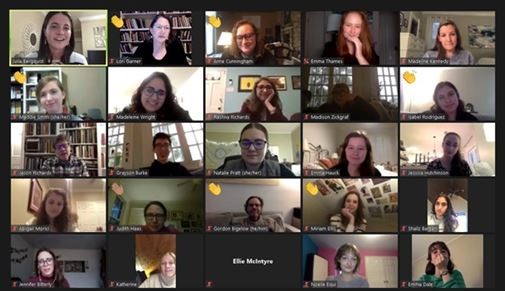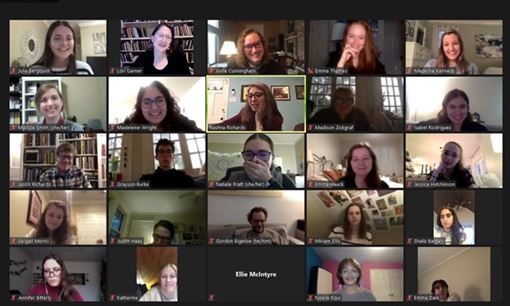 2020 Induction Ceremony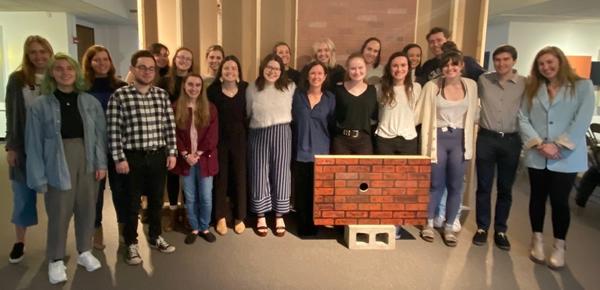 2019 Induction Ceremony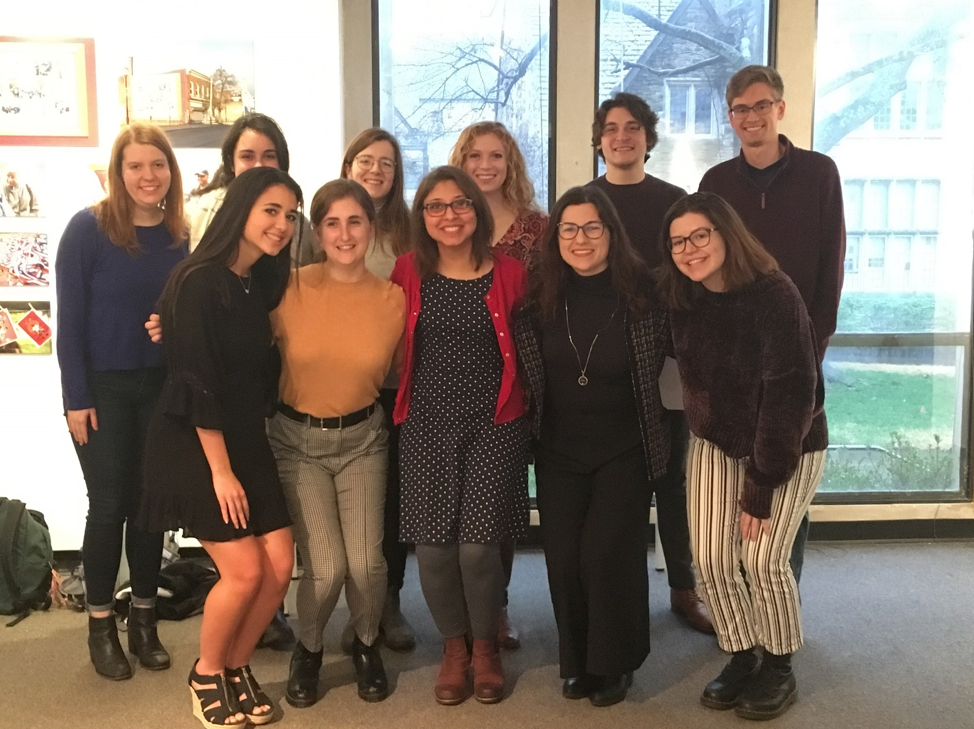 2018 Induction Ceremony
From left to right: 
1st row: Savannah Patton, Karina Henderson, Katie Brewster, Maggie Bradley 
2nd row: Taylor Wiggs, Anne Elizabeth Garrard, Hannah Hornsey, Annie Deal, Jennifer Bitterly, Sean Mattheisen, Sheridan Phelan, and, of course, Prof. Gordon Bigelow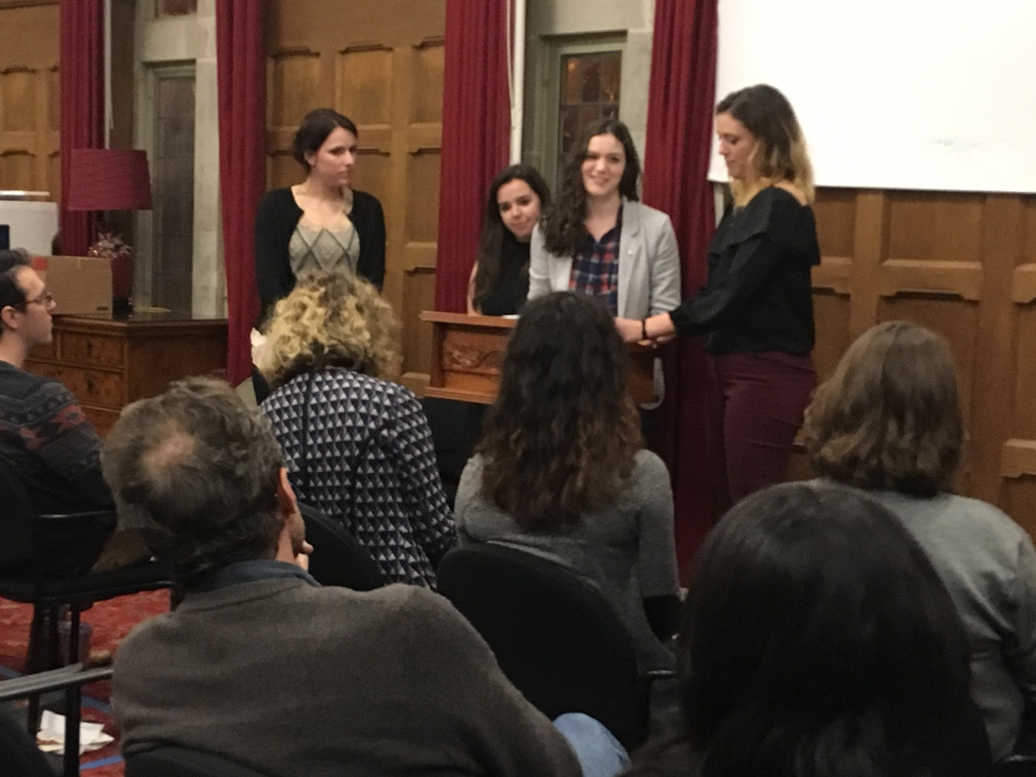 Standing: Sheridan Phelan, Katie Brewster, Maggie Bradley, and Jennifer Bitterly 
2017 Induction Ceremony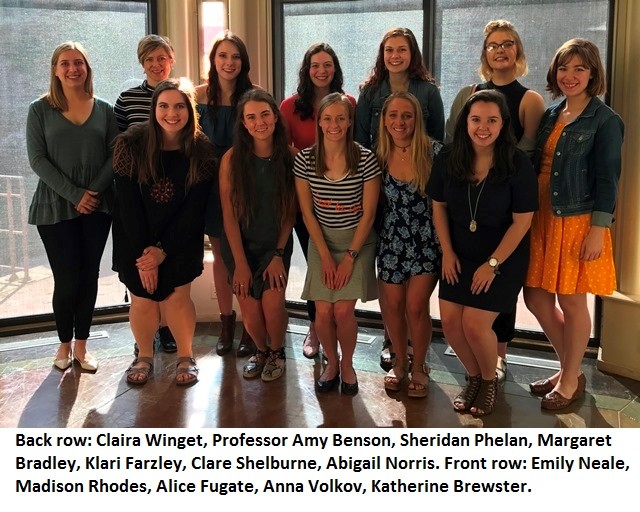 Reading given by Professor Amy Benson.
2016 Induction Ceremony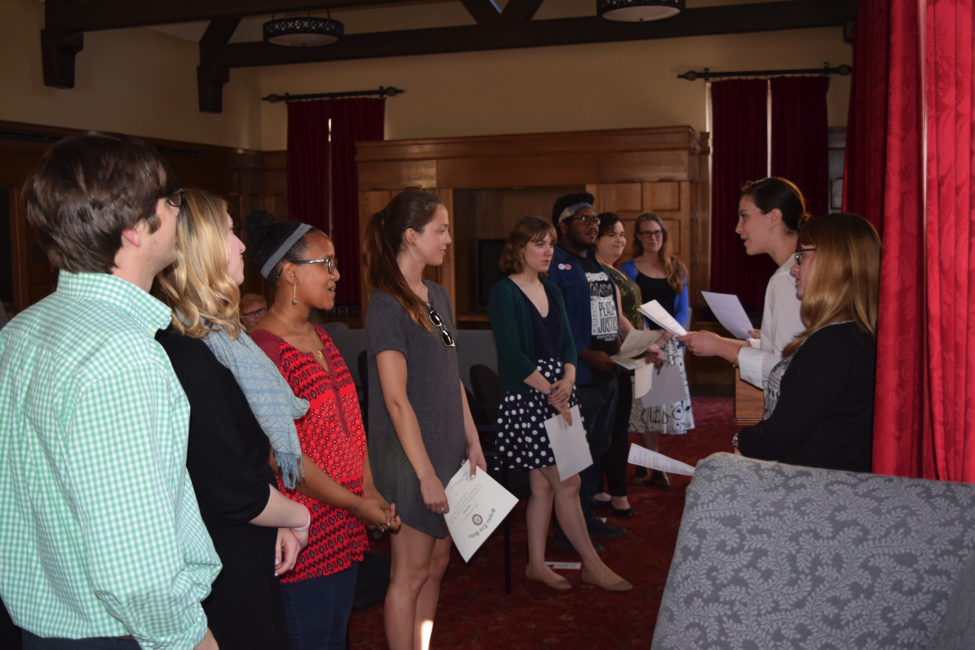 L-R: Kenneth Piper, Claira Winget, Tiegst Ameha, Cayce Sweatt, Abigail Norris, Justin Davis-Morgan, Katie White, Lauren Albright. Officers presenting: Genevieve Bettendorf and Camille Smith
Sigma Tau Delta 2016 with Professor Jennifer Brady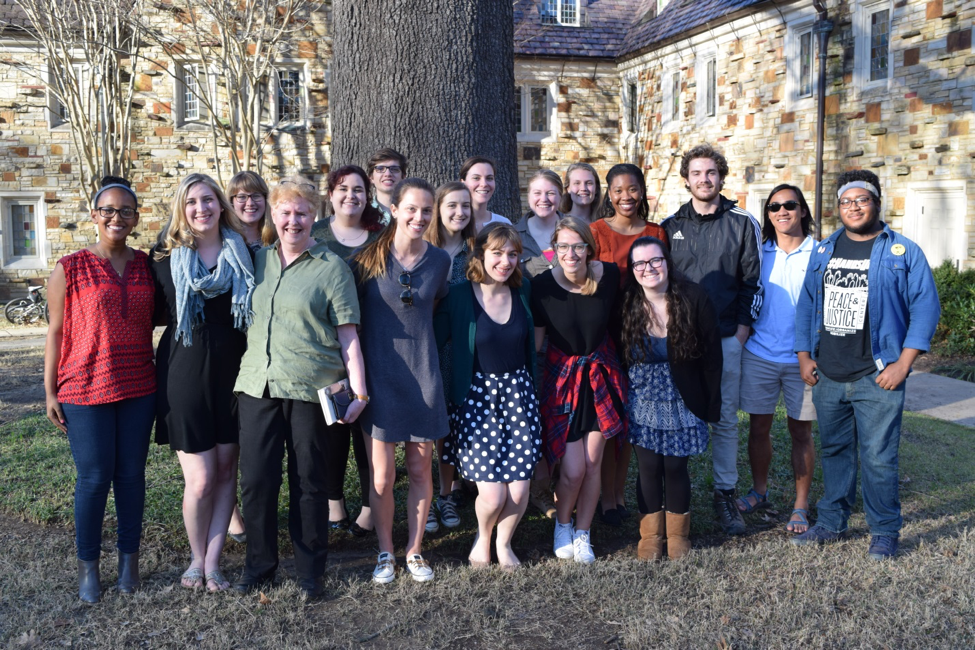 2015 Induction Ceremony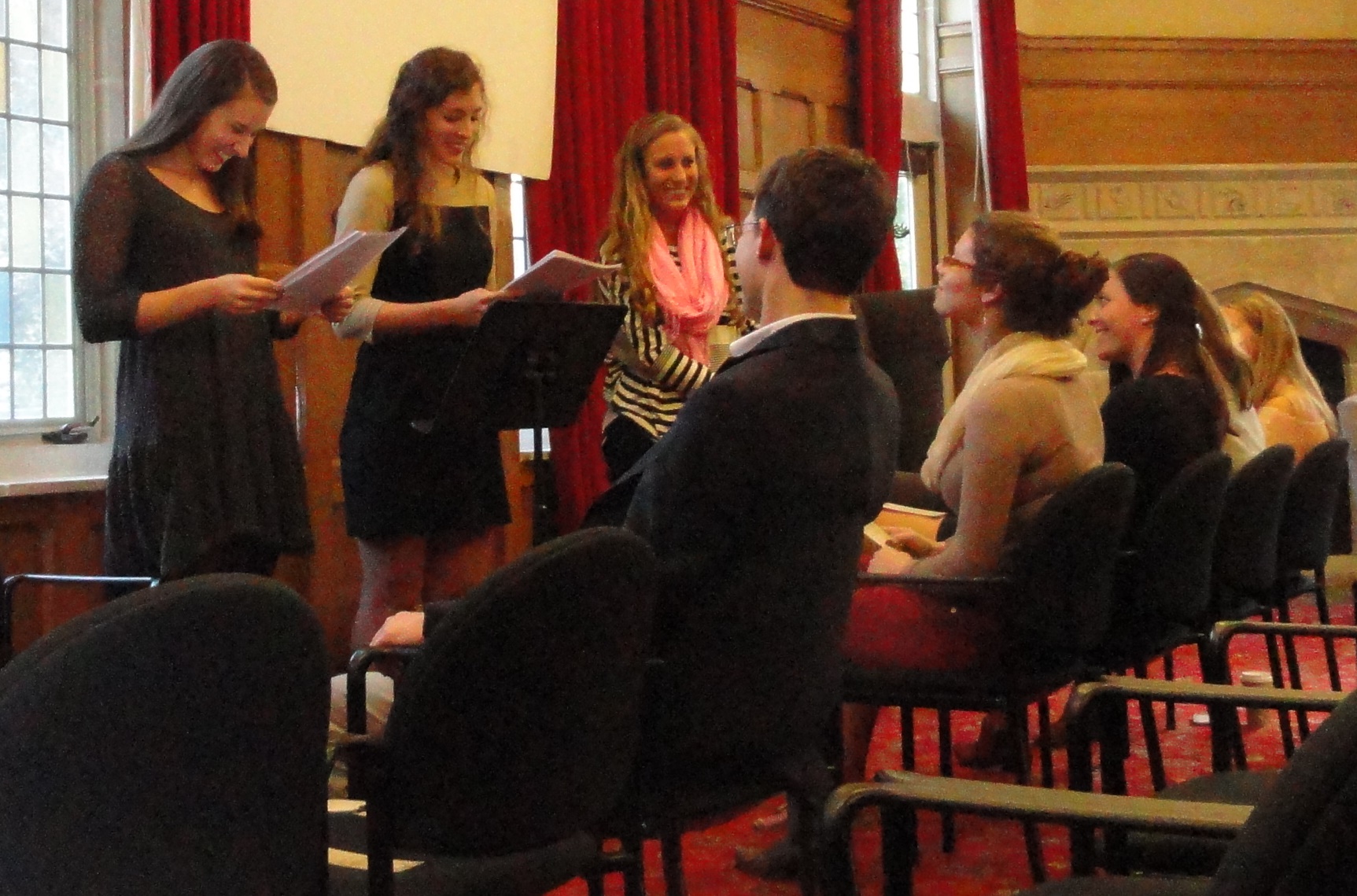 Standing L-R: Nicole Huguley: Internal Vice-President, Megan Phillips: President, Emily Clark: External Vice-President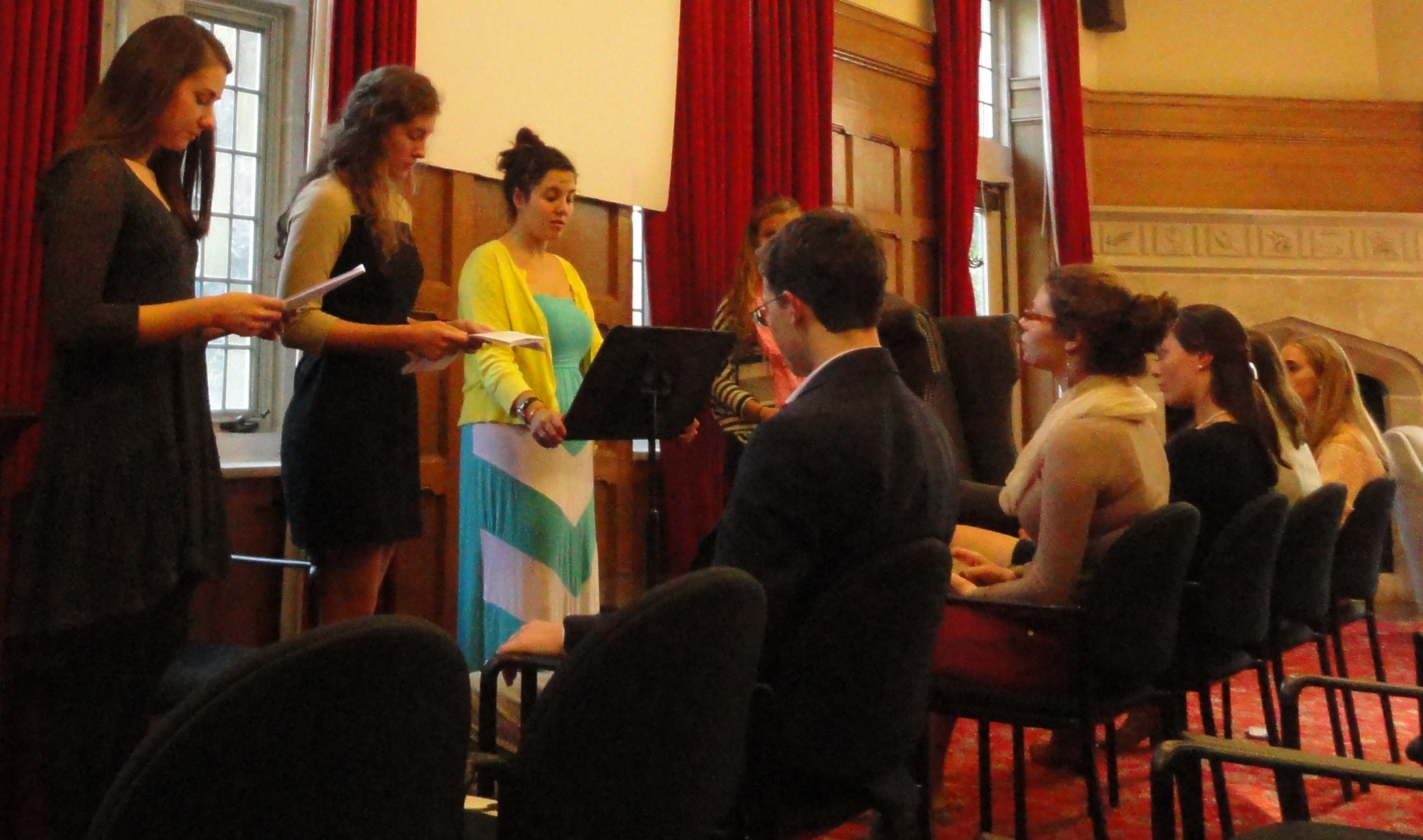 Standing L-R: Nicole Huguley: Internal Vice-President, Megan Phillips: President, Mary Walters, Emily Clark: External Vice-President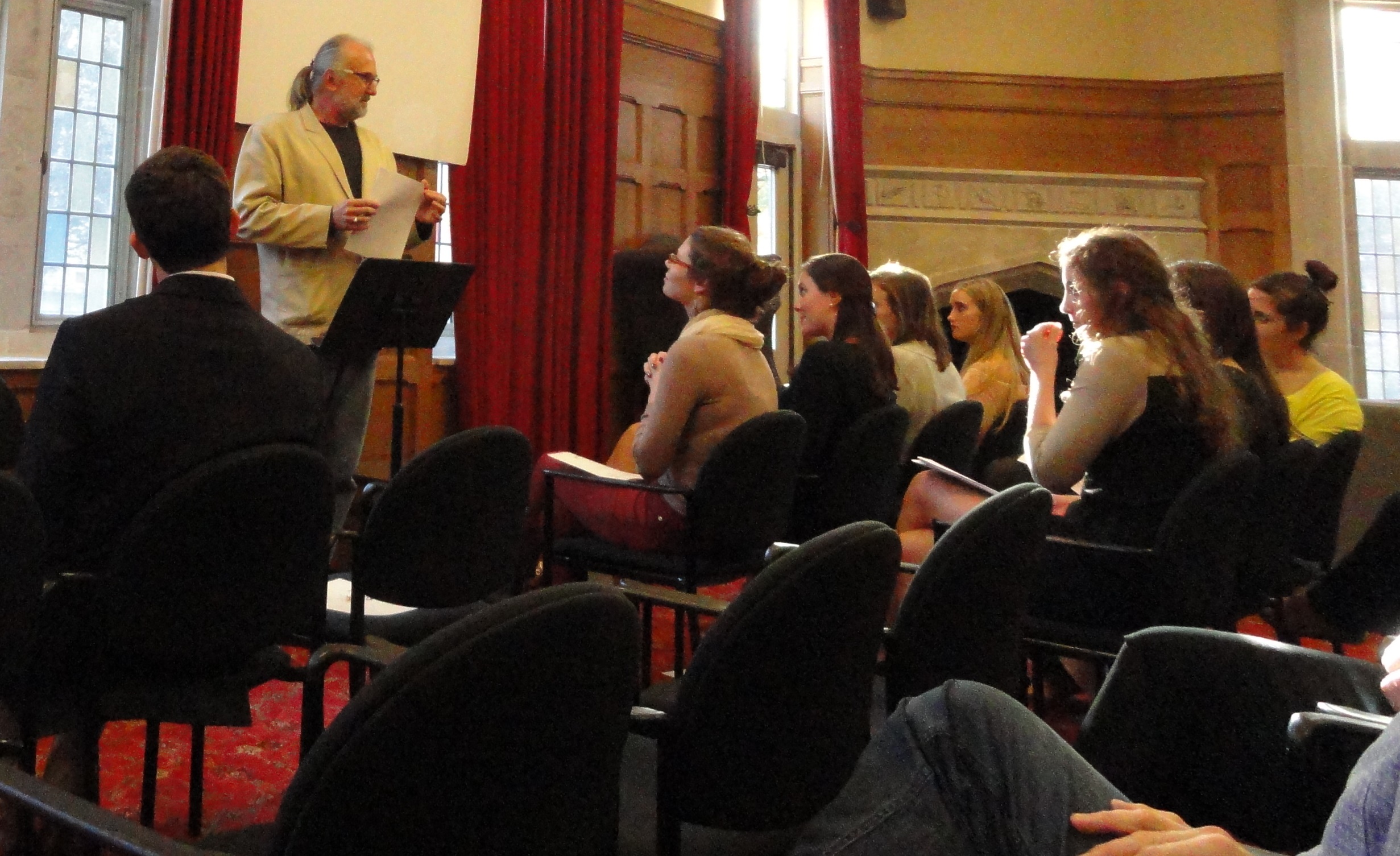 Reading given by Professor Mark Behr.
2014 INDUCTION CEREMONY, FEBRUARY 28TH IN EAST VILLAGE LODGE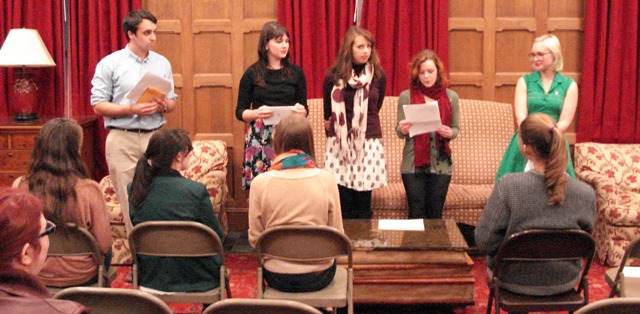 Pictured above standing L-R: Josh Muller, Alexandra Sterne, Alexandra Videmsky, Chelsea Ortego, Emma Tutor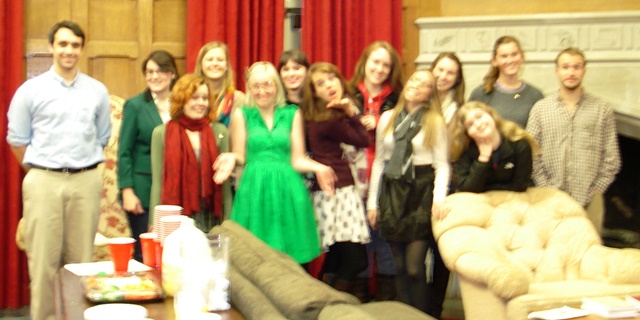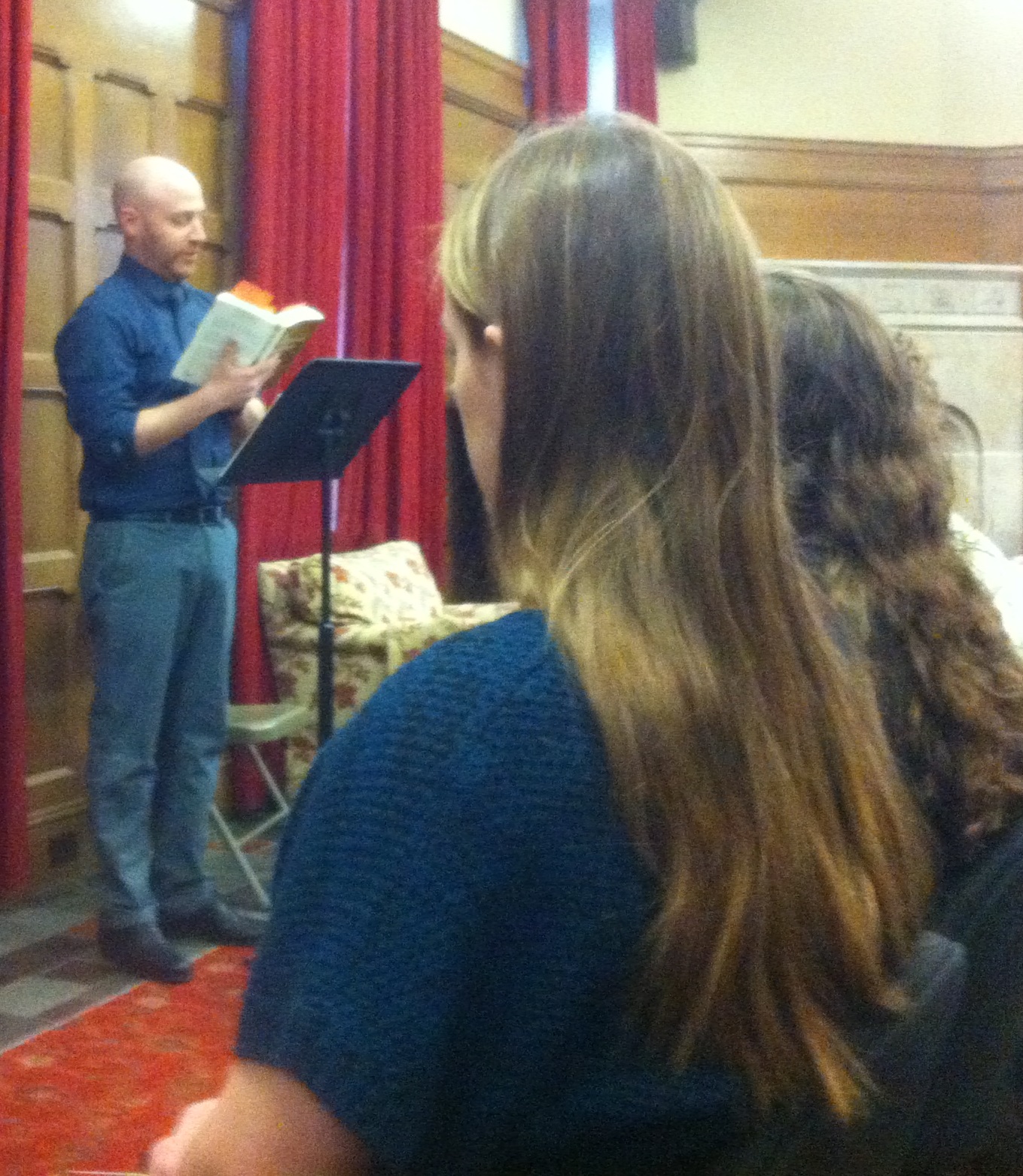 Reading by Professor Seth Rudy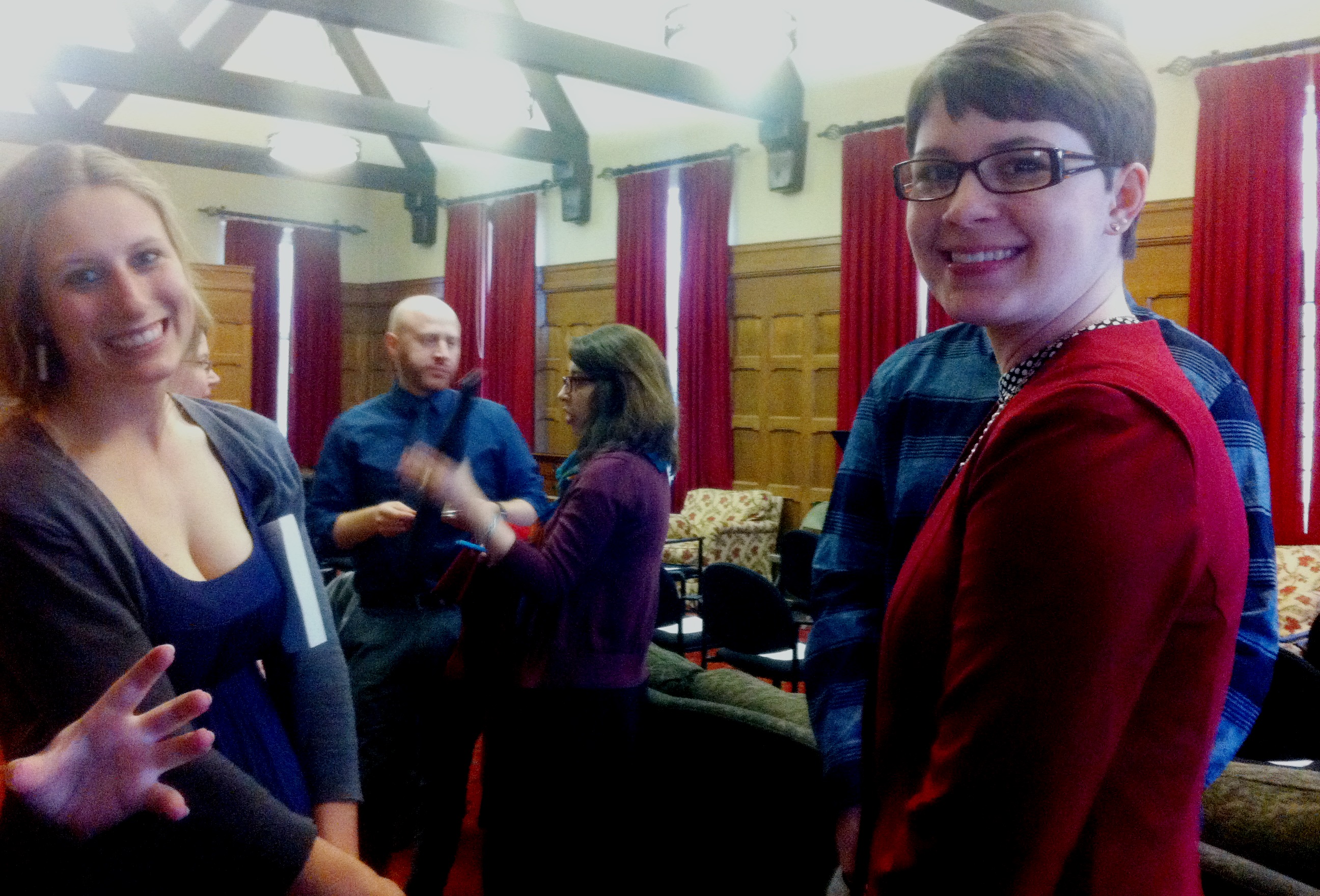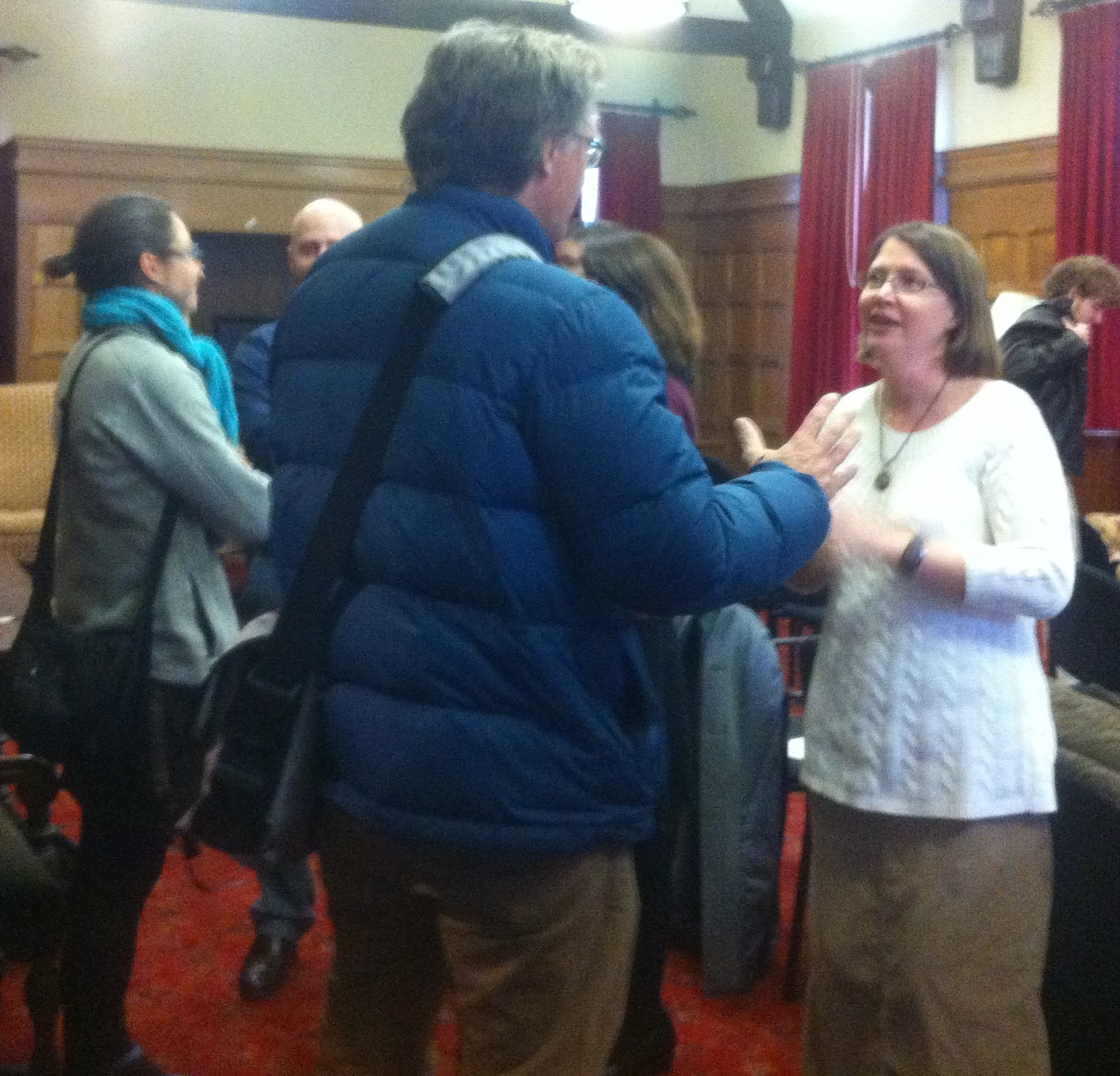 Professors Haas, Boswell & Garner
SIGMA TAU DELTA CREATIVE WRITING WORKSHOP HELD OCTOBER 24, 2013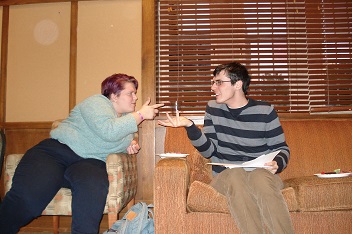 Alexandra Moore and John Cerrito
Alexandra Moore and Emma Tutor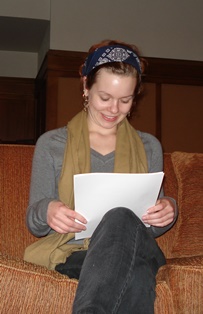 Chelsea Ortego
2013 INDUCTION CEREMONY
2013 Officers pictured below: Katherine Neale, Robin Abernathy, Amaryllis Lyle, Samantha Bryan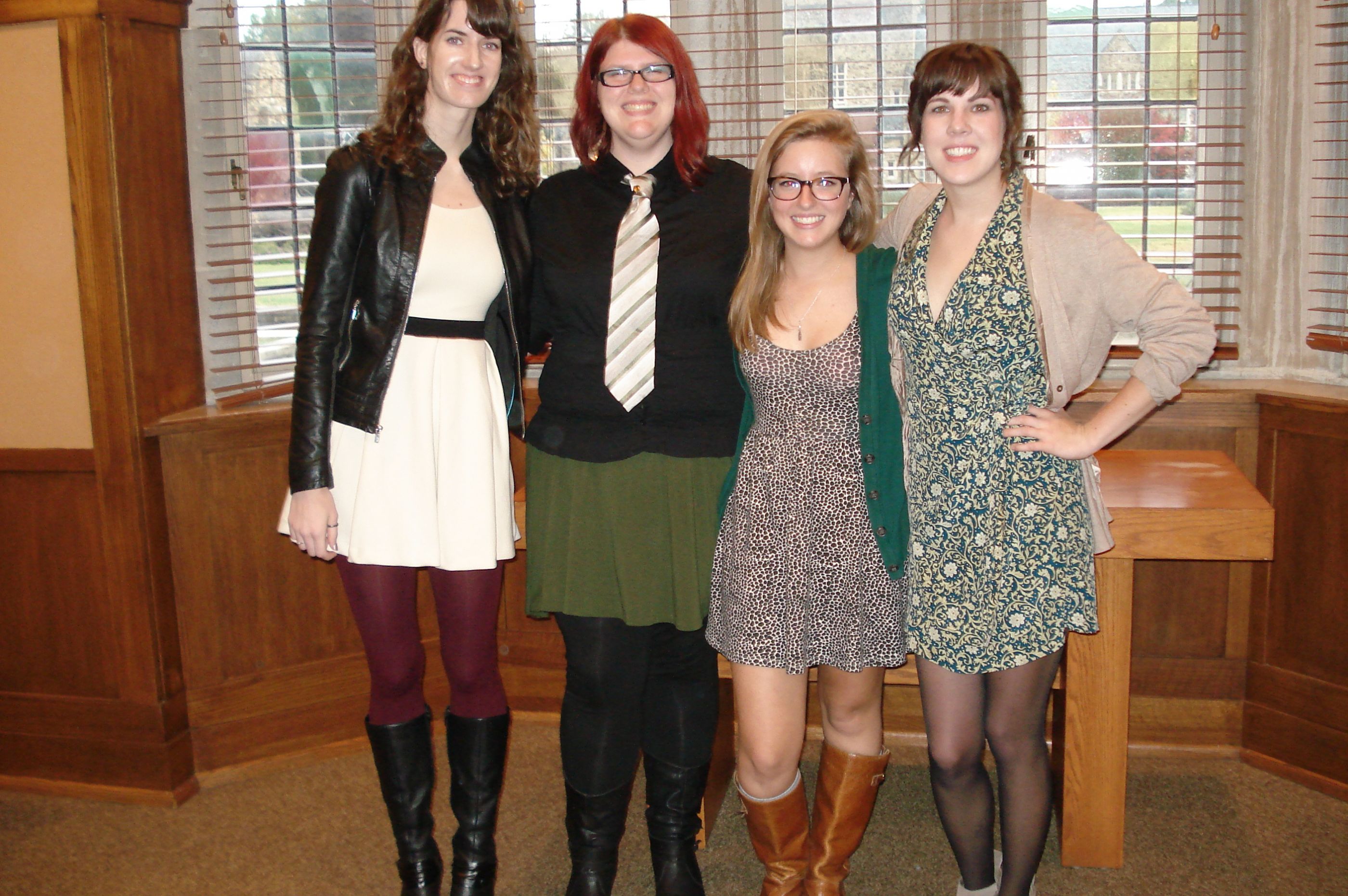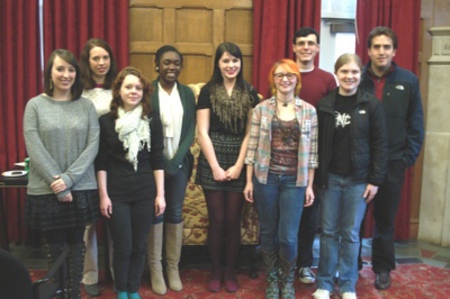 SIGMA TAU DELTA HELPS FUND LITERACY PROJECT
Rhodes' chapter of Sigma Tau Delta, the International English Honor Society, recently donated to a literacy and history project in Tennessee called "I'm a Poet And Don't Know It." Their contribution will help provide sixth graders in a high-need, rural school with 15 poetry books, including works by Shel Silverstein, Langston Hughes, and Dr. Seuss. The honor society raised funds by helping Davis-Kidd Booksellers with its holiday gift-wrapping. The fundraising project was led by Bryan Hearn '09, Vice-President for Campus Involvement for Rhodes' chapter of Sigma Tau Delta. Publication Date: 1/26/2009.
SPRING INDUCTION - APRIL 10, 2007 AT EAST VILLAGE LODGE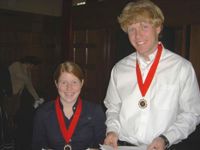 Vice President of Campus Activities,Caroline Cole, and Secretary, Jonathan Callis, read exerpts from their Senior Projects.