After capturing the attention of 3- and 4-year-olds with her story about a visit to a museum, a Rhodes College student asks the group to discuss their recent visit to the Children's Museum of Memphis. Big smiles come across the children's faces, and hands go up. She hands one boy a bell—which serves as a prompt that he is now the speaker—and he commences to share his adventure that includes a lion eating pizza. The children also have been learning about words that rhyme, and a girl says with a giggle, "Yummy, tummy!"
The story circle is one of the many exercises offered at the Summer Success kindergarten readiness program at the Porter-Leath Head Start center on American Way. The free camp was offered from June 4 through June 29 and again from July 9 through Aug. 3.
"Many pre-K camps are focused on one or two areas, but we are taking a very comprehensive approach that involves building emotional and social skills in addition to academic skills," says Dr. Kiren Khan, camp director and assistant professor of psychology at Rhodes. "I have conversations with my team about building the children's resilience, building confidence, building self-esteem. The children learn how to follow directions and play with their peers. They are engaged in exercises involving counting, comparing sizes and quantities of objects, and writing their names. Storytelling is a big focus of the program, and the children are regularly exposed to shared book reading sessions. They gain familiarity with telling and retelling structured stories, which is predictive of later reading." 
Khan's research interests include developmental and cognitive psychology, early childhood education, and narrative development in young children. She came to Rhodes in the fall of 2017 after her post-doctoral work at The Ohio State University, where together with her post-doctoral mentor and principal investigator on the original project, Dr. Laura Justice, she wrote a grant for the kindergarten readiness program. Khan worked closely with Justice to develop the Summer Success camps for children residing in mixed income, urban neighborhoods and with limited early childhood education experience. The development phase consisted of conversations with researchers, principals, teachers, parents, and community partners to better understand the needs of key stakeholders in early childhood education. The pilot sessions were supported by The Schoenbaum Family Center and The Crane Center for Early Childhood Research and Policy. 
When Khan came to Rhodes, she designed a camp in Memphis as an expansion of the program she had developed at The Ohio State University. Khan's desire is for Summer Success camps to be established all across the city through the help of community partners. She says Dr. Kathy Evans of Rhodes' educational studies program was instrumental in connecting her to Porter-Leath, and additional support has come from Rhodes' academic affairs office, educational studies program, and psychology department.  
As part of her Summer Success program at Porter-Leath, Khan also has brought in psychology department colleague Dr. Marsha Walton to help with story circles, which involve a group of four to five children sharing stories about their experience on a given topic or theme and practicing active listening. Khan runs the camp with the assistance of Rhodes students, some of whom received fellowships made possible through the generosity of Steve and Riea Lainoff.  
"What has been heartwarming to me are the relationships evolving between the staff and children," says Khan. "The children want to be on their best behavior, and the Rhodes students have been just phenomenal, listening to the children and being responsive to them."
Rhodes students involved in the program are Ariel Chavers '20, Shavonne Bragg '19,  Kynnedy Tuggle '20, Aly Hoyt '19, Samir Rassoul,'19, Brealan Muniz, 19, and Saneela Tameez '20.  
Tuggle, who assisted Khan with recruitment and scheduling, says "We wanted to have 15 students in the classroom with three teachers. My other duties include the newsletter we send out each Friday. It's tailored to the student and tells the parent what we've done in the classroom that particular week. A second sheet tells parents what the students did well on and what they can continue to work on."
All the Rhodes students take turns teaching in the classroom, as well as supervising activities when students are in the learning stations, having meals, taking breaks, or playing outside. Khan says the safety of the children is always a priority and maintaining a high teacher-to-child ratio of 1:5 helps ensure that each child receives adequate attention. 
Yolanda Ford, one of the lead teachers who has worked for Porter-Leath for four years and Head Start for 17 years, says about the children's progress, "They are able to count, identify, and sort, and their writing skills have gotten better. Social and emotional skills are on target, and they're able to name and tell how they are feeling and what things work for them." 
"I know my son has learned a lot. He's come home with new experiences to tell me about, things that he has learned," says parent Talunja Prophet. "He's actually gotten to read, to write, to learn new ways to educate himself  . . . and so I've really enjoyed that!"
Khan says parental involvement is essential to a child's success. "The children are with us for really a short amount of time, and we want parents to understand how they can help in the process. Parents have been receptive to these conversations, and we continue to think about how we can improve our communication with them and better understand their needs. For our next orientation, we are planning to have someone from the public library come out and sign up the families for memberships to further connect families to resources available in the community."
Parents receive progress reports, and Khan has enlisted some of the Rhodes students as researchers to test and assess the children's skill development—across multiple domains including language and literacy, math, and socio-emotional skills. 
"The books we use have been chosen very strategically to teach these skills, or what we call "targets." We also are mindful about including books that are culturally responsive and address diversity themes," says Khan. "We want the Summer Success program to be evidence based, focusing on skills that have been demonstrated from prior research as being important contributors to their later development. We have some preliminary evidence from pilot sessions in Ohio that the program significantly improves children's academic, socio-emotional, as well as gross- and fine-motor skills, and we are eager to demonstrate a similar impact here in Memphis. We are also interested in examining which children are making the most gains and which children are not making gains, and why."
Hoyt is one of the Rhodes students leading data collection and assessment. "Something that is inspiring about working with the children is the strength and perseverance of each child," she says. "Some are dealing with issues at home and with their families. Yet every day, they come ready to learn. They are super excited to be here."
Khan adds that she hopes to expand the Memphis program to include bilingual staff and to make the camps available at multiple locations. At the end of the June session, Hoyt is helping put together a backpack of books as a gift to each child. One of the books is Look Out Kindergarten: Here I Come!
With the help of the Rhodes faculty and students, it looks like the children will be kindergarten-ready this fall.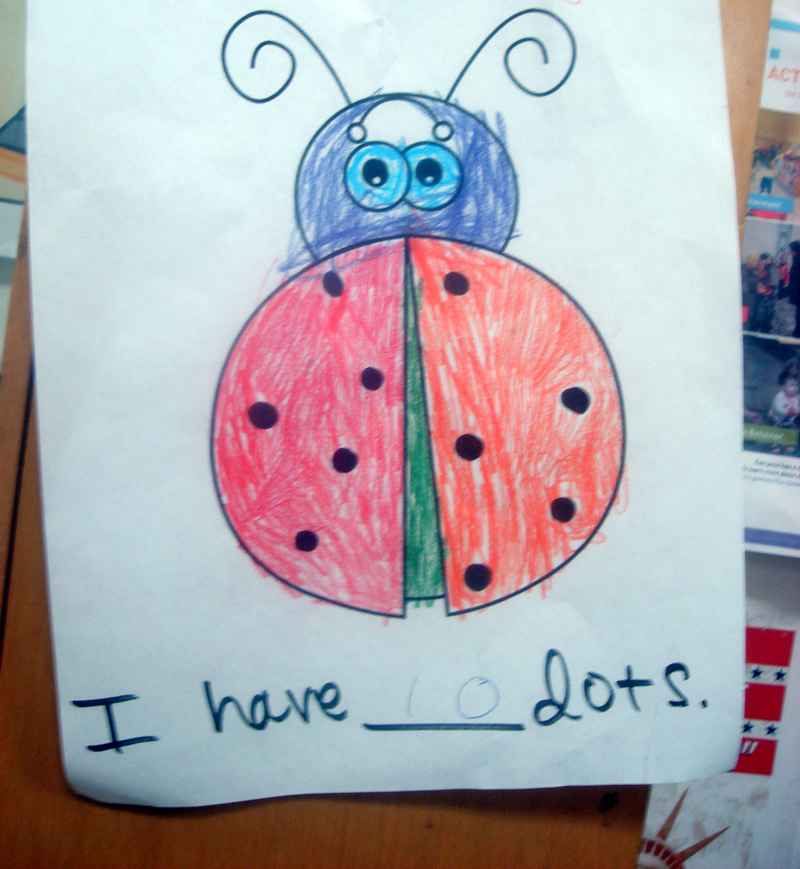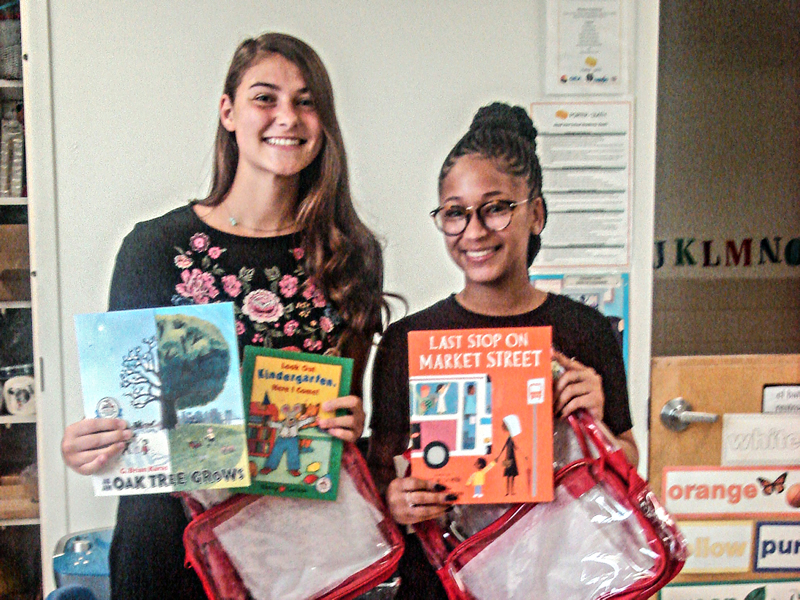 (l-r) Rhodes students Aly Hoyt '19 and Kynnedy Tuggle '20