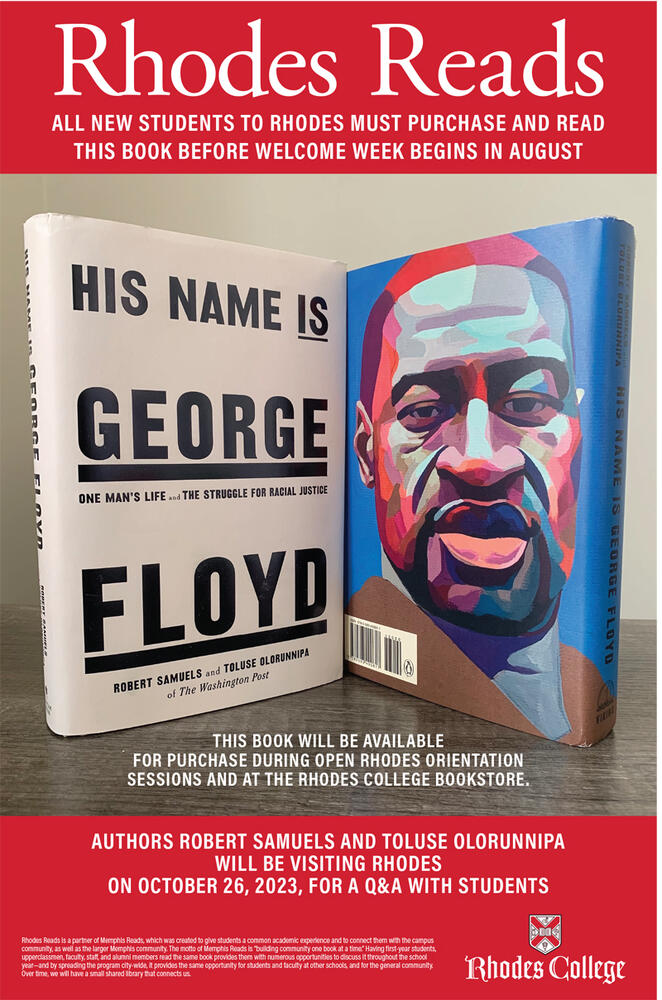 Summer 2023: His Name is George Floyd
Memphis Reads/Rhodes Reads has selected to read His Name Is George Floyd as their 2023 selection.
A short description of the book from the publisher:
"The events of that day are now tragically familiar: on May 25, 2020, George Floyd became the latest Black person to die at the hands of the police, murdered outside of a Minneapolis convenience store by white officer Derek Chauvin. The video recording of his death set off a series of protests in the United States and around the world, awakening millions to the dire need for reimagining this country's broken systems of policing. But behind a face that would be graffitied onto countless murals, and a name that has become synonymous with civil rights, there is the reality of one man's stolen life: a life beset by suffocating systemic pressures that ultimately proved inescapable.

"This biography of George Floyd shows the athletic young boy raised in the projects of Houston's Third Ward who would become a father, a partner, a friend, and a man constantly in search of a better life. In retracing Floyd's story, Washington Post reporters Robert Samuels and Toluse Olorunnipa bring to light the determination Floyd carried as he faced the relentless struggle to survive as a Black man in America. Placing his narrative within the larger context of America's deeply troubled history of institutional racism, His Name Is George Floyd examines the Floyd family's roots in slavery and sharecropping, the segregation of his Houston schools, the overpolicing of his communities, the devastating snares of the prison system, and his attempts to break free from drug dependence—putting today's inequality into uniquely human terms. Drawing upon hundreds of interviews and extensive original reporting, Samuels and Olorunnipa offer a poignant and moving exploration of George Floyd's America, revealing how a man who simply wanted to breathe ended up touching the world."
All new students to Rhodes must purchase and read this book before Welcome Week begins; it will be available for purchase during Open Rhodes orientation sessions and at the Rhodes College Bookstore.
Rhodes Reads is a partner of Memphis Reads, which was created to give students a common academic experience and to connect them with the campus community, as well as the larger Memphis community. The motto of Memphis Reads is "building community one book at a time." Having first-year students, upperclassmen, faculty, staff, and alumni members read the same book provides them with numerous opportunities to discuss it throughout the school year — and by spreading the program city-wide, it provides the same opportunity for students and faculty at other schools, and for the general community. Over time, we will have a small shared library that connects us.