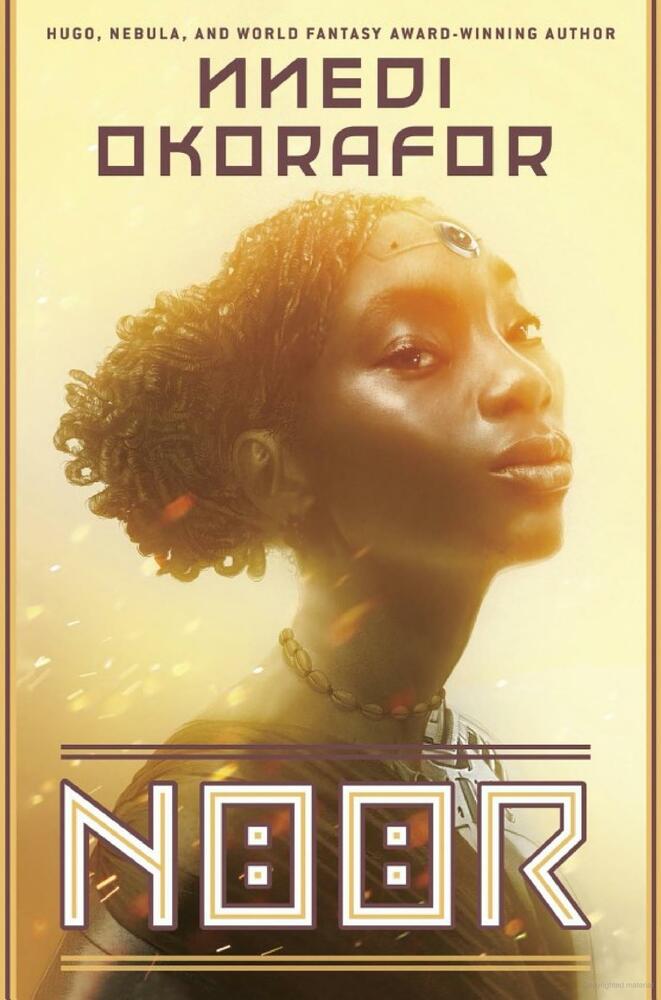 Summer 2022: "Noor" by Nnedi Okorafor
Memphis Reads/Rhodes Reads has selected to read Noor by Nnedi Okorafor as its 2022 selection.
Okorafor is a Nigerian-American writer of fantasy and science fiction. She describes her writing as Africanfuturism and it is influenced by her dual Nigerian and American heritage. She is the recipient of multiple awards, including the Hugo Award, Nebula Award, and Eisner Award. Okarafor will visit Memphis and Rhodes October 26-27th.
Here is a short description ripped from a review by Gary K. Wolfe: "Noor is set almost entirely in northern Nige­ria, though it's a Nigeria which, like much of the world, is largely transformed by an international megacorporation called Ultimate Corp, whose global tentacles make Amazon look like a neighborhood shop. The narrator, Anwuli Okwudili (who sometimes tells people that her initials AO also stand for Autobionic Organism), is a cyborg, enhanced by powerful prosthetics, both as the result of birth defects and of a ''rare automated-vehicle accident'' suffered as a teen­ager. When we eventually learn what may really lie behind AO's disabilities, it's absolutely chilling.
AO is also a vulnerable young woman who describes herself as having been ''born outside of beautiful.'' When she finds herself harassed and then attacked by a group of men, she responds with deadly force, and soon finds herself on the lam in the manner of any number of noir heroes. She meets a Fulani herdsman who also goes by his initials – Dangote Nuhu Adamu, or DNA – and who is also being sought as a terrorist after killing a woman during an attempted massacre of his people and livestock. They become lovers and, given the full Bonnie-and-Clyde treatment by popular media, make their way to the novel's most striking invention – the Red Eye, a huge, deadly, and permanent cyclonic sandstorm, or aejej, from which they can temporarily protect themselves with an electromagnet shield called an anti-aejej. Hidden within the Red Eye is an entire community protected by such a device on a giant scale, where they find some surprising allies. There they finally begin to unpack some of the novel's intriguing mysteries, including the role of the gigantic Ultimate Corp wind turbines called Noors that give the novel its title. With its short time frame, characteristically vivid set­tings, and sharply drawn characters, Noor may be Okorafor's most tightly plotted novel to date, but it still manages to explore in unsettling ways some of her most passionate themes, including sense of identity, the role of the outsider, cultural intolerance, horrific corporate malfeasance, and government indifference or complicity. It's such a fast-moving tale that the real punch doesn't quite hit you until it's over, but it's quite a punch."
All new students to Rhodes must purchase and read this book before Welcome Week begins; it will be available for purchase during Open Rhodes orientation sessions and at the Rhodes College Bookstore.
Rhodes Reads is a partner of Memphis Reads, which was created to give students a common academic experience and to connect them with the campus community, as well as the larger Memphis community. The motto of Memphis Reads is "building community one book at a time." Having first-year students, upperclassmen, faculty, staff, and alumni members read the same book provides them with numerous opportunities to discuss it throughout the school year — and by spreading the program city-wide, it provides the same opportunity for students and faculty at other schools, and for the general community. Over time, we will have a small shared library that connects us.