When college students think about fulfilling their physical education requirements, most envision tennis rackets or yoga mats. This spring, the Rhodes Department of Theatre offered an opportunity for them to try something a little different: aerial performance. Over the course of the semester, students trained in a variety of aerial skills, including silks, trapeze, and hoops, and in "ground skills," including acrobatics and bullwhips. The course was led by Weightless Aerial Company, a Memphis-based company that produces aerial circus theater, along with performances for special events.
"We loved the kind of work Rhodes theater seemed to be moving into, the more experimental style—and we wanted to be a part of it," says Callie Compton, co-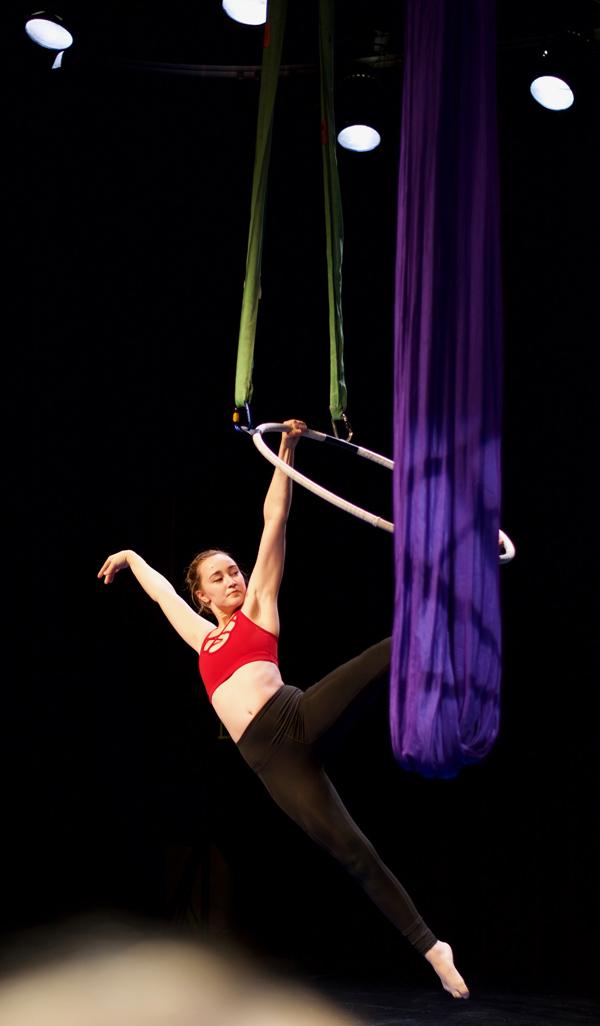 owner of Weightless Aerial. "A lot of students were hesitant at first and a little unsure if they could really do all this stuff we were telling them they could do. But one of the things we tell our students is that if they say, 'I'm not strong enough to do that,' or, 'I'm not flexible like you,' they have to say 'yet.' All of this is a building process, and that's why we're here to teach. I was so proud of every single student in the class—they all came so far, and exceeded our expectations."
Clare Edgar '19, a theater and computer science double major from Austin, TX, never thought she would study aerial performance in her college career. However, once she began the program, she was hooked. "If you had told me four months ago that I was going to run away and join the circus, I would have openly laughed," says Edgar. "This new form of performance really captured my attention. It is just the right mix of athleticism and performance, incorporating the reward of a good workout and the thrill of being on stage."
The course wasn't just for theater majors. Maria Yousuf '17, an anthropology and sociology major from Dyersburg, TN, says "I got a lot stronger, because I don't normally do this kind of physical activity. But also, as an anthropology/sociology major, I was interested in learning about circus culture."
Over the semester, several students developed to such an extent that Weightless Aerial offered them internships. Miranda Colegrove '18, a neuroscience major and theater minor from Lake Jackson, TX, who's interning with the company this summer, is looking forward to the ways the theater department will incorporate aerial arts into their upcoming productions. "I had no idea that Memphis had anything like this," says Colegrove. "I had the amazing opportunity to be in the company's most recent public show, and I met some of the coolest, most interesting people. It was so fun, interesting, and challenging—easily one of the best things to happen to me this year."
By Katherine Hancock '19