Rhodes Students Inform the Present by Keeping the Past Alive
More than 10 years later, Courtney Eskew '06 still remembers the little notebook.
"A few of the deans had gone to an estate sale in Brownsville, TN, and they brought back an old cardboard box strewn with papers," she says. It was the legacy of a former Grand Dragon of the Ku Klux Klan in West Tennessee.
As one of the first students to work on the Crossroads to Freedom digitization project and website, Eskew was organizing the papers in preparation for scanning and coding. She started reading the notebook, though at first the information didn't really make sense. "It was a list of times throughout the day, and a list of actions," she says. A car leaves a driveway. The same car returns an hour later. "The next page is a map, and the page after that is more details."
She recalls that she felt eerie as she realized, "These were the journals of someone who was tracking a human—a member of the community who had posed a threat to the Klan."
"I grew up in Huntsville, AL, and Southern civil rights history was not new to me," Eskew notes. "But the materials that Rhodes acquired (on the Brownsville Klan) were a look into how people could easily dehumanize a person, and that shook me in a very fundamental way."
An exciting moment
Bit by bit, item by item, account by account, Rhodes students are working to preserve the history of the Memphis region through a range of digital projects. The box of handwritten and typed documents is just one small part of a sprawling commitment that Rhodes College has made to collecting, preserving, and archiving historical materials that show everyday life in the area. From a few oral histories that launched the Crossroads to Freedom digital archive in 2006, the collections have grown to include material across subject areas from civil rights to 1980s music to LGBT history.
"I don't think many liberal arts colleges work with collections that are so extensive with such a local and regional focus," says Dr. Charles Hughes, director of the Memphis Center at Rhodes, the umbrella organization for everything from the Crossroads to Freedom project to the Mike Curb Institute for Music. "We are creating a collection that would be the envy of most research universities."
That's why the Digital Preservation and Scholarship (DPS) teams are so important. Led by Dr. Suzanne Bonefas, director of special projects at Rhodes, they do the detailed digitization work that makes even obscure or handwritten materials searchable online, creating a treasure trove for serious historical researchers and the curious alike. The college does not necessarily own the collections being digitized, but tends to partner with community organizations such as the Benjamin L. Hooks Central Library or OutMemphis to gain access to the materials for digitization and preservation.
"It's not so much about saving old stuff," Bonefas says of the boxes of mimeographed accounts, photographs, newspapers, magazines, letters, and ephemera she and her team have digitized and made searchable since she came to the college in 2005. "We need to understand how complex our history is so we can continue to work to improve our city. What we are doing here is activism. Rhodes needs to make the most of our presence in Memphis and connect in meaningful ways with the community."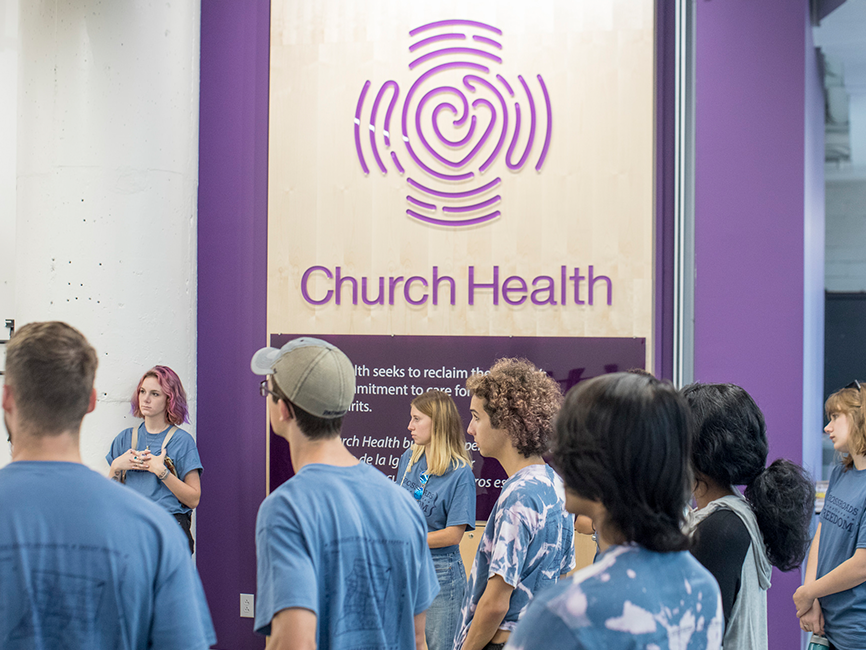 This summer, a 13-member DPS team is doing just that. To help them better understand the origin stories of the materials with which they are working, the students are touring select sites in the community, such as the Binghampton neighborhood and Stax Museum. "We are wrapping in ideas of social justice," explains Jess Newman '13, DPS project manager. "There is digital preservation and then there is digital scholarship. In the digital scholarship aspect of the projects, they are doing this to help others, so these histories can be shared."
An Idea Unfolding
Rhodes students first began collecting and digitizing history under the auspices of the Crossroads to Freedom program, which celebrates its tenth anniversary this fall. Crossroads documents the civil rights era in Memphis. Funded by a competitive $800,000 grant from the Institute of Museum and Library Services (IMLS), the program launched in 2007 as an idea unfolding, with three students and Bonefas helping the process along.
"We were very much in the thick of things," recalls Francesca Davis McKee '08, who—along with Crystal Windless '08 and Rebecca Williams Leslie '07 helped start Crossroads. "We were trying to figure things out, creating a system that would become the website. We didn't know if it would work or what impact it would have."
As it turns out, the impact has been widespread. McKee went on to become a fifth-grade teacher in a Memphis Kipp school. "I use the website every year. When I started working on the site, it was a baby in its infancy, and now I use it in the classroom."
McKee begins each school year on the Crossroads website helping her students get connected to their Memphis roots and local history. She returns to it a second time for instruction during Black History Month.
One of the first Memphians interviewed for the program was Lynne Turley, a city school teacher. Her story profoundly registered with McKee. "She said how, on the day of Martin Luther King, Jr.'s assassination, they gathered all the children in the auditorium and played the piano and sang."
When I started working on the site, it was a baby in its infancy, and now I use it in the classroom.
What they sang, according to Turley in her Crossroads interview, was "We Shall Overcome." "It seems like hundreds of times to me," she says. "We just sang it over and over and over and there were some verses I'd never heard, you know. And so Mrs. Brisco, one of the sixth grade teachers also, she played piano while the children sang. But we sang so long that she wanted me to play, too, because she was tired, and so I played. It was just quite an emotional, emotional day."
McKee still remembers her interview with Turley. "I saw how she used tragedy as a teacher," says McKee, meaning both how Turley herself operated inside that historic event and how tragedy can serve as a learning moment. Additionally, the Turley interview and others showed McKee how our stories shape us.
"I am just a teacher," McKee says, "I have a story. So do all the people we interview."
New collections, new skills
Today's DPS students may have expanded the work beyond oral histories, but the impact on their lives remains strong. Ginger Woods '17, a Greek and Roman studies major, who concentrated on material culture and minored in studio art and archaeology, came to the digitization work because she had friends who were working on the DPS team, and, as she points out, the passion and inclination toward preservation is similar to her major concentrations.
When Woods got involved, Rhodes had just gained access to a large collection of LGBT materials, including issues of Gaze, a local publication for the gay community, now out of print. Woods went to work figuring out how to exhibit the collection without overwhelming the viewer. "I was interested in making it not only accessible to Rhodes students, but also to Memphians interested in the LGBT community and its history."
She learned the technology involved in digitization and how to build a website and began reading deeply into the collection.
"Memphis has a lot more queer history than I was aware of," says Woods, who identifies as LGBT. "I was surprised at the way Gaze was able to tie together national and regional issues."
Her work with the DPS team will follow her after graduation: Woods is actively applying for positions that will take advantage of her expertise in archival work.
Work on the digitization projects also played a role in Courtney Eskew's career path.
Common to all the digitization projects is a strong connection to Memphis.
"My experience on Crossroads to Freedom definitely drove my interest in exploring racial identities, but in an international context," says Eskew, who majored in international relations and French. She went on to live in Marseille, France, and has worked with nonprofits in Morocco and Jordan. She now lives in Washington, DC, where she works at GlobalGiving.org, an online platform that connects nonprofits around the world to corporate and individual donors.
For Rhodes, for Memphis
Common to all the digitization projects is a strong connection to Memphis, in keeping with the college's range of community partnerships and internships and its many graduates who remain in the city after their college years.
The college's most recent digitization projects include previously unpublished eyewitness accounts of the March 28, 1968, civil rights march in Memphis in support of striking sanitation workers, led by Dr. Martin Luther King, Jr. Recent material also includes issues of the Memphis Star, a magazine that focused on local music in the 1980s, as well as the issues of Gaze shared with Rhodes through a partnership with OutMemphis and alumnus Vincent Astor '75.
Rhodes is also working to catalogue the collection of photos and negatives of world-famous African American civil rights photographer and journalist Ernest Withers, who died in 2007. Rhodes is collaborating with Withers's daughter, Rosalind Withers, and private donors to prepare the vast collection for future digitization.
The Rhodes digital history archive includes oral histories as well as digitized documents. The DPS team is working on oral histories of key figures in Memphis's gay community with OutMemphis and documenting stories from key figures at Stax Records. The team also came up with a novel way of making LeMoyne-Owen student eyewitness accounts interactive.
When Jessica Johnson '15 began working with the LeMoyne-Owen students' eyewitness narratives from the 1968 sanitation strike march, she realized that some of the stories begged to be told in a more engaging way.
"I wanted to make the words come off the paper," says Johnson, now a law student at Ole Miss. Because they were mostly first-person accounts, she enlisted her fellow students to read the stories aloud.
"I wasn't looking for the interview with the mayor; I wanted to focus on daily people. We don't really know what happened in the daily lives of Memphians, especially African-Americans, anywhere else. That's really what Crossroads does, is look at the lives of daily people in their hometown."
Start Here, Go Anywhere
"Here at Rhodes, we're good at partnering," says Hughes, "but our mission is grounded in the goal of a transformational experience for our students." Many of the DPS students who work with Bonefas gain an appreciation they wouldn't have had for the details of original historical sources.
Some, like project manager Newman, find a career path. Newman is pursuing a master's degree in information science. With an interdisciplinary major from Rhodes in biology and sociology, she first became interested in digital scholarship working with Bonefas on a box of musty ledgers from the Hayes Funeral Home in Memphis as an undergraduate.
"I'm interested in how scientific information is understood by the public," she says. "I'm also a curious person who gets bored easily. This job doesn't allow me to get bored. I learn something every day."
Working on the DPS team to make each digitization as clean as possible makes an impression, no matter what the phase of the work a Rhodes student sees.
I wasn't looking for the interview with the mayor; I wanted to focus on daily people.
"I wasn't aware of how much goes into materials people can use and search," says Olivia Burke '20, a process manager who was cleaning up errors on the digitized pages of Gaze. "Gaze is out of print, so the digitizing we're doing is very important. It's interesting, too."
In addition to teaching digital skills, her job has changed her perspective in other ways. Burke recently saw a friend who is just home from studying abroad, and has all kinds of handwritten journals from her semester.
"I told her, 'You need to put those online,'" says Burke. "She'll regret it if she doesn't."
By Leanne Kleinmann and Lynn Conlee