From Bolivar to Rhodes
The story of how Dr. William E. Troutt transformed from a young, ambitious undergraduate to college president in a decade is a tale of dedication and purpose.
Though Dr. William E. "Bill" Troutt attributes much of his success to good fortune, his journey is marked by his own efforts to learn the necessary skills, earn the right credentials, and develop a successful leadership style.
Troutt has spoken often of his upbringing on a small cotton farm in Bolivar, TN, and a childhood filled with family, church, and, of course, school. A typical day began with a hot breakfast cooked by his mother for his sister and him and a bus ride to school. Awaiting them back at home was a special treat.
"Before we even got in the door from school, we were greeted by the aroma of corn sticks," Troutt fondly recalls. "My mother always had hot cornbread and butter for a little snack when we got in. I can still to this day taste those corn sticks—they were the best things on earth."
A diligent and talented student, he soon came to the notice of his teachers and principal. In the small, tight-knit community of Bolivar, the elementary school principal had the time and the willingness to intercede for a promising student—a testament, Troutt says, to the virtues of small-town America. The principal, Mr. Ross, visited his parents with the news that their son had excelled on tests given in school and asked them to be sure to give their son plenty of time for his schoolwork.
"At the time I had no idea this was going on," Troutt says. "But when I reflect back, I realize that I was not your typical farm boy. I had my chores, of course, but I was given the time I needed to succeed in my studies."
Troutt remained dedicated to his studies as well as extracurricular activities throughout high school. One of his passions was music.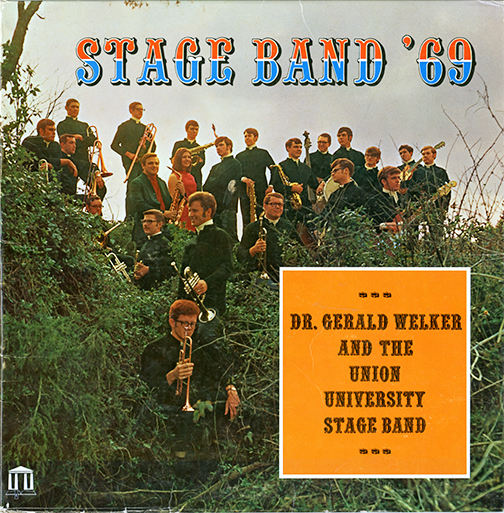 He played the saxophone in his high school band and in the Bolivar Brass, which performed on Ted Mack's Original Amateur Hour, a popular 1960s television variety show.
By the time graduation rolled around, he was on a small committee tasked with finding a speaker for the ceremony. "I knew that Southwestern had a new, dynamic president, and I thought it would be terrific to have him speak. To our surprise, he did!" Troutt says. "One of my cherished high school memories is of being on stage with David Alexander '53. So as it turns out, Rhodes was a part of my life even in high school."
When he began contemplating his choices for higher education, he was greatly influenced by his high school physics teacher, who pushed him towards MIT, and by his math teacher, who encouraged him to consider Vanderbilt. As Troutt mused about his choices, his minister came calling.
"My pastor told me he was convinced God was calling me to be a minister. As you can imagine, that made quite an impression on me," he says.
As a result, Troutt turned from MIT to Union University with the declared intention of becoming a Baptist minister. He thinks that, since he was involved from an early age in all types of church activities, the minister saw in him a faithfulness that would translate into professional service. As a freshman, he worked every Sunday as a supply minister, preaching in small churches. While he found it rewarding in some ways, it was not long before he began to wonder if the ministry was where his gifts and talents aligned. And as his college years progressed, it became clear to him that the ministry was not his calling.
Though he completed his undergraduate degree in religion and philosophy, he decided duri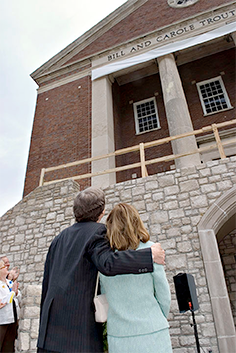 ng his senior year to pursue college administration as a career, the result of what he calls "a very naïve thought process."
"In my 21-year-old's thinking, I asked myself why not strive to be president?" he says. "To everyone's surprise, including mine, a decade later I would indeed become a college president."
In the intervening 10 years, he set out to gain the experience and knowledge he would need to achieve his dream. He earned a master's degree in higher education from the University of Louisville and a PhD from Vanderbilt University. He worked in college admissions at Union, and then as assistant director of the Tennessee Higher Education Commission, the coordinating body for public higher education in the state. His involvement there in a national project to determine how Tennessee's funding formula could include recognition of an institution's performance gave him a great opportunity to learn about finance, academic programs, and assessment.
He was working as a senior associate at McManius & Associates consulting firm in Washington, D.C., when, with a phone call from Belmont University in Nashville, his dream of a college presidency started to become a reality: He had been recommended as a candidate for executive vice president. Two years after accepting the job, then-president Dr. Herbert C. Gabhart announced his retirement and 32-year-old Dr. William E. Troutt became the youngest college president in America.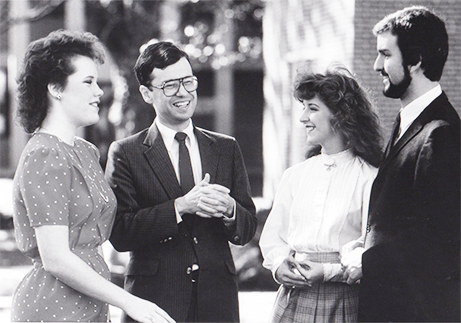 He recalls waiting outside the room where the college's board of trustees was deciding his fate. A great debate was shaping up behind those doors about his youthfulness and how it would translate to his ability to lead the college. Finally, one board member said, "Two things are sure. He will not get any younger and the job will age him."
For the next 17 years, Troutt worked hard—and learned much. As Belmont grew and thrived, Troutt's ideas on leadership evolved and solidified, equipping him for the next part of his journey.
In 1997, he was asked to chair the National Commission on the Cost of Higher Education, an 11-member congressional committee of the nation's top educators. He made many new contacts, including a few job recruiters—one of whom called him a year later with the news that Rhodes College was looking for a president to succeed Dr. James H. Daughdrill, Jr.
In March 1999, Dr. Troutt became the 19th president of Rhodes College. In the nearly two decades since, the college has embraced its Memphis roots and grown from them into a vibrant and compassionate urban liberal arts campus community.