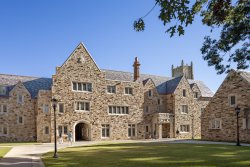 West Village, Rhodes' newest residence hall, was opened in August, 2012. West Village houses 141 upper-class students in twenty-two deluxe suites.
Location: Middle West side
Built: 2012
Number of Residents: 141
Typical Use: Sophomores, Juniors and Seniors
Features: Large common room with kitchen; laundry rooms on each floor; two conference rooms.
West Village Floor Plan (PDF)