The First-Year Experience (FYE) at Rhodes
FYE is a year-long, integrative program for first-year students that is designed to ensure their success. Through participation in the Rhodes Reads program, weekly First-Year Seminar classes, and a wide range of other events and activities, students will explore what it means to be a member of the Rhodes community; develop the skills required to become an informed, active, and engaged student-citizen at Rhodes and in Memphis; and contribute to making our campus a welcoming and inclusive place for everyone.
2018 Rhodes Reads
Before arriving on campus in the fall, members of the class of 2022 should read The Underground Railroad by Colson Whitehead. The author will speak at Rhodes in September. Additionally,  all first-year students should read Designing Your Life by Bill Burnett and Dave Evans. In the fall, students will discuss the books with faculty, staff, and peer mentors. 
First-Year Seminar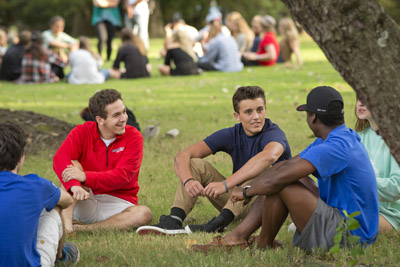 Every Monday at 4:20 p.m. during the fall and spring semesters, all new students will participate in an integrative seminar that provides time to discuss how to succeed as a student and community member at Rhodes. Conversations and activities will focus on how students can improve their academic and social wellbeing, as well as the resources that are available to help with physical, emotional, and spiritual health and wellness. Students also will be inspired to make the campus more accepting, inviting, and inclusive.
Activities and Events
All first-year students will participate in class-wide social and academic events – concerts, panel discussions, lectures, museum visits, and more – that take advantage of the excellent academic programs at Rhodes and the great city of Memphis. And throughout the year, students will interact in Peer Advisory groups, "Search" and "Life" classes, residence halls, and a wide range of social and academic venues to build a stronger Rhodes community.